This post may contain Amazon or other affiliate links. As an Amazon Associate I earn from qualifying purchases. Click
here
to read our privacy policy.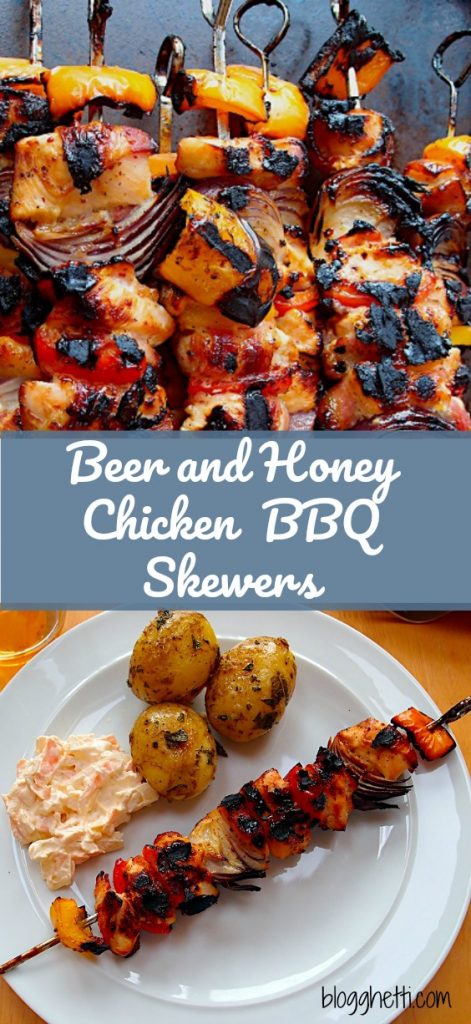 Guest post by Kendrick C. Kotter
When it's too hot to heat up the kitchen, or when you just want to turn ordinary barbecued chicken into something special, this recipe will do the job beautifully.
The simplicity of the recipe also gives it great potential for portability, making it a smart choice for tailgating before the game. It also won't create the need for many dishes, helping to make clean-up quick and easy. There is no need to transport a lot of dishes. Just pack the chicken in the marinade into leak-proof containers along with the utensils you will need and you are ready to go!
The chicken meat can be skinned or skinless depending upon your preference. While the skin adds flavor and crispiness while keeping the meat underneath tender and juicy, it also adds quite a bit of fat and calories.
For those who prefer an extra savory flavor to their barbecue, adding two teaspoons of onion powder to the marinade may help to balance the flavor of the minced garlic.
Adding beer to the marinade lends a tasty malty flavor that friends and family will come back for time and again.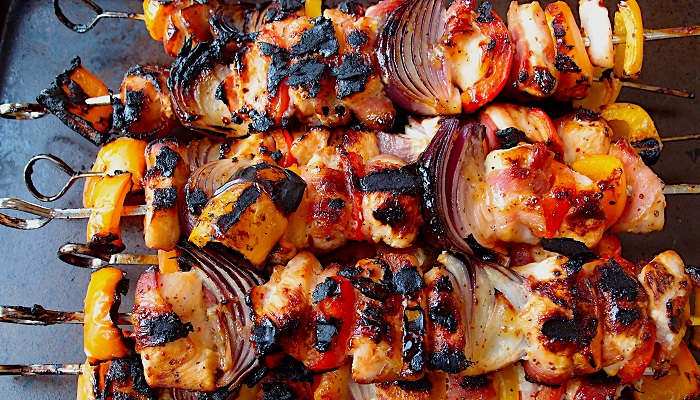 This dish has a beautiful presentation coupled with magnificent flavor. When grilled over charcoals with a few chunks of apple wood or mesquite thrown in, the beer combines with the smoky accents for a flavor that can only be described as out-of-this-world.
Some cooks swear that the beer in the marinade increases the degree of tenderness in the chicken. While others disagree that beer contains any ingredients that would foster tenderness, such as is commonly found in vinegar-based marinades, the enhanced flavor certainly may give pause to the idea that the texture of the meat may be improved as well.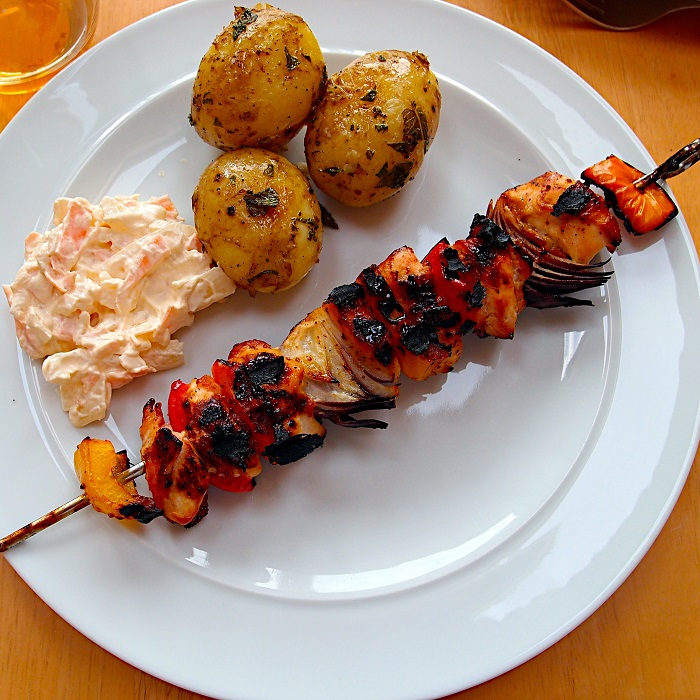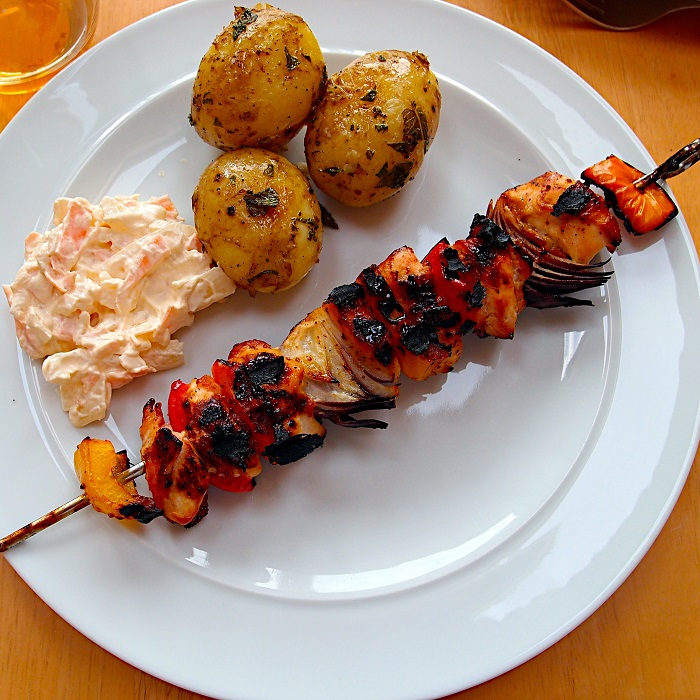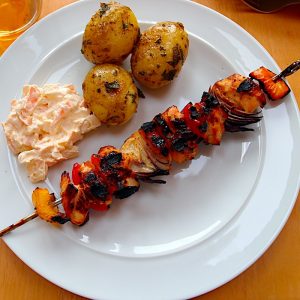 Ingredients
2

cloves

minced garlic

1

cup

beer

any brand

1/3

cup

honey

1

teaspoon

red pepper flakes

1

teaspoon

Dijon mustard

1/4

cup

soy sauce

1

tablespoon

olive oil

4

uncooked chicken breasts

cubed

Cilantro
Instructions
For the Grill:
Whisk together all ingredients, except for chicken and cilantro until mixed thoroughly. Add the cubed chicken to the mixture, making certain to coat all pieces thoroughly. Place all contents in a bowl and cover with plastic wrap. Place in the refrigerator and allow to marinate at least 2 hours, but up to 24 hours.

Start preparing the grill for cooking. If you are using a gas grill, set it to medium-high option and let it reach its initial temperature. If using a charcoal grill, allow the coals to "burn down" to a uniform gray color with glowing red coals underneath. Brush the grill lightly with oil or spray with a non-stick oil coating before placing the meat on the grill. Thread the chicken pieces onto skewers, allowing about five pieces per skewer. Save the marinade for basting.

Place the chicken skewers on the heated grill, turning every couple of minutes while brushing on marinade with each turn. Grill about 15-20 minutes or until chicken is cooked thoroughly. The chicken pieces should have an internal temperature of 165 degrees Fahrenheit and the juices should run clear with no trace of pink.

Garnish with cilantro and serve on a platter.
For the Oven:
Preheat the oven to 400 degrees F. Place the chicken on a baking sheet covered with aluminum foil. Brush each piece of chicken liberally with the beer/honey mixture.

Bake at 400 degrees F for 30-40 minutes or until chicken is tender with an internal temperature of 165 degrees Fahrenheit, and juices run clear when pierced with a fork. Brush chicken with marinade every 10 minutes as it cooks, turning at least once.

Sprinkle with cilantro prior to serving. Or, if cilantro is not to your liking, a light sprinkling of chopped green onion tops can add a pleasing appearance with a dash of flavor.
Enjoy!
Author Bio
Kendrick C. Kotter is a huge food lover and a part-time barbecue blogger who loves sharing his knowledge and passion about grilling and smoking food with everyone. He tries to provide only the most useful tips, tricks, guides and reviews on FuriousGrill.