This post may contain Amazon or other affiliate links. As an Amazon Associate I earn from qualifying purchases. Click
here
to read our privacy policy.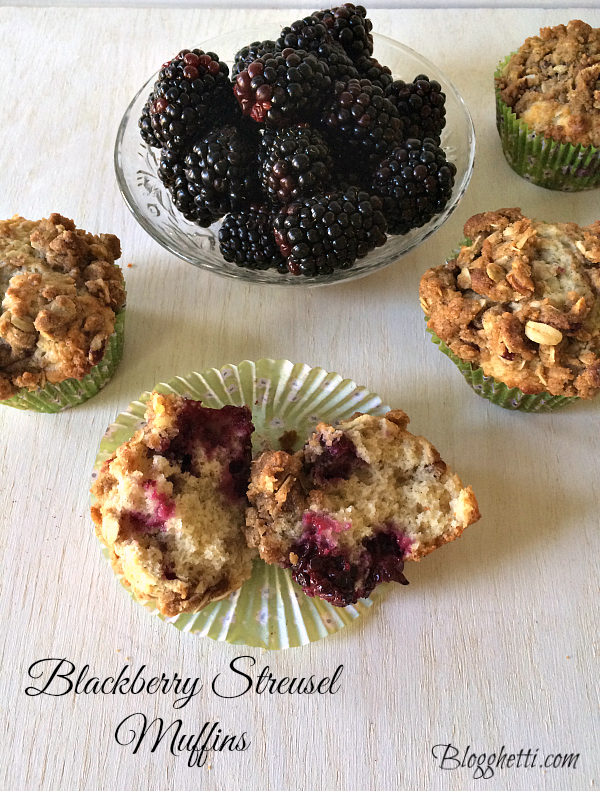 Summer is here, at least temperature-wise and my summer classes have begun. I also got the great news that (knocking on wood and praying) that come May 2016 I will be graduating. I can hardly believe it! I've changed my major and that set me back so this has me ecstatic. As I get closer to being done, the classes are getting so interesting. This summer one of the classes is Forensic Psychology and it's proving to be just as interesting as I imagined it to be. I can hardly wait for the classes in the Fall.
Since summer is sort of my break, it allows me to catch up on tons of posts for the blog and home improvement projects. We're redoing one of the bedrooms by turning it into an office/craft room. Eventually I would love it to be all of that plus a guest bedroom. We painted the room a beautiful teal – tantalizing teal, to be exact. I've been scouring Pinterest for ideas for organization and decor. We've brought a dresser back from my parents that I plan to fix up a bit and use it in the room. It's going to take me the whole summer to do this but it will be so worth it once it's done.
One of the recipes that I have to share with you is one that I had for a bit but time didn't allow me to edit the pictures before. A trip to Sam's Club inspired me to make these delicious Blackberry Streusel Muffins and it also had me sitting with a bowl of the berries and a spoon eating them with just a hint of sugar on them. I love blackberries and let me tell you, the ones that I got at Sam's Club that day were HUGE! I had to cut them in half for this recipe! I love this muffin, it's full of blackberries and the crunchy topping has pecans, brown sugar, oatmeal and cinnamon.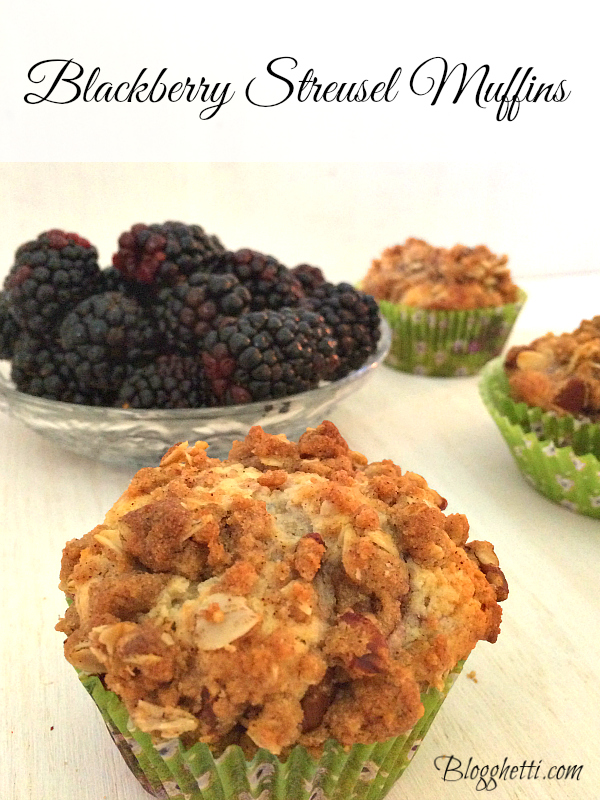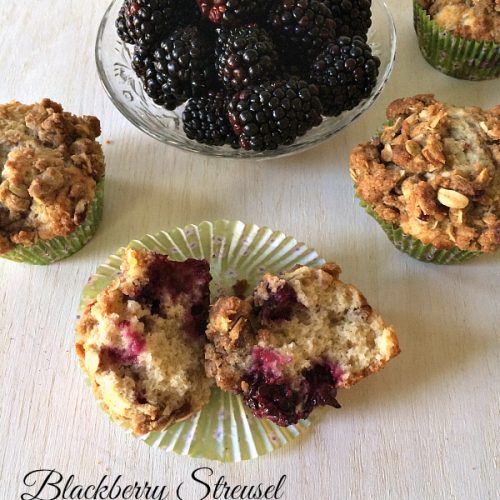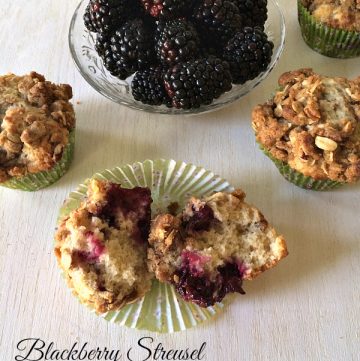 Ingredients
2 1/2

flour

1

tbsp

baking powder

1/2

tsp

baking soda

1/2

tsp

salt

1/2

tsp

cinnamon

2

eggs

1

cup

sour cream

1

tsp

milk

1

cup

sugar

8

tbsp

1 stick melted butter

1

tsp

vanilla

1 1/2

cups

about 5-6 oz fresh blackberries (if using frozen, thaw and drain well first - cut large ones in half)
1

⁄3 cup pecans

chopped

1 1/4

tsp

cinnamon

1

tsp

vanilla extract

2/3

cup

brown sugar

1

⁄2 cup flour

1

⁄2 cup oatmeal

1

⁄3 cup butter

melted
Instructions
Preheat oven to 400°F. Spray a muffin tin with nonstick spray or line with paper muffin liners.

In a small bowl, whisk together the flour, baking powder, baking soda, cinnamon and salt.

In a large bowl, mix together eggs, sour cream, milk, sugar, butter and vanilla. You can do this by hand or with an electric mixer.

Add the wet mixture to the dry mixture and mix together with a few light strokes, just until the dry ingredients are moistened.

Remember, if you are using frozen blackberries to thaw them first and drain well. Pat them a bit with a paper towel, if necessary.

I like to lightly coat the blackberries with a small amount of flour before addint to the batter. This helps them from all sinking to the bottom of the batter. Fold in the blackberries in the batter, be sure to not overmix! Overmixing will cause the muffins to be dense, not fluffy. The batter will be lumpy - not smooth.

Divide the batter evenly among the muffin tips.

To make the Streusel Topping: Combine all the topping ingredients and mix into a crumbly mixture.

Divide the Streusel Topping evenly among the muffins and place on top of each. Press down very gently.

Bake for 17-20 minutes or until a toothpick inserted into the middle of the muffins comes out clean.

Let cool for 2 to 3 minutes before removing from the pan. Serve warm or room temperature. I like them better when they were warm but my husband preferred them at room temperature.