This post may contain Amazon or other affiliate links. As an Amazon Associate I earn from qualifying purchases. Click
here
to read our privacy policy.
This healthy Coconut Flour Pumpkin Nut Bread is so delicious that unless you know what's in it, you won't believe it's good for you. It's also grain-free and Paleo.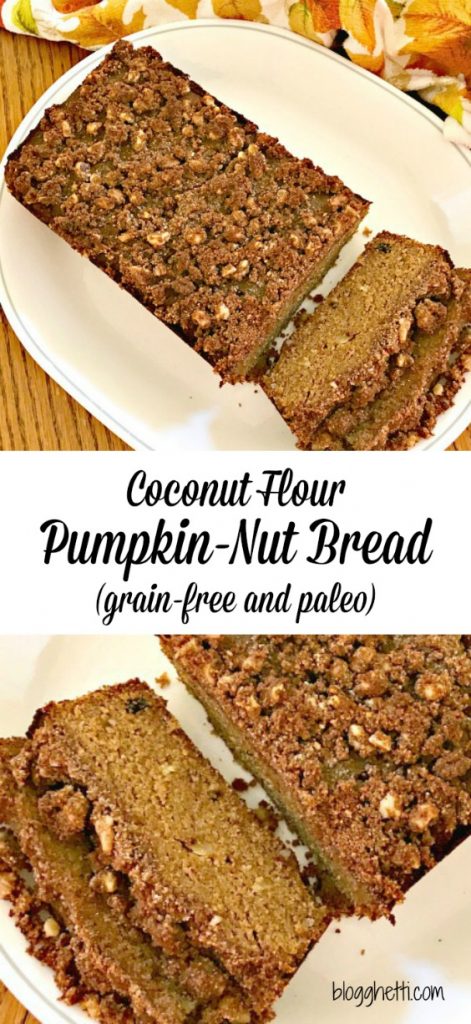 As far as I am concerned, it's always Pumpkin season so this recipe may be a bit late for all things Pumpkin, but it's definitely worth making. I say that because Starbucks now has their Eggnog Lattes which indicates the Christmas season has begun – by some people's standards. I'm all for holiday drinks, music, etc but wish it would all wait until we get past Thanksgiving. So, this Pumpkin bread recipe keeps me thinking of Fall, not Winter.
In a few recent posts I've mentioned that we have been eating a Paleo diet and let me tell you, it's going well but dang we've been craving SWEETS. I've never have read labels as hard as I do now to see if it's Paleo friendly. Sweets aren't a no-no on Paleo, you just have to make them with Paleo approved ingredients. I made two Pumpkin bread recipes, the one posted here and this one. I liked the streusel topping on this recipe but my husband prefers the other recipe over it. I'm cool with making TWO breads. Baking is my thing so I'm good.
Of course, all things in moderation and baking (or cooking) sweet Paleo dishes shouldn't be something you add as part of your new diet plan on a regular basis – it's a nice treat! This Pumpkin nut bread recipes uses coconut flour and calls for a lot of liquids – trust me; but it's so healthy and full of nutrients and fiber – which is much needed on a Paleo diet since grains and legumes are cut out. Using coconut sugar means no refined sugar and that is a very good thing. Oh, and I added chopped walnuts so you get some good stuff from them too – you know like Omega-3's.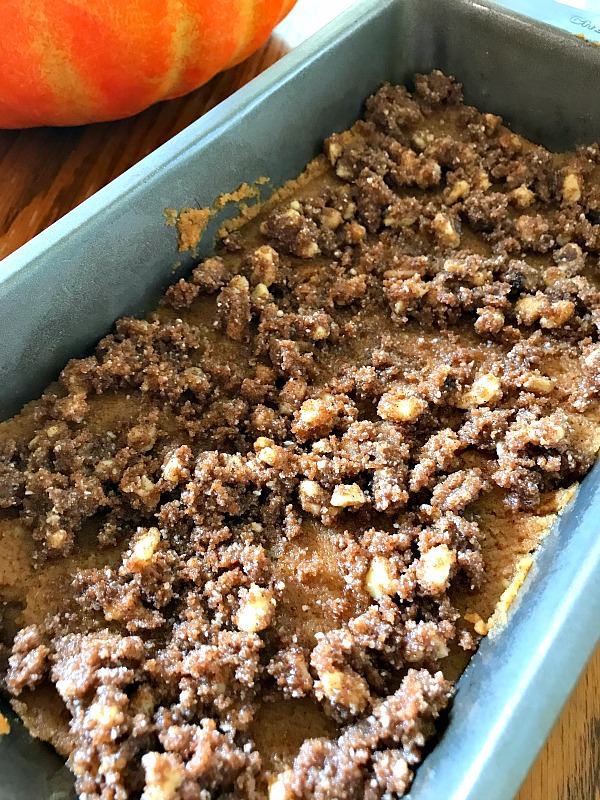 The topping to this yummy bread is coconut sugar, coconut flour, coconut oil, and cinnamon. I am loving the added flavors the coconut brings to this recipe.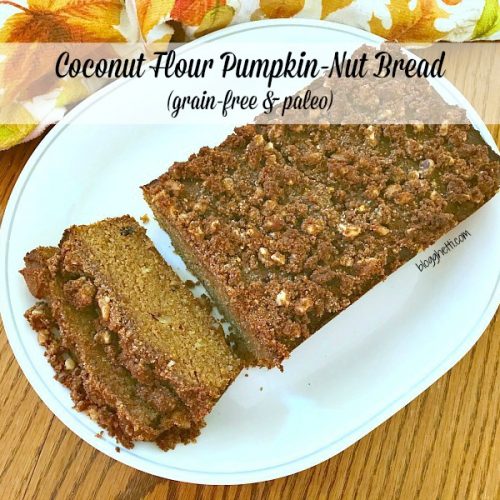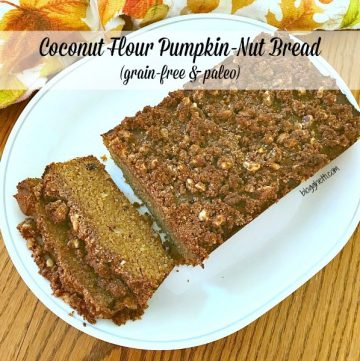 Ingredients
For the Pumpkin Bread:
½

cup

maple syrup pure

at room temperature

½

cup

coconut oil melted

4

eggs

at room temperature

¾

cup

pumpkin puree

not pumpkin pie filling

1 ½

tsp

vanilla

¾

cup

coconut flour

¾

tsp

baking soda

½

tsp

baking powder

1½

tsp

cinnamon

1

tsp

pumpkin pie spice

¾

cup

chopped walnuts
For the Crumb Topping:
3

tbsp

coconut sugar

2

tbsp

coconut flour

2

tbsp

coconut oil melted

½

tsp

cinnamon

3

tbsp

walnuts finely chopped
Instructions
For the Pumpkin Bread: Preheat oven to 350 degrees. Line a 9 x 5 inch loaf pan with parchment paper on the bottom and spray with non-stick cooking spray.

No need for a stand or electric mixer for this recipe. In a large mixing bowl combine maple syrup, oil, and eggs. Mix by hand until just combined. Add the pumpkin puree and vanilla; mix until just combined.

In a smaller bowl, combine the coconut flour, soda, powder, cinnamon and pumpkin pie spice.

Add the dry ingredients into pumpkin mixture and stir by hand. Mix until all ingredients are just incorporated – do not overmix.

Pour the batter into the prepared baking pan.

For the Crumb Topping: In a medium-sized bowl combine the coconut sugar, flour, oil and cinnamon. Cut into the ingredients using the back of a fork, until the mixture starts to stick together. Add the walnuts and continue to do this until mixture starts to clump together and resembles pea-sized crumbles.

Sprinkle the crumb topping over the pumpkin bread batter. Press crumb topping lightly into the batter.

Bake pumpkin bread for 45-55 minutes, or until a toothpick inserted in the center comes out clean.

Let bread cool for at least 30 minutes before cutting into it. Serve warm or at room temperature.
Notes
The Pumpkin bread is super moist so if you would like it a bit drier, let it cool longer. Recipe from Evolving Table.
Enjoy!