This post may contain Amazon or other affiliate links. As an Amazon Associate I earn from qualifying purchases. Click
here
to read our privacy policy.
While I am taking some time to catch up on assignments for my classes (seems never-ending), there will be a guest post today on the blog. Hope you enjoy the yummy
and easy casserole Kristin is bringing us!
Today's recipe is a guest post by Kristin, a writer for
Marie Callender's
and other ConAgra brands. She resides in Chicago with her Bichon Frise, Joey. When she's not jogging, binge-watching shows on Netflix or taking a bubble bath, she's trying new recipes. Her favorite dishes include breakfast sandwiches in the morning, Mediterranean-style wraps for lunch and rice-based dishes (with lots of Cholula) for dinner.
As falls approaches, it's getting quite chilly in Chicago. But honestly, I never know what Mother Nature has planned for the Midwest; one day it's hot and the next day it's freezing! For the chillier nights, I use my oven to warm up the kitchen a bit, as I get cold quickly. I am definitely not looking forward to Chicago's winter! Why not kill two birds with one stone and get warm while I bake? I love baking rice casseroles in the fall— it's a favorite among friends and family! The magic behind casseroles is that you can throw in your choice of vegetables and call it a day.
Ingredients:
Cooking spray
1 can (14.75 oz.) Marie Callender's® Chicken Pot Pie Style Soup
1 cup 2% milk
1 large egg
1-1/4 cups instant white rice, uncooked
1 can (14.5 oz.) green beans, drained
1 tsp. dried thyme leaves
½ cup peppers, diced
½ cup onions, chopped
3/4 cup shredded Cheddar cheese
10 crackers, crushed
Directions:
Preheat your oven to 375°F. Spray an 8×8-inch baking pan with cooking spray and set aside.
Mix chicken pot pie soup and 2% milk in medium bowl. Add eggs.
After draining green beans, cut in halves.
Stir in rice, green beans, thyme leaves, diced onions, chopped onions and Cheddar cheese. Continue mixing until rice is completely covered.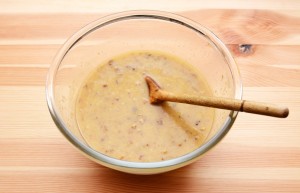 Pour mixture in baking pan. Place in oven and bake for 20 minutes.
Remove baking pan and evenly sprinkle crushed crackers. Bake for an additional five minutes. Enjoy!
Hope you enjoy this rice casserole for fall. I recommend baking biscuits with it, too!