This post may contain Amazon or other affiliate links. As an Amazon Associate I earn from qualifying purchases. Click
here
to read our privacy policy.
This is a casserole that I call a "no brainer"and by that I mean, it's so easy and uses items that you probably already have on hand. It is
a meal in one dish that can easily be made ahead of time, just increase the cooking time in the oven for the casserole. You can use frozen meatballs (prepared to package directions) but it's really worth it making them from scratch, if you have the time. A good tip for this is when you are making homemade meatballs, double the batch, and freeze half (uncooked) for another meal. While I like to simmer my spaghetti sauce for a couple of hours, this version of spaghetti and meatballs is a quick way to get the same meal on the table on a busy night. Add a salad and some garlic bread you are set!
Ingredients:
For the meatballs:
1 lb ground beef (I use 90% lean)
1 egg, beaten
1/2 cup oatmeal (or Panko bread crumbs)
1 small onion, minced
2 cloves garlic, minced
1 1/2 teaspoons dried Italian seasoning
salt and pepper to taste
1/4 cup diced fresh basil (chiffionade the basil and then chop into smaller pieces)
For the pasta:
12 oz package spaghetti
1 tbsp olive oil
2 cups shredded mozzarella cheese, divided
1/2 cup grated parmesan cheese
1 large egg, slightly beaten
2 tbsp fresh parsley
1 jar of your favorite pasta sauce (26 oz)*
*If making the dish ahead of time, add extra sauce as the pasta will soak some of it up.
Instructions:
For the meatballs:
Preheat oven to 350 degrees. Line a baking sheet with parchment paper, or spray a baking sheet with non-stick spray.
Mix all ingredients together in a large bowl. Form the ground beef mixture into one inch meatballs.Bake at 350 degrees for about 30 minutes, or till done.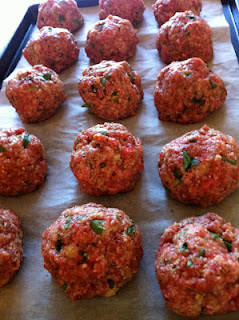 For the pasta:
While the meatballs are in the oven, bring to a boil a pot of water and cook spaghetti until al dente. You don't want to cook it all the way since it will be baking in the oven. It will finish cooking there. Drain and toss with olive oil.Spray a 13×9 baking dish with nonstick spray.
In a small bowl, stir together the egg, parsley, pepper, 1/2 cup mozzarella cheese, 1/4 cup parmesan cheese and pepper to taste. Toss the cheese mixture with the pasta and place in prepared baking dish.
When the meatballs are cooked through, top the pasta with the meatballs and pour pasta sauce over.
Cover with foil and bake for about 35 minutes. Remove foil, top with remaining cheeses and continue to bake until cheese is melted and browned – about 5-8 minutes more.
Enjoy!