This post may contain Amazon or other affiliate links. As an Amazon Associate I earn from qualifying purchases. Click
here
to read our privacy policy.
It's not quite Fall weather where I live yet, in fact, it still feels like summer most days and this has me confused. I want to make all the Fall
meals, baked goods, and start wearing sweatshirts but instead I am still in short sleeves and planning meals that do not require my oven to be turned on. That's why this meal is perfect for both of those seasons – Summer and Fall! Doesn't heat up the kitchen and it's full of fresh flavors for a hearty Fall meal.
Recently the good folks at Red Gold Tomatoes were kind enough to send me a kit full of their wonderful canned tomatoes plus a couple of other goodies. Included were a few crockpot recipes using their canned tomatoes, which I might added are the best tomatoes I have ever eaten from a can.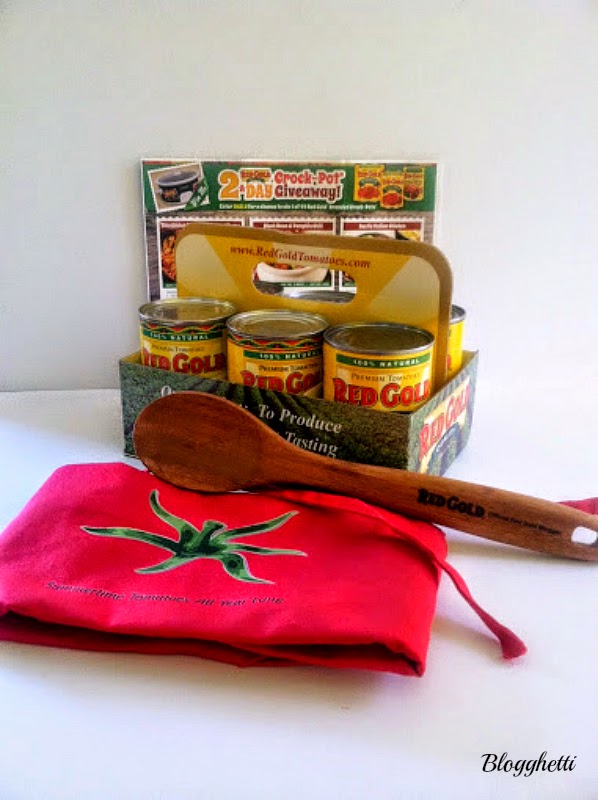 I can't wait to try all of the recipes this Fall and Winter. I decided to use a few of the cans they gave me in my Chicken Cacciatore recipe and they did not disappoint with flavor and freshness.
This is a great meal to start in the morning and come home to after a long day and leftovers make great lunches the next day. Walking in the door to smell this meal will have you drooling for it, trust me.
Ingredients:
1 medium onion, sliced into strips
1 red bell pepper, sliced into strips
1 green bell pepper, sliced into strips
3 cloves garlic, minced
4-6 boneless, skinless chicken breasts
1-(14 ounce can) Red Gold diced tomatoes (do not drain)
2-(14 ounce cans) Red Gold crushed tomatoes (do not drain)
1/4 – 1/2 tsp crushed red pepper (or to taste)
2 tsp Italian seasoning
Pepper
Chopped fresh basil for garnish
Cooked Pasta or Rice
Instructions:
Spray crockpot with non-stick spray. Place the onions, peppers, and garlic in the bottom of the crockpot.
Season chicken with the pepper. Place the chicken over the vegetables.
Pour the diced and crushed tomatoes in a small bowl and stir in Italian seasoning. Pour tomatoes over chicken and vegetables.
Cover and cook on low setting for about 6-8 hours or until the chicken and vegetables are thoroughly cooked. Serve over the hot pasta or rice. Garnish with fresh basil.
Be sure to visit
Red Gold
starting September 17th through October 8 for your chance to win one of two Crockpots they are giving away daily on their Facebook page.
Enjoy!