This post may contain Amazon or other affiliate links. As an Amazon Associate I earn from qualifying purchases. Click
here
to read our privacy policy.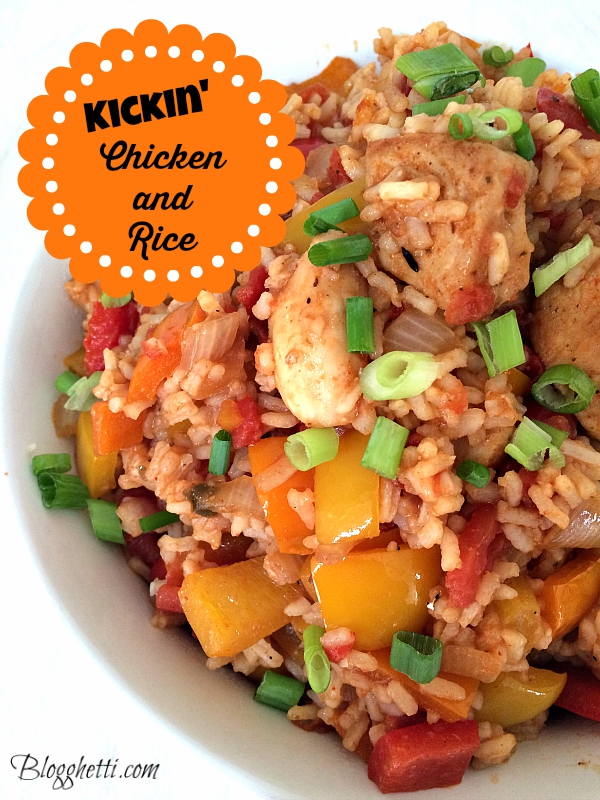 Earlier this week I spent some time with a very good friend enjoying lunch and then a few stops at our favorite stores. It's always great to see her and we can talk and talk for hours and never tire of the topics we explore. We have a love of reading and crafting in common so we are always discussing the current book we are in love with or our obsession with how soft some yarns are. We met of all places in a college biology class and have been friends ever since. We spent hours and hours studying together with our florescent index cards crammed with extremely creative ways to remember the numerous terms our professor, Dr. E. jammed into our brains in the 3 hours a week we sat in her class. We took this studying to the extreme by quizzing each other while we out shopping. Animals, insects, and shells were never ordinary with us after this class – we called them by their biological name even if we couldn't pronounce it correctly. We noticed the other day while in T.J. Maxx that we lost our touch to name these items. The perfect example of "use it or lose it" I suppose.
When I finally got home and back to reality that I would have to cook dinner I chose to make it quick and easy – no fuss but with tons of flavor. It was a no-brainer. This under 30 minute-meal is a favorite with us and got its name from a family member telling me that the chicken had a "kick" to it as they reached for a glass of water.. The dish has spiciness from the creole seasoning and the can of diced tomatoes with hot green chili peppers. If you're not that excited by spicy foods, tone it done with a mild can of the tomatoes and chili peppers or just a can of diced tomatoes. The meal comes together fast with the ease of using instant rice. If you are against instant rice, make rice your way – it just adds a bit of time to the recipe.
This is your cast of characters for this dish. Simple.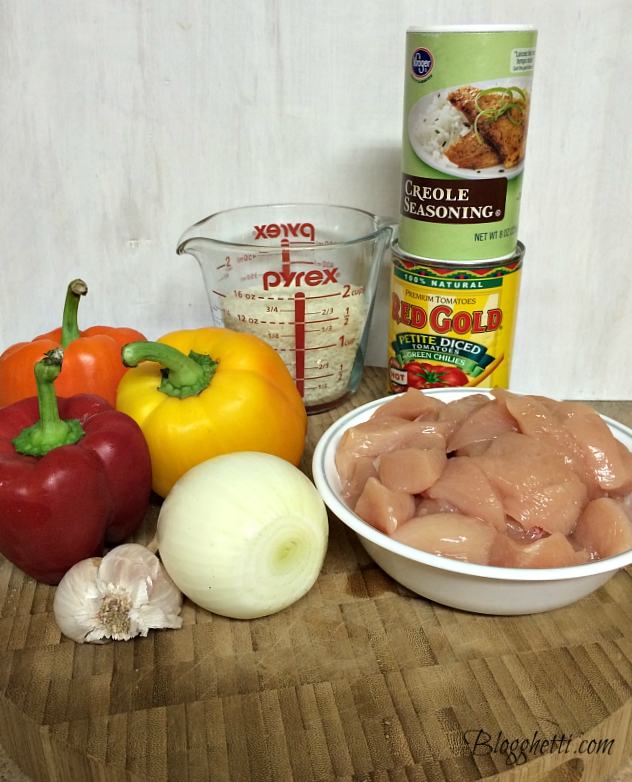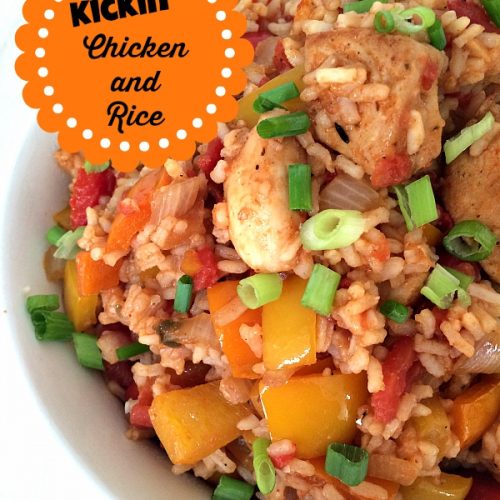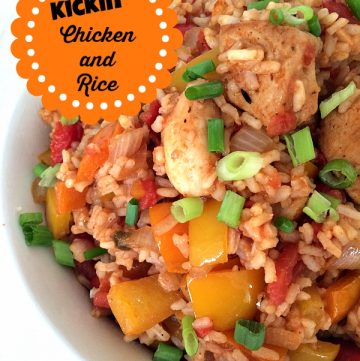 Ingredients
1 1/2

cups

of cooked rice

1

lb

boneless

skinless chicken breasts, diced into 1-inch pieces

1 - 2

tbsp

Creole Seasoning

2

tbsp

olive oil

1

medium onion

diced

3

bell peppers

diced (red, orange, and yellow)

2

cloves

garlic

minced

1

14-oz can Red Gold Petite Diced Tomatoes and Hot Green Chili Peppers

sliced green onions

optional for garnish
Instructions
In a medium bowl, combine the chicken pieces and the Creole seasoning to generously coat all pieces with the seasoning.

Heat one tablespoon of olive oil in a dutch oven pot over medium high heat. Add chicken and brown on both sides, turning after about 3 minutes. Chicken should be nearly done. Remove to a plate and lightly cover with foil to keep warm.

Add the remaining one tablespoon of olive oil to the pot and add the peppers and onions. Season with a bit of salt and pepper. Saute till softened then add the garlic and cook for one more minute.

Add the can of tomatoes (undrained), the chicken, and the rice into the pot with the peppers mixture. Heat till chicken is tender and cooked through and the whole meal is heated through. About 10-15 minutes. Garnish with green onion, if desired.
Enjoy!