This post may contain Amazon or other affiliate links. As an Amazon Associate I earn from qualifying purchases. Click
here
to read our privacy policy.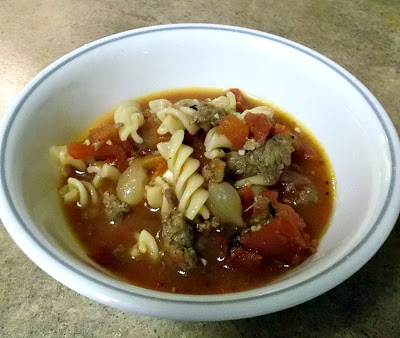 Lasagna isn't a meal you just whip up, it takes a lot of prep time and there's the hour of baking it in the oven. Clean up from making lasagna isn't fun either, at least it's not for me. It's a production for me, making and simmering the sauce, browning the mean, cooking the noodles (I don't like the no-cook kind) and preparing the cheese filling. But the end result is wonderful as it should be since it took forever to make, right?! Everyone has their favorite recipes for lasagna and the next time I make it, I will be posting mine. It seems the latest meal to "pin" on Pinterest is this lasagna soup and I am a follower, well on Pinterest I am anyway, so I pinned the recipe. It's a great meal to make on a cold day like it is today as we in Middle Georgia are welcoming back a bit of Winter and it's a great soup to make ahead of time and since we are on different schedules in this house lately, it's a perfect meal to make. It uses one of my favorite ingredients, fire-roasted tomatoes, so good!! This soup has all the elements of lasagna without the mess or long prep time, including the yummy ricotta cheese-filling. Oh so good!!!
Instead of the chopped onion, I used frozen pearl onions, adding them to the stock.
The recipe actually has it simmering for only about 10 minutes but I let it simmer for about an hour (without the pasta.)
I cooked my pasta separate and then added it to the soup.
I used a spicy ground pork sausage instead of the turkey sausage. I omitted the oil as the sausage provided enough to saute the garlic.
I added some parsley flakes to the cheese filling.
Ingredient for the Soup:
2 tsp olive oil
12 oz turkey Italian sausage, casings removed
1 onion, chopped
3 garlic cloves, minced
2 tsp dried oregano
1/2 tsp crushed red pepper flakes
2 Tbsp tomato paste
1 (28 oz) can fire-roasted diced tomatoes
2 bay leaves
6 cups low-sodium chicken broth
8 oz broken up lasagna noodles or fusilli pasta
1/2 cup fresh basil leaves, finely chopped
black pepper, to taste
Cheese Filling:
8 oz low fat ricotta cheese
1/4 tsp salt
pinch of freshly ground black pepper
2 oz (1/2 cup) 2% mozzarella cheese
Directions:
Heat olive oil in a large pot over medium heat. Add sausage, breaking up into bite-size pieces and brown for 5-6 minutes. Add onions and cook until softened, about 5-6 minutes. Add garlic, oregano and red pepper flakes. Cook for 1 minute.
Add tomato paste and stir well to incorporate. Add diced tomatoes, bay leaves and chicken stock. Stir to combine all ingredients. Bring to a boil and then reduce heat and simmer for 10 minutes.
Add uncooked pasta and cook until al dente, about 10 minutes.
Meanwhile, prepare the cheese filling. In a small bowl, combine the ricotta, salt, pepper, and mozzarella; stir to combine.
Add the basil and pepper to the soup; stir. To serve, place a dollop of the cheese filling in each soup bowl and ladle the hot soup over the cheese. Mix in to get the flavors going. Enjoy!