This post may contain Amazon or other affiliate links. As an Amazon Associate I earn from qualifying purchases. Click
here
to read our privacy policy.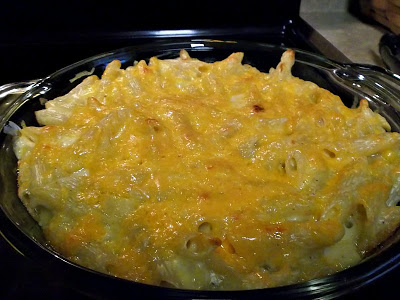 This Macaroni and Cheese recipe is from Taste of Home and it's great on its own but I have added a few more ingredients to it to jazz it up. I have tried many mac & cheese recipes before I got a thumbs up from the family so this one is a keeper. This Christmas instead of the elbow macaroni, I used Penne pasta, simply because I was out of elbows. My changes/additions are noted after the original recipe.
Ingredients:
1-1/2 cups uncooked elbow macaroni
5 tablespoons butter, divided
3 tablespoons all-purpose flour
1/2 teaspoon salt
1/4 teaspoon pepper
1-1/2 cups milk
1 cup (4 ounces) shredded cheddar cheese ( I used extra sharp cheddar)
2 ounces process cheese (Velveeta), cubed
2 tablespoons dry bread crumbs
Directions:
Cook macaroni according to package directions.
Meanwhile, in a saucepan, melt 4 tablespoons butter over medium heat.
Stir in flour, salt and pepper until smooth. Gradually add milk. Bring to a boil; cook and stir for 2 minutes or until thickened. Reduce heat.
Add the cheeses, stirring until cheese is melted.
Drain macaroni.
Transfer macaroni to a greased 1-1/2-qt. baking dish. Pour cheese sauce over macaroni; mix well.
Melt the remaining butter; add the bread crumbs. Sprinkle over top.
Bake, uncovered, at 375° for 30 minutes or until heated through and topping is golden brown. Yield: 6 servings.
Changes/Additions:
I tend to omit the bread crumbs, so that extra butter that goes to that process I just use in the rue and add an extra tablespoon of flour.
I add a dash or two of ground nutmeg and a dash or two or three of hot sauce to the white sauce before adding the cheeses.
Also, I double the Velvetta, and add about one cup more of the cheddar (we like it very cheesy) and if you need to, add a bit more milk to thin it out if it gets too thick.
Top with about 1/2 cup to 1 cup of shredded cheddar and then bake as directed