This post may contain Amazon or other affiliate links. As an Amazon Associate I earn from qualifying purchases. Click
here
to read our privacy policy.
These coconut strawberry-shaped confections make a pretty addition to any dessert tray and require no baking. I love a good retro recipe with memories and this one does not disappoint – super sweet in more than one way!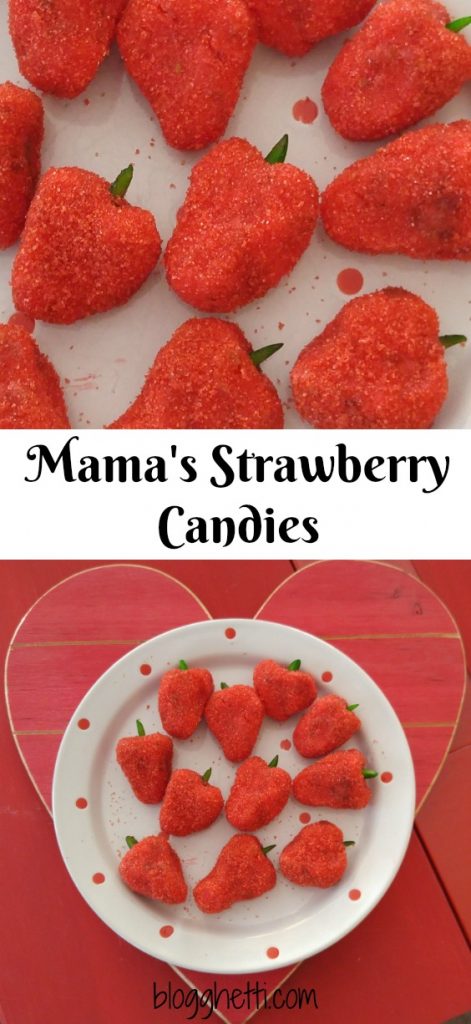 Guest post by Elane Johnson
When I was a little girl—and by "little" I mean "young" because according to my family and the cultural standards of my lifetime, I've always been a chubbucket—I opened my grandmother's refrigerator one time probably looking for a healthy snack like celery (Mmmmm! Tastes like crunchy water!) only to be knocked backwards by the brilliant red beauty of a pile of dazzling, glittery, strawberry-shaped delicacies.
I'd never seen strawberries so bedazzled and plump, and I'd never tasted strawberries so nom-nom-nom delicious. The first one—delicately crisp on the outside; tender and sweet with just the suggestion of tang on the inside—exploded my taste buds and overpowered all of my senses so that the next thing I knew, Mama was standing there with a look of stunned bewilderment that I've never seen again on a human until November 9, 2016, and all my fingers were red, and there was an empty plate in the fridge. I don't know.
Those dozen strawberry jello candies my grandmother had made for a teachers' luncheon were not only gone, but they were the last ones I've ever seen in my lifetime. Over the many, many decades, I've often thought of those sugary delights and thought maybe I imagined them, but even with the advent of the Internet, it didn't occur to me to search for what they really were. My vague recollection of their magical majesty was enough. Or so I thought.
And then: March 8, 2017.
The scene: A neighborhood hot-dog social (Yes. It's a thing.) in a 55+ community, the dessert table, far left, on a white Chinet ® platter, next to a plate of brownie bites.
Me (standing on my patio, one house over): Gasp!
Me (covering the distance between my house and the dessert table in one gazelle-like leap): OMG, that's them! WHO MADE THESE?? WHOOOOOOOOO???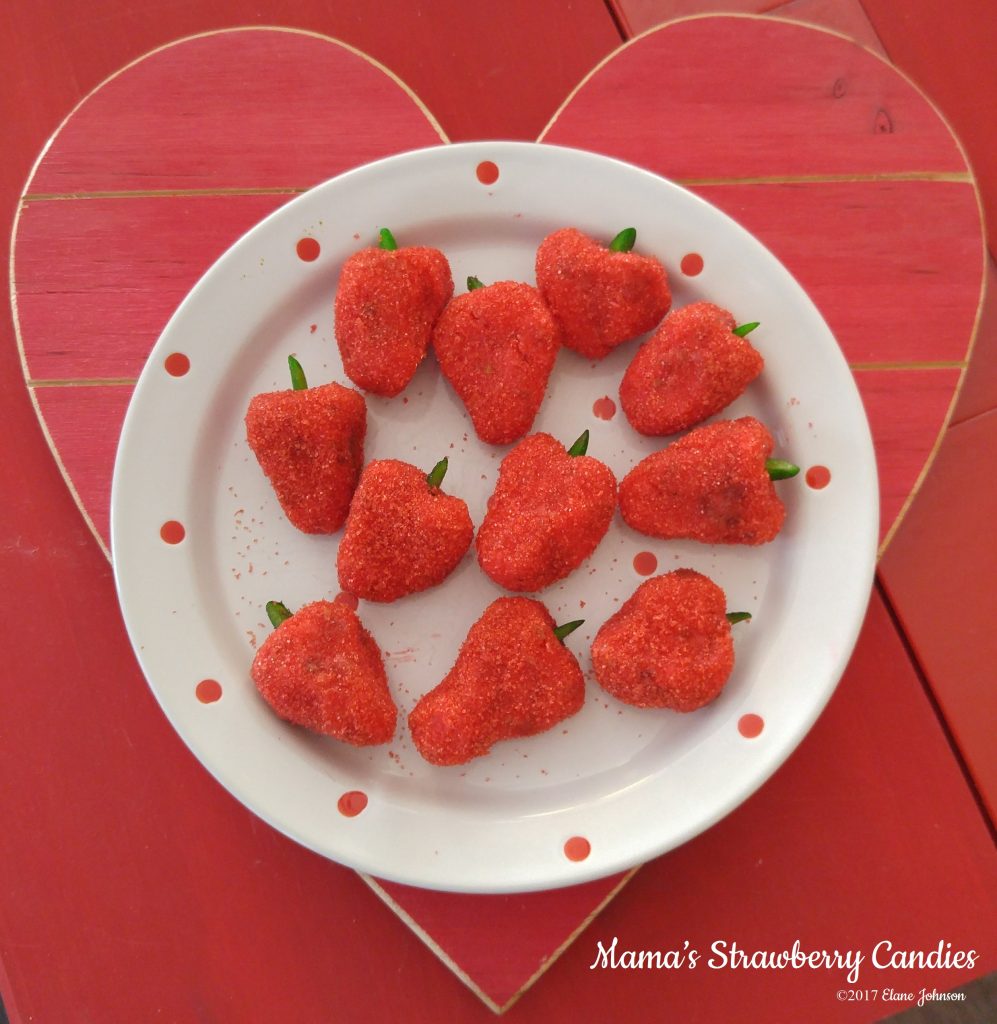 And then I ate…some. Hey, this guy got one before I could finish the plate, so it's not like I ate them all. But, those strawberries transported me straight to the late 60's, happy and carefree in Mama's yellow kitchen with the frightening spearmint-green Formica ® countertops that were edged with ribbed aluminum skirting, and all the love of my grandmother surrounded me like an ethereal hug. Angels sang.
We all know foods that feel like a hug, foods that take us instantly back in time, foods that bring on Nirvana, right?
Here. Let me share my strawberrylicious hug with you.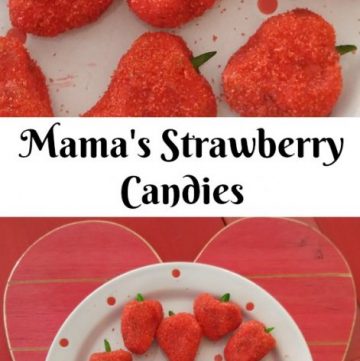 Mama's Strawberry Candies
These coconut strawberry-shaped confections make a pretty addition to any dessert tray and require no baking.
Print
Pin
Rate
Ingredients
First, keep in mind that the base takes 48 hours to set while refrigerated. If you need these for a party today, no.!
Here's what you'll need:
1

cup

sweetened flaked coconut

1

cup

finely chopped nuts

Pecans are the best, and you can just get those cookie pieces. Easy! You can safely omit the nuts.

3

3-oz. boxes strawberry gelatin (DO NOT use sugar-free)

1

14-oz. can sweetened condensed milk

1-2

jars red sugar crystals

slivered almonds

Not sliced! Not sliced! (You'll need around 36 pieces, so probably a ½ cup.)

green food coloring
Supplies-
1

medium mixing bowl and a cover

or plastic wrap

A large spoon

A small rubber spatula

2

small mixing bowls

one for green food coloring and one for red sugar crystals

Paper plates

Wax paper

A teaspoon
Instructions
In the medium bowl, combine the coconut, nuts, and gelatin powder, stirring well.

Open the sweetened condensed milk and carefully lick the lid because you don't want to cut your tongue, and you were just going to toss the lid anyway, so why waste that bounty?

Using a small rubber spatula, scoop every, last drop of sweetened condensed milk into the medium bowl.

Mix the sweetened condensed milk with the dry ingredients until a lovely red goo forms.

Cover and refrigerate for 48 hours. See? What did I tell you?
Two days later:
Remove chilled red dough from refrigerator and form scooped teaspoonfuls into strawberry shapes. (Makes about three dozen depending on your strawberry shaping skills.)

Roll strawberries in red sugar and place on wax paper.

Dye almond slivers green in bowl of food coloring and place slivers on paper plates until dry.

Stick one green almond sliver in the fat end of each strawberry as a stem.

Store in the refrigerator.

For everyone's safety, tell me your fridge is on the blink if I come over.
Notes
For a great gift idea, save the plastic strawberry containers from your strawberries, or you can purchase some from any craft store. Fill the containers with these strawberry candies and cover with plastic wrap. Tie each container with a pretty ribbon or bow.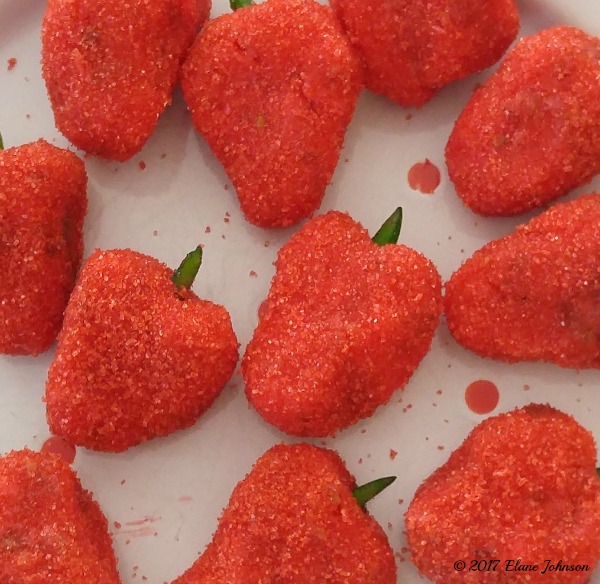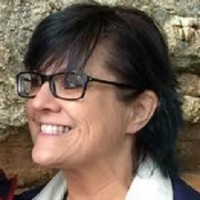 About the author: Elane Johnson's nonfiction and fiction have been anthologized, featured in college creative writing curricula across the United States and internationally, and published in, among others, Creative Nonfiction, Brevity, Hippocampus, Superstition Review, The Indianapolis Star, Southern Sin: True Stories of the Sultry South and Women Behaving Badly, Penny Fiction's 2016 flash fiction anthology, Sonora Review, and Current. Elane holds an MFA in Creative Nonfiction, teaches graduate-level creative writing for Southern New Hampshire University online and fiction writing for New York's acclaimed Gotham Writers' Workshop, and finally made the strawberry candies in April. She ate them all. Again.