This post may contain Amazon or other affiliate links. As an Amazon Associate I earn from qualifying purchases. Click
here
to read our privacy policy.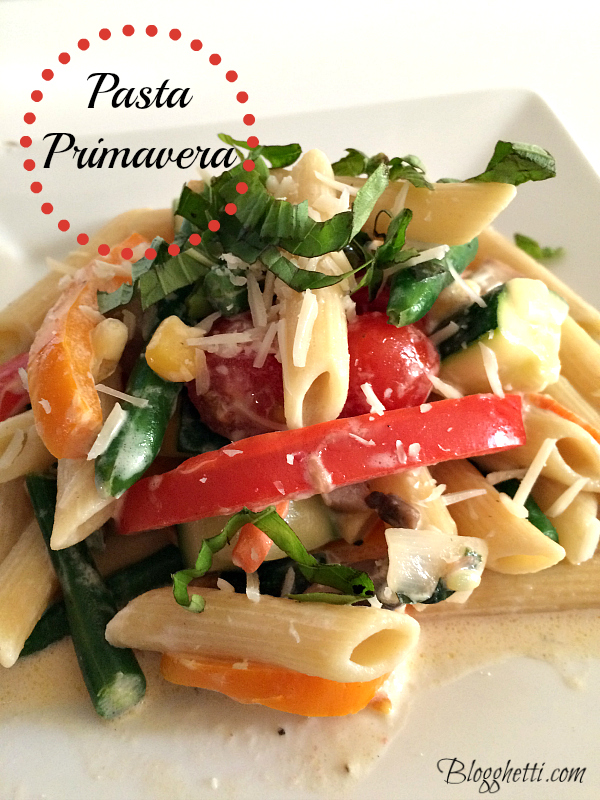 I'm excited to be starting a new series on the blog this week. You've heard of Meatless Mondays and in my house we don't necessarily wait till Monday to have a meatless dish for dinner. My youngest daughter, Valerie, has moved back home after graduating college for a bit and partakes in Meatless Mondays on Mondays so I thought it would be fun to include the recipes that we make together here on the blog. This is an adjustment for my meat-and-potatoes husband but he's keeping his humor by asking "where's the beef?" on Mondays.
This week's recipe is an easy one and very easy to adapt to your vegetable and pasta tastes. I love it simply because you can use ingredients you have on hand. The vegetables keep their crispness (yet they are tender) since cooking only requires a few minutes. It is not low-fat with the cream and half-and-half but it's so worth it to use the creamy substance. If you think about it, you will get the nutritional benefit of the vegetables so that cancels out the bad from the cream, right? Well, that's how I am looking at it!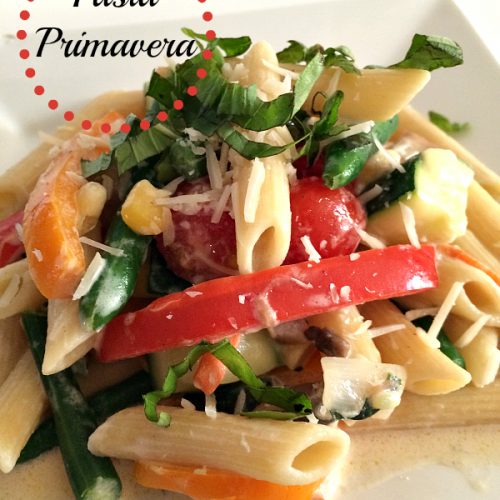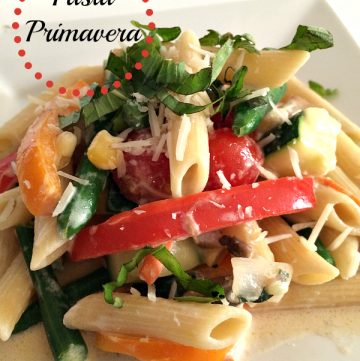 Ingredients
1

lb

penne pasta

4

tbsp

butter

2

tbsp

oilve oil

1

small yellow onion

diced

3

cloves

garlic

minced

1 1/2

cups

cut

fresh green beans (cut beans in half or thirds)

1

cup

shredded carrots

I buy the carrots already shredded

1

red and 1 yellow bell pepper

cut into strips

1 - 2

medium zucchini

diced largely

1

container

about 5 Oz. white button mushrooms, roughly diced or sliced

1

cup

grape tomatoes

cut in half, if desired
1/4 - 1/2

cup

white wine

optional, can use additional vegetable broth instead

1/2

cup

low sodium vegetable broth

1

cup

heavy whipping cream

1

cup

half-and-half

1/2

cup

grated Parmesan cheese

5

leaves

of fresh basil

and a bit more for garnish

1

cup

frozen corn
Instructions
Cook pasta according to package directions for al dente, drain, and keep warm.

Heat 2 tablespoons butter with 2 tablespoons olive oil in a skillet over medium-high heat.

Add the chopped onion and garlic together and cook for a minute or two, until they start to turn translucent.

Then add in the green beans and carrots. Give them a stir and cook for about 2 minutes.

Transfer the mixture to a plate. Add in the red and yellow peppers to the skillet; stir them around for a minute or two, then transfer them to the plate with the other vegetables.

Add one tablespoon of butter to the skillet. Add zucchini, cook for just a minute or two, then transfer to plate.

Add mushrooms and tomatoes - cook for a minute or two and again transfer to the plate.
To make the sauce, pour 1/4 - 1/2 cup white wine (or vegetable broth) into the skillet.

Add 1/2 cup low-sodium vegetable broth, a tablespoon of butter.

Scrape the bottom of the skillet to pull up the flavor left behind by the vegetables. Cook for 1 to 2 minutes until the liquid starts to thicken.

Add 1 cup whipping cream and 1 cup half-and-half.

Measure out 1/2 cup grated Parmesan cheese and add to the skillet.

Add salt and pepper to taste.

Chiffonade the fresh basil leaves and add that to the sauce and stir.

Dump vegetables on plate into the sauce along with 1 cup of frozen corn.

Add pasta and stir. Cook till it's all heated through and the sauce is thickened to your liking.

If the sauce seems a little thick, or thin - add a splash of vegetable broth and a little more half-and-half.

Top with more Parmesan, salt, pepper, and basil to taste.

Serve
Enjoy!

PS – Today is the last full day to enter the Giveaway for Melissa D'Arabian's Supermarket Healthy Cookbook.
Enter here!