This post may contain Amazon or other affiliate links. As an Amazon Associate I earn from qualifying purchases. Click
here
to read our privacy policy.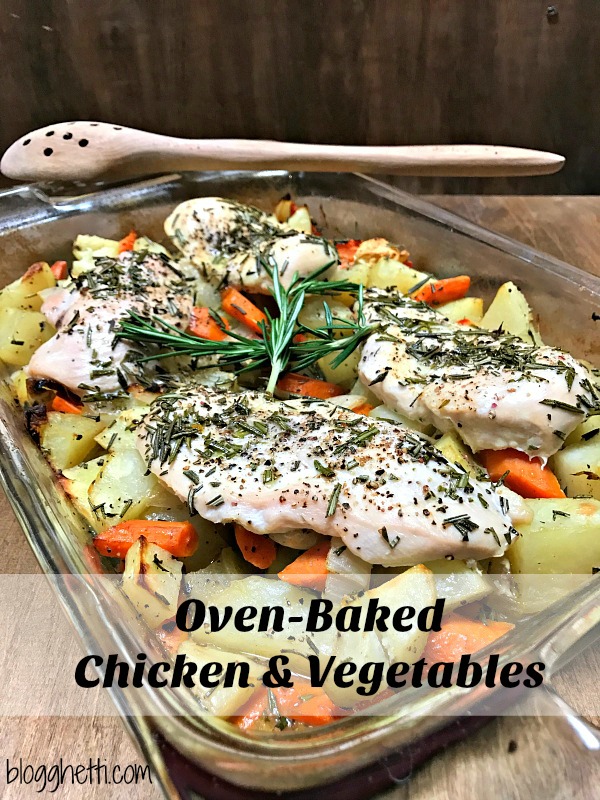 This morning before my feet touched the floor I began to think of all the things I needed to do today. To be honest, I rolled back over and threw a 10 minute protest, would have been longer had it not been for a certain 4-legged, furry critter. She felt I needed to start my list of things to do with feeding her! Before coffee even! She won, she's too cute not to get her way. Now that I am up, the next item (after coffee) is to decide what to make for dinner tonight. I realized it is the first time I have cooked since Sunday! Darn school! It is also why there hasn't been a current post since Sunday! Hanging my head a bit low with that one as I used to be ahead of the game with posts ready to go. I"ll get back there, don't you worry! Haha!
So, back to the dinner plan. I actually made this meal awhile back and never got around to sharing it with you. It is perhaps one of my favorite one pan meals for the oven. This dish is served up at my house at least once a month. It uses my favorite herb, rosemary along with plenty of garlic. Add whatever your favorite herbs are to this dish. Can't go wrong with potatoes, carrots, and chicken combination. I've also made this with sausage and it is just as delicious (omit the chicken broth if using sausage). Of course, the chicken is healthier for you – eh, all things in moderation! I'm loving all of the one pot/pan meals and I can't wait to share more of them with you. What's your favorite one pot/pan meal?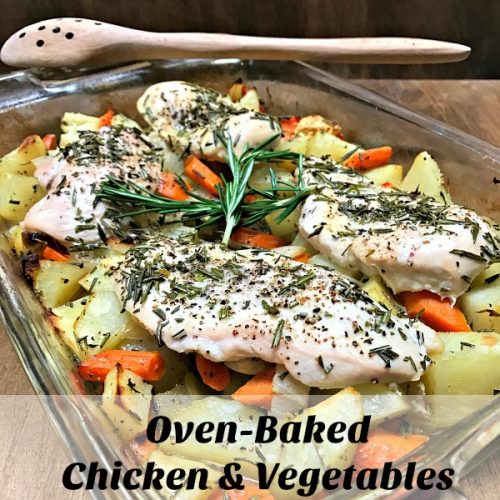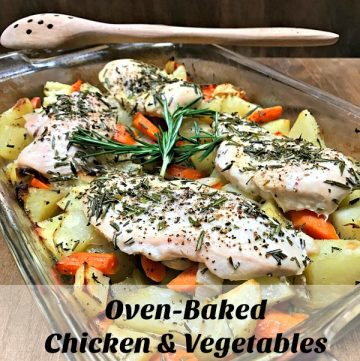 Ingredients
3 - 4

chicken breasts

boneless and skinless

2 - 3

cups

of peeled

cubed potatoes (about 3 - 4 medium potatoes)

2

cups

baby carrots

1

large onion

cut into large pieces

3

tbsp

olive oil

2 - 3

tbsp

fresh chopped rosemary

1

cup

of unsalted chicken stock

4

cloves

garlic

smashed (do not mince)

salt and pepper

to taste
Instructions
Preheat oven to 400 degrees.

In a 9 by 13 inch baking pan add the cut potatoes, baby carrots, onions.

Add salt and pepper, HALF of the rosemary and HALF of the olive oil. Using your (clean) hands toss together everything till combined.

Pour in chicken stock.

Cut chicken breasts in half and place on top of vegetables.

Season chicken with a little bit of salt and pepper.

Top the chicken and vegetables with the garlic, remaining rosemary and olive oil.

Bake in a 400 degree oven for 55 - 60 minutes, or until chicken is cooked through and vegetables are tender.
Enjoy!