This post may contain Amazon or other affiliate links. As an Amazon Associate I earn from qualifying purchases. Click
here
to read our privacy policy.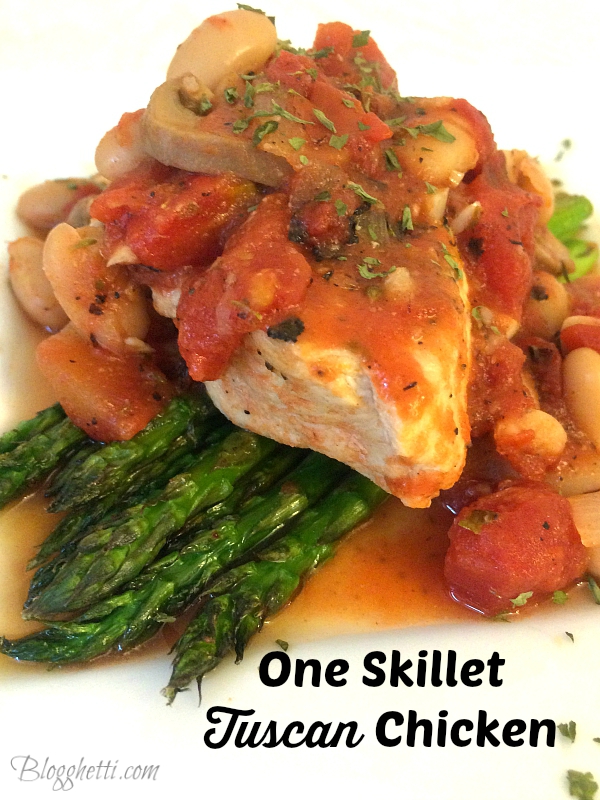 Have you had a day where your list of errands seemed to never end and then when you get home, you realize you didn't go to the one place you really needed to go? The grocery store. Yep. It happens to me often and as a food blogger, you would think it wouldn't. My mind has so much on it with remembering what paper to write for what class, when the next tests are for those same classes, and trying to keep my family's schedule on point. I have a planner that I do complete with all that I must do but just like that grocery list it doesn't always make it with me everywhere I need to be. Anyway, now I had to figure out what to make for dinner that would be quick so that we could be finished with dinner and all sit down together to watch our 8:00pm show. We tend to eat a later dinner since I have classes and some nights my husband rides with his biking group.
Scouring the pantry and the refrigerator, I started to grab items and set out to make dinner. I had remembered a meal I had in a restaurant that I really enjoyed and had all that went into it on hand. Tuscan Chicken is a quick one pan dish. You can eat it as is if you prefer no additional vegetables or another side. I served it over roasted asparagus but you can easily serve it over white rice. It totally went over great! Prep time is minimal and cook time is under 30 minutes! Dishes are a snap as well. My kind of simple and delicious meal.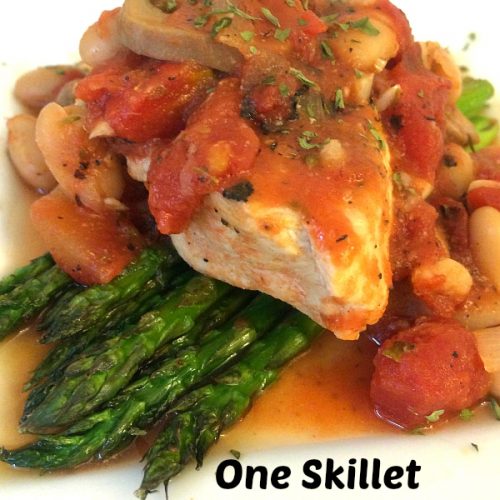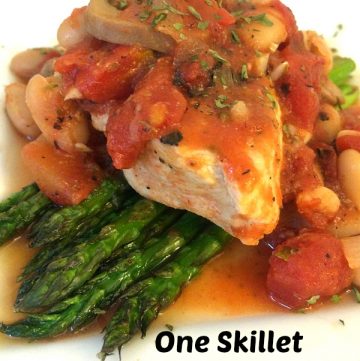 Ingredients
2

Tbsp.

olive oil

divided

4

bonless and skinless chicken breasts

cut in half

salt and pepper

to taste

1

tsp.

oregano

1/2

tsp.

thyme

1

small yellow onion

diced

3

cloves

garlic

minced

8

oz

mushrooms

sliced

1

15 oz can Cannelini Beans, drained and rinsed

2

15 oz cans Hunt's fire roasted diced tomatoes
Instructions
Heat 1 tablespoon of olive oil in a large skillet over medium-­high heat. Season the chicken with salt and pepper.

Add the chicken to the hot skillet and brown for 3 minutes on each side.

Remove chicken and set aside on a plate. Add the remaining tablespoon olive oil to the pan.

Add the sliced mushrooms in a single layer and brown a few minutes on each side. Remove from the pan and set aside.

Add the onion and sauté until the onions are transulcent, about 3 minutes. Add the garlic and let cook about 1 minute.

Stir in the diced tomatoes, oregano, thyme, and beans.

Transfer the chicken back to the skillet and spoon some of the sauce and vegetables over top of the chicken.

Cover and simmer on the stove top until the chicken is cooked through and the sauce is bubbling, about 15 - 20 minutes. Return the mushrooms to the pan, let heat about 2-3 more minutes. Check to see if you need to add more salt and pepper.

Serve over roasted asparagus or over white rice.
Enjoy!