This post may contain Amazon or other affiliate links. As an Amazon Associate I earn from qualifying purchases. Click
here
to read our privacy policy.
This savory Salisbury Steak with Caramelized Onion Gravy is a made-from-scratch recipe that is pure comfort food heaven. Pour that delicious gravy over mashed potatoes and your taste-buds will thank you.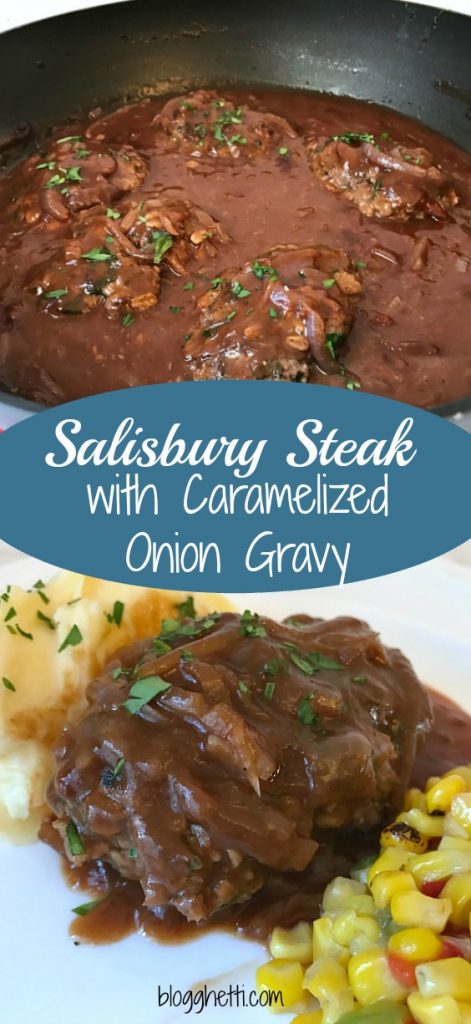 The very first time I had Salisbury Steak was in the elementary school cafeteria for lunch. Probably showing my age, but this was a time when the "lunch ladies" actually cooked all of the food right in the school's kitchen. It was served hot and fresh. Best meals ever. I am not a "gravy" person. It has its place with me and very little at a time. However, this – this Salisbury Steak with Caramelized Onion Gravy I can eat the gravy all by itself.
Through the years, I'm sure I've had Salisbury Steak by way of frozen meals or if my parents prepared the dish but I had never made it until I was married for a few years. My husband isn't a "brown gravy" person – he prefers chicken or turkey gravy so when I make this recipe, it's a real treat for me. He does enjoy it and even has seconds.
Normally, I like recipes that aren't so heavy on the prep or cooking time but caramelizing onions is not a quick process. You can't rush it or you'll end up with mushy burned onions. Gross. So, let them do their thing in their own time-frame. It's so worth it.
I also like to cut down on the dishes and extra oil so I tend to brown my beef patties on the grill over pan browning them. You can also use a grill pan or just a skillet if you don't have a grill.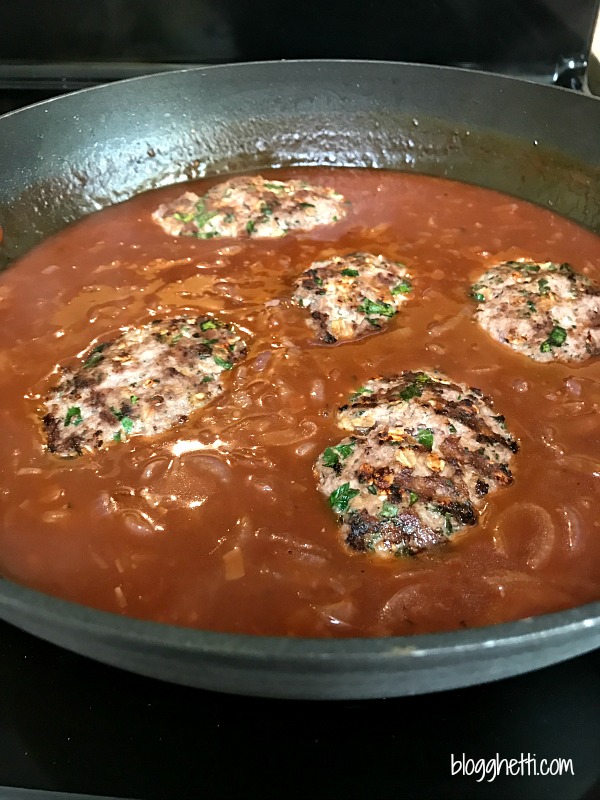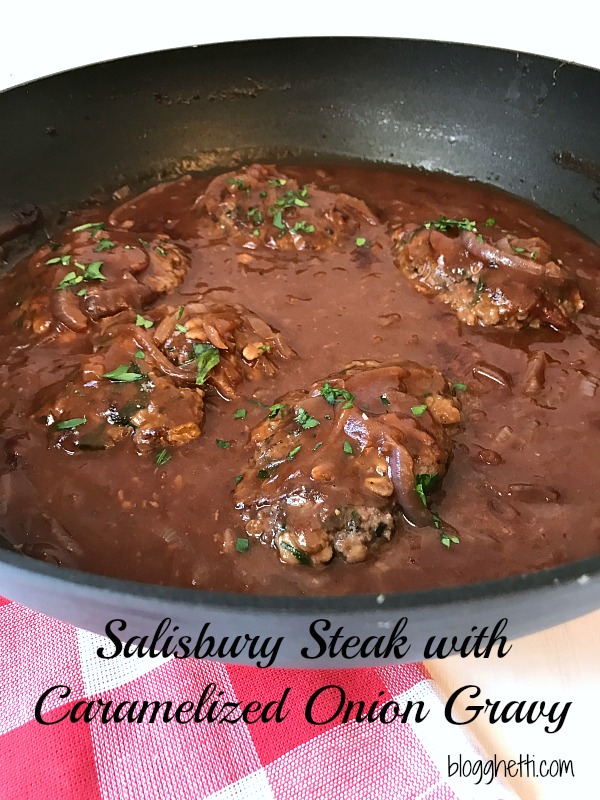 It's pure comfort food – in the bestest way possible.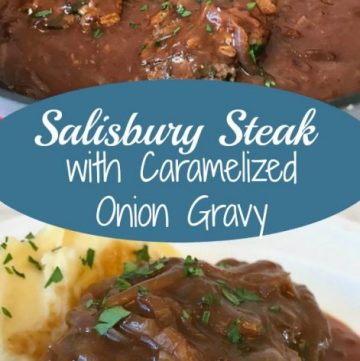 Ingredients
To Make the Onion Gravy:
2

large red onions

thinly sliced

2

tbsp

unsalted butter

2

tbsp

all-purpose flour

3

cups

unsalted beef stock

1/2

cup

dry red wine or 1/2 cup beef stock

optional

2

tbsp

tomato paste

1

tsp

cider vinegar

Salt and pepper

to taste
To Make the Beef Patties:
1

lb

lean ground beef

1/2

cup

oatmeal

you can use breadcrumbs, Panko, or even cooked rice

1

egg

2

cloves

minced garlic

1

tsp

Worcestershire sauce

3

tbsp

fresh parsley

chopped

2

tbsp

fresh basil

chopped

1

tsp

fresh thyme

2

tbsp

olive oil
Instructions
To make gravy:
Heat butter in a large skillet. Add onions and cook over medium-high heat, until the onions start to brown. Give them a stir occasionally.

Add 1/4 cup of the beef stock when the onions are a deep, rich brown. Reduce heat, continue cooking, adding more stock as needed to prevent caramelized bits at the bottom of the pan from burning. It takes a bit of time for the onions to caramelize - about 15 - 20 minutes. Rushing it will only produce burnt onions.

When the onions are caramelized, stir in the flour and cook for about 2 minutes, to cook out the "flour" taste.

Add wine (or beef broth) and simmer till it's reduced by half (about 10 min).

Stir in remaining beef broth, tomato paste, and cider vinegar; adding salt and pepper to suit your tastes. Then simmer for 10 - 15 minutes. The gravy will thicken as it cooks more.

Reduce heat to low and keep warm.
To make the beef patties:
Mix all ingredients for beef patties except the olive oil.

Shape into 4 - 6 oval patties. I like to make them on the smaller side but feel free to make them a bit larger.

Heat olive oil in a large skillet over medium-high heat. Alternatively, you can also sear and brown the patties on the grill or a grill pan, which I do often.

Sear patties about 3 minutes per side, or until a brown crust forms. If grilling, remove from grill and place in pan with gravy and simmer for about 10-15 minutes more until patties are cooked through. Otherwise, pour gravy over patties and simmer for an additional 10-15 minutes more until patties are cooked through. Serve.

I like to serve Salisbury Steak with mashed potoates and roasted corn.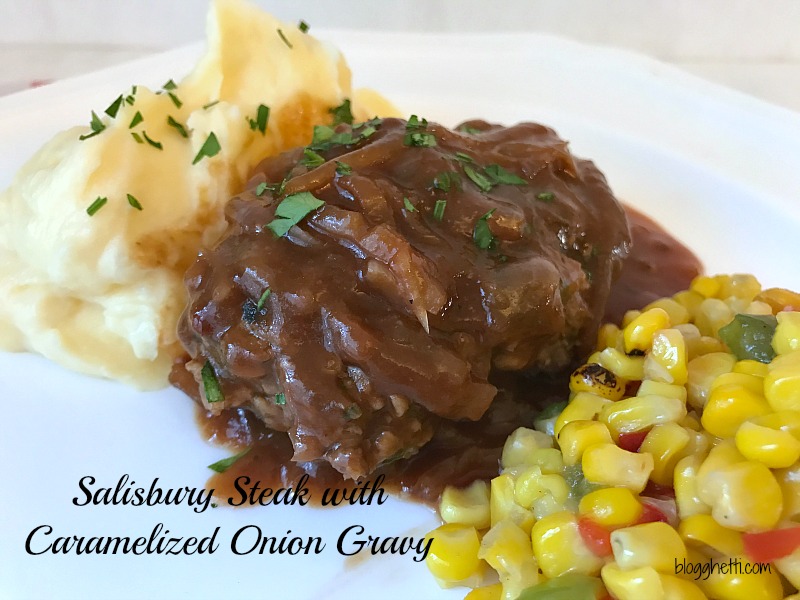 Enjoy!