This post may contain Amazon or other affiliate links. As an Amazon Associate I earn from qualifying purchases. Click
here
to read our privacy policy.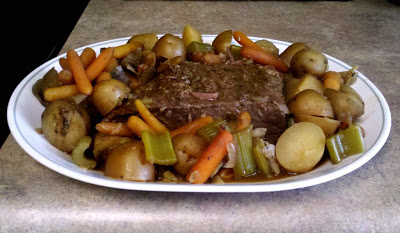 Growing up, Sundays were the big meal days. My Dad would cook a big meal on Sundays nearly every week. Pot Roast is a classic "Sunday" meal in many homes but I don't limit it to just Sundays with the ease of the slow cooker! Throw all the ingredients in and dinner is done in 6-8 hours! Love it! This is my version of that big meal.
Ingredients:
3-4 lb roast (I often use 2.5 lbs and the type of beef is entirely up to you. I use whatever cut was on sale that week)
1 pkg onion soup mix
1 pkg garlic and herb soup mix
2 cups of water
baby red potatoes (half the bigger ones)
baby carrots
1 medium onion roughly chopped or frozen baby pearl onions (I throw a good handful or two in)
1 cup sliced celery (if I have it and think about it)
Directions:
Trim roast of fat and season with salt and pepper.
Place in slow cooker.
Prepare potatoes.
Mix the soup mixes with the 2 cups of water(I find that warm water over cold water will mix the soup mixes better.)
Pour over roast and vegetables.
Cover and let cook 6-8 hours on low.