This post may contain Amazon or other affiliate links. As an Amazon Associate I earn from qualifying purchases. Click
here
to read our privacy policy.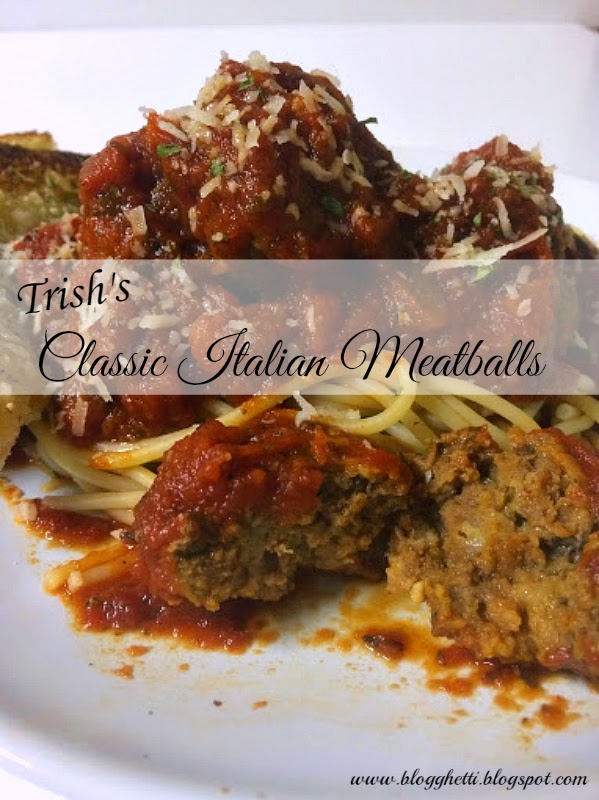 When I starting to blog it was on Xanga and it was there I "met" three wonderful ladies. We have shared so much together online from our gripes and praises to recipes to asking for advice. When I started Blogghetti, they were behind me 100% and still are so it is only natural
for me to want to include them somehow on here. I've asked them all for a few of their favorite recipes and they gladly shared with me so in turn, I am sharing with you.
Trish is an amazing woman, friend and Italian. I asked her for an Italian cookie recipe and she comes back with "I don't make Italian cookies!" What?!?!?! Unheard of! Ha! So she sends me her Italian meatball recipe that can also be used for meatloaf. I love my meatball recipe but I really wanted to try hers since it uses "wet" bread instead of the panko bread crumbs I use. I wasn't disappointed, the meatballs are awesome! The recipe makes enough meatballs that you can freeze some for later or use half for now and place the remaining mixture in the freezer for meatloaf later.
Ingredients:
2 1/2 pounds of ground beef (not too lean, 80% is best)
6 – 8 pieces of regular cheap white bread (I used 7 slices)
2 eggs
2 tbsp dried parsley
1/2 cup ketchup
1/2 tablespoon salt (seems like a lot but remember you're working with over 2 pounds of ground beef)
garlic powder and pepper, to taste. (I used 3 cloves of minced garlic and about a half tablespoon of pepper)
Minced onion can be added (I added about a 1/3 cup)
Cold water
Olive oil
Instructions:
Preheat oven to 350 degrees.
Wet bread with COLD water and squeeze out into a ball.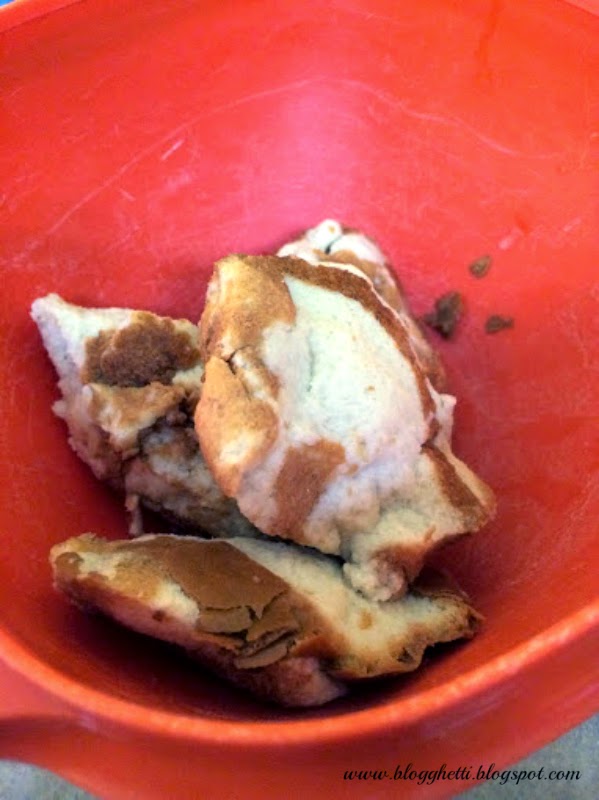 Place the ground beef in a large bowl.
Add the bread, eggs, parsley, ketchup, salt, pepper, garlic, and minced onion.
Roll them up into about 1 1/2 inch balls.
A little tip that Trish uses and I found very useful is to keep a bottle of oil handy.
Coating your hands with the oil not only helps in the forming of the meatballs but
also provides a nice delicate brown crust on them as they are baking.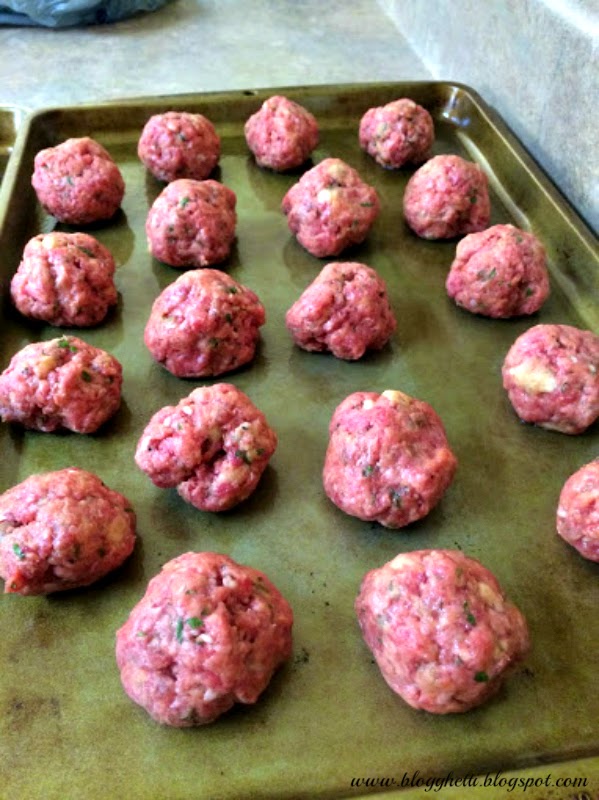 Bake the meatballs for about 30 minutes or until cooked through and browned.
My tip for after baking is to place meatballs on paper towels to drain a bit of the grease from baking. Add them to your sauce.
If you are making meatloaf: divide the mixture in half and form two loaves and bake them side by side on a baking sheet for 1 hour or until cooked through.
Enjoy.