This post may contain Amazon or other affiliate links. As an Amazon Associate I earn from qualifying purchases. Click
here
to read our privacy policy.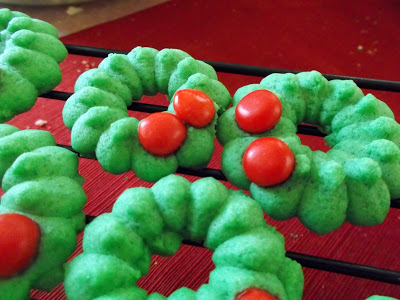 One of the gifts that my wonderful husband gave me for our last anniversary was an awesome cookie press and I could hardly wait till I could use for making spritz cookies. Before you say, "he gave you what??!!" It was perfect and he also gave me flowers, got me my favorite Chic-fil-a breakfast burrito and a pumpkin spice latte from Starbucks. Yes, I'll keep him around!! Back to the cookie press – I decided to make these festive spritz cookie wreaths and they were quite yummy. Just a warning though, if you use the little red hot candies, as I did, be sure to tell your cookie eaters what they are or they will be thinking little red M&M's and bite down and realize that it is HARD! Don't want you to be responsible for someone's dental bill! On to the recipe.
Ingredients:
1 cup (2 sticks) unsalted butter, at room temperature
2/3 cup sugar
1 large egg
1/4 teaspoon salt
2 1/4 cups all-purpose flour
Green liquid food coloring
Red Hots candies, edible confetti or mini red M&M's, to decorate
Directions:
Heat oven to 350 degrees F.
In a large bowl, beat together butter, sugar, egg and salt until fluffy, 3 minutes. On low speed, beat in flour until smooth. Tint dough pale green with food coloring.
Spoon dough into a cookie press fitted with a standard wreath disc, following manufacturer's directions.
Press out wreaths onto large baking sheets, spacing cookies about 3/4 inch apart. Before baking, press in candy "berries" or confetti.
Bake cookies at 350 degrees F for 8 to 10 minutes or until slightly puffed and set. Transfer cookies directly to wire racks to cool.