This post may contain Amazon or other affiliate links. As an Amazon Associate I earn from qualifying purchases. Click
here
to read our privacy policy.
Here are 15 delicious slow cooker soups to make dinner easy, save you time and can be ready with minimal prep and perfect for #NationalSoupMonth or any day of the year!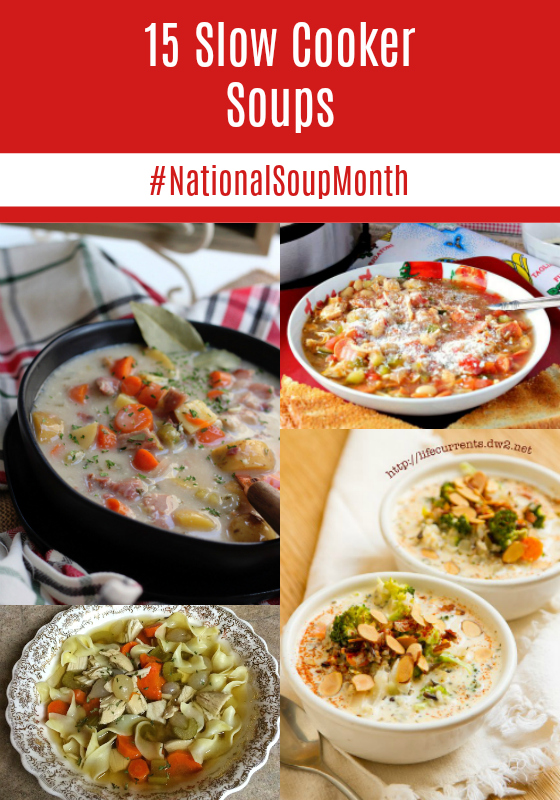 Busy schedules sometimes can mean dinner gets put on the back burner and you grab that take-out menu instead of cooking a meal at home. Sometimes, I don't even have 30 minutes to whip up a meal and it can be easier to just say, "'Let's eat out!" The secret is to use your slow cooker more! You can create meals with very little prep that are healthy and will be ready when you come home. I love putting together a pot-full of soup in the crock pot in the morning and let it simmer all day. With some recipes, you can even prep the night before and then toss it all in the slow cooker in the morning. I'm sure you will find one, two, or more new favorites among this list of 15 slow cooker soups.
Make Life Easier with these 15 Slow Cooker Soups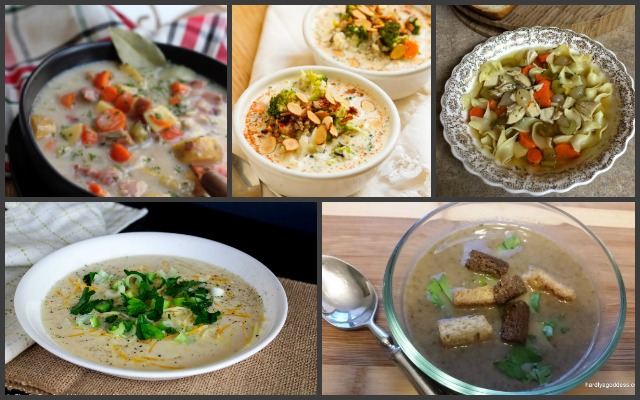 Slow Cooker Ham and Potato Soup from Paleo Bailey
Creamy Broccoli and Wild Rice Slow Cooker Soup from Life Currents
Homemade Chicken Noodle Soup (Crock pot) from Blogghetti
Slow Cooker Hashbrown Soup from Vegetarian Mama
Easy 5 Ingredient Crock Pot Mushroom Soup from Hardly a Goddess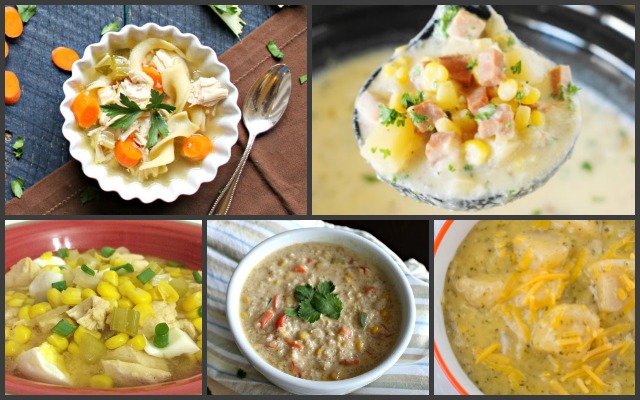 Slow Cooker Chicken Noodle Soup from Feast and Farm
Slow Cooker Ham and Corn Chowder from The Kitchen is my Playground
Crock Pot Chicken Corn Soup from Blogghetti
Spicy Quinoa Corn Chowder from Mary Ellen's Cooking Creations
Slow Cooker Broccoli Potato Cheese Soup from Brooklyn Farm Girl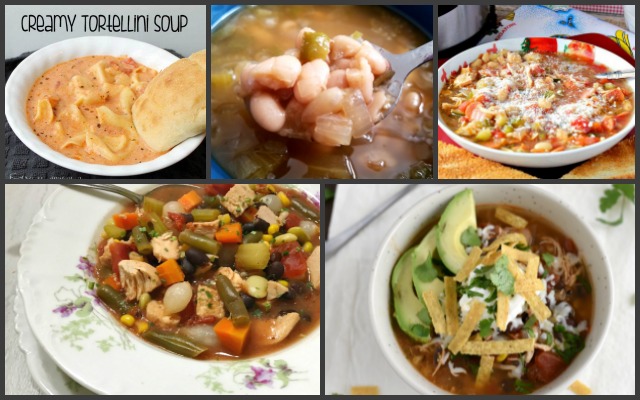 Crock Pot Creamy Tortellini Soup from Coffee with Us 3
Vegan Zero Point Crock Pot Bean Soup from You Brew My Tea
Slow Cooker Italian Pepperoni Soup from Kudos Kitchen by Renee
Slow Cooker Chicken and Vegetable Soup from Blogghetti
Crock Pot Chicken Enchilada Soup from The Gingered Whisk
There you go! Cooking in your slow cooker is easy, time-saving, and you can feel good about feeding your family a delicious bowl of soup on a chilly night.
If you are looking for more slow cooker soups, check these out:
Slow Cooker Chicken Pot Pie Soup with Parmesan Cheese Pie Crust Wedges
Slow Cooker Creamy Potato and Ham Soup
Enjoy!