This post may contain Amazon or other affiliate links. As an Amazon Associate I earn from qualifying purchases. Click
here
to read our privacy policy.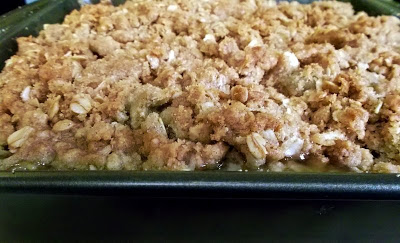 Apple crisp is a favorite in our house and I probably should make it more than the once or twice a year, which ends up being on Thanksgiving and Christmas. This year, when I made it for Thanksgiving I made it in a 9 x 9 pan and not the pan listed in the recipe. I got the recipe from a good friend when we were stationed in New York during my husband's Air Force days. She also gave me the Cheesy Chicken Enchiladas and the Fruit Dip recipes.
Ingredients:
1 cup flour
3/4 Quaker Oats
1 cup packed brown sugar
1 tsp cinnamin
1/2 cup butter
1 bag MacIntosh apples (or a good baking apple), peeled and thinly sliced
1 cup sugar
1 tbsp cornstarch
1 cup water
1 tsp vanilla
Directions:
Combine flour, oats, brown sugar and cinnamon in a bowl. Cut in butter until crumbly.
Press 1/2 of the mixture in a 9 x 13 pan.
Yes, that is a Starbucks drink in the background. A Pumpkin Spice Frap, to be exact.
Cover with apples. (sprinkle apples with a little bit of lemon juice to stop them from turning brown)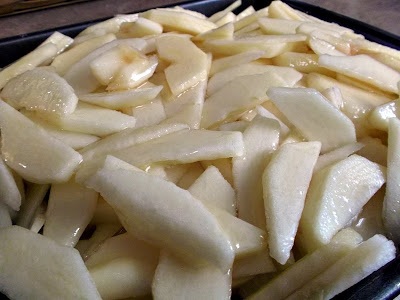 In a saucepan, combine sugar, cornstarch, water and vanilla. Cook until thick and clear.Pour over apples.
Sprinkle remaining oat mixture over the top.
Bake one hour at 350 degrees or until apples are tender. Serve warm and with vanilla ice cream, if desired.
*I tend to 1 1/2 the ingredients for the topping/crust as we like a bit more on the top and bottom.
* This recipe can be halved to fit a 9 x 9 pan, I just don't half the topping ingredients.
*I also keep my apples in a bowl of cold water while I am peeling and slicing them to prevent browning. As I slice the apples I put them in another bowl (without water since peeling takes more time than slicing.)
I like to slice the apples with a plain ole' knife, but I have used a food processor with the slicer attachment or this nifty apple corer/peeler/slicer that I got a few years ago at Farm and Fleet in Wisconsin. It is very useful for other fruits and vegetables too.