This post may contain Amazon or other affiliate links. As an Amazon Associate I earn from qualifying purchases. Click
here
to read our privacy policy.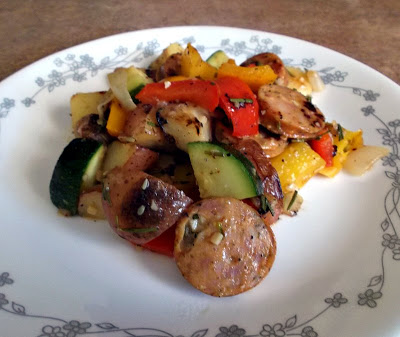 This was a bit out of my family's comfort zone with the chicken sausage but just the same it was time to try something new and with the vegetables it did make for a healthy meal and also Weight Watcher friendly. I also loved the fact that this was a one-pot meal because doing dishes is my least favorite chore, well right up there with laundry. Even more than the one-pot meal, this dish is gluten-free, dairy-free and egg-free. You aren't limited to chicken sausage, you can use turkey sausage or even a pork sausage. With the pork sausage, it won't be as healthy, so keep that in mind. The finished dish was tasty to me but the rest of the family wasn't fond of the chicken sausage so next time I will be trying this with turkey or pork.
Ingredients:
1 lb baby red potatoes, cut in half or quartered
2 tsp oil
1/2 tsp garlic powder
1 tsp kosher salt
fresh cracked pepper
14 oz Italian chicken sausage, sliced 1-inch thick
1 large onion, chopped
4-5 cloves garlic, smashed with the side of the knife
1/2 orange bell pepper, diced 1-inch squares
1/2 yellow bell pepper, diced 1-inch squares
1 red bell pepper, diced 1-inch squares
2 tbsp fresh rosemary (or other fresh herb such as thyme)
2 cups zucchini, 1/2 inch thick and quartered
Directions:Place oil and potatoes in a large, deep non-stick skillet with a tight fitting lid on high heat; season with garlic powder, salt and pepper.
When the skillet gets hot and starts to sizzle, reduce heat to low and cook with a tight lid on for about 20-25 minutes,shaking the pan occasionally to prevent the potatoes from burning.
Remove from heat and let them sit 5 minutes without removing the lid. Set potatoes aside on a dish.
Add the sausage to the skillet and saute on medium-low and cook, stirring occasionally until browned but not quite cooked through, about 10 minutes.
Season chopped vegetables with salt and pepper. Add onions, peppers, garlic and rosemary to the skillet and mix.
Continue cooking stirring occasionally until onions and peppers become slightly browned.
Add zucchini and cook an additional 5 minutes, mixing as it cooks until cooked through.
Return the potatoes back to the skillet and mix well.
Adjust salt and pepper as needed; cover and cook 5 more minutes.
Makes about 7 1/2 cups.