This post may contain Amazon or other affiliate links. As an Amazon Associate I earn from qualifying purchases. Click
here
to read our privacy policy.
Before I tell you about this delicious apple pie, I must share some great news with you. At the end of next week Blogghetti will be moving to it's own home and I cannot wait! There will be some changes in the look of my blog but the same simple and yummy recipes will be here. There
may be some hiccups for a moment or two as things settle down. I ask you be patient with me as they are worked through. Those of you who subscribe to the newsletter may experience a bump as I change over to a new system but I will give you plenty of notice. I'm excited for this change and it is been in the works for awhile now as are some great things ahead for Blogghetti. I hope you all will continue to follow along with me.
No time to make an apple pie from scratch? How about semi-homemade? This is the way to go if you need to make an apple pie on short notice or even just because. I have nothing against making the pie crusts from scratch and preparing the filling from fresh apples that you have peeled and sliced, but face it – that takes time. Time is rare for many of us with the busy schedules we all hold. This recipe guarantees a homemade taste and look with minimal effort on your part. Perfect, I say!
Ingredients:
2 cans (21 oz each) Duncan Hines Comstock Apple Pie filling (no high fructose corn syrup)
1/2 – 1 tsp cinnamon
3/4 cup all-purpose flour
1/3 cup packed light-brown sugar
3 tablespoons granulated sugar
1/4 teaspoon cinnamon
6 tablespoons cold, unsalted butter (cut into small pieces)
1/4 – 1/2 cup chopped walnuts
You will also need one frozen pie shell (deep dish style), thawed.
Instructions:
Preheat oven to 425 degrees. Cover a large baking sheet with aluminum foil and place pie crust on it to thaw.
In a large bowl combine the apple pie filling and cinnamon and mix.
In a food processor, combine all of the Crumb Topping ingredients except the walnuts. Pulse a few times until the mixture looks like large crumbs. Add the walnuts and pulse a couple more times. You want the topping to be crumbly.
Pour the apple pie filling into the thawed pie shell.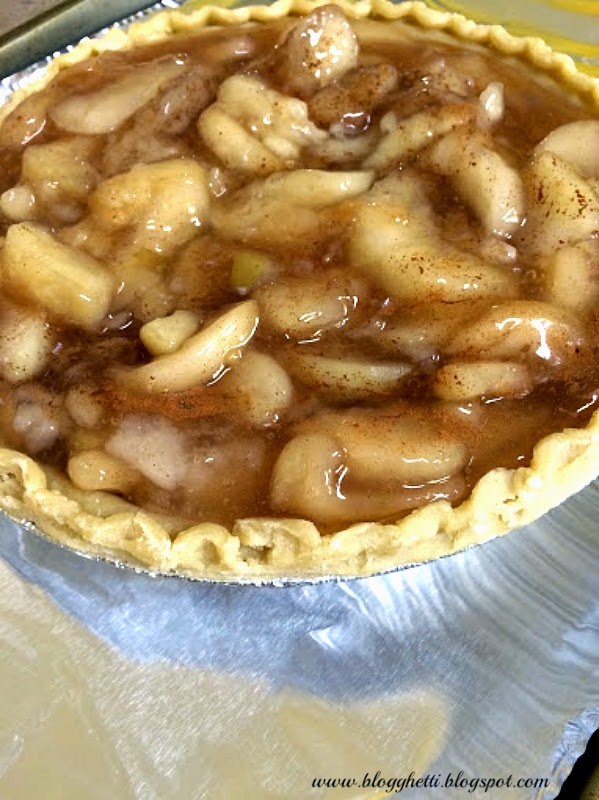 Top with the crumb topping, pressing down lightly so it will stick to the pie.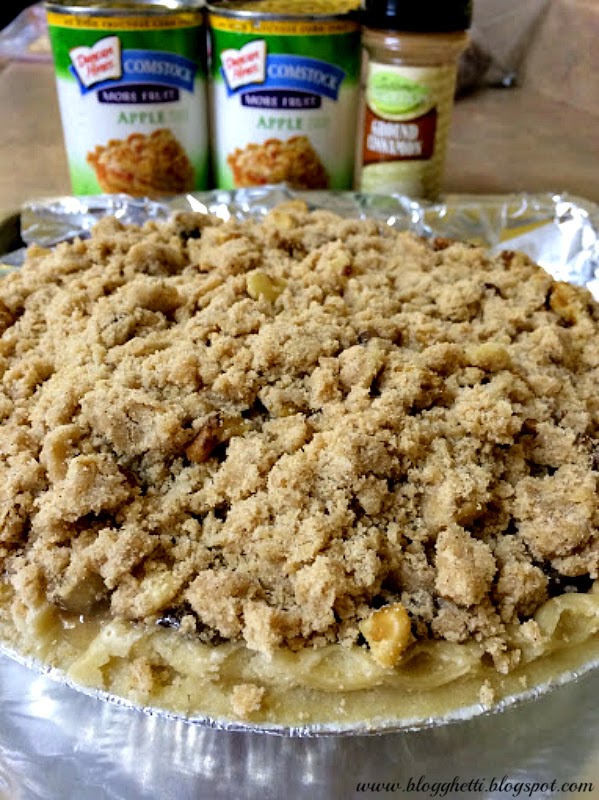 Bake for about 45 minutes or until bubbly and the topping is golden brown. You may have to cover the pie after about 30 – 35 minutes to keep the top from getting too browned. Cover lightly with aluminum foil.
Let cool on wire rack for 20 minutes and serve warm.
Enjoy!