This post may contain Amazon or other affiliate links. As an Amazon Associate I earn from qualifying purchases. Click
here
to read our privacy policy.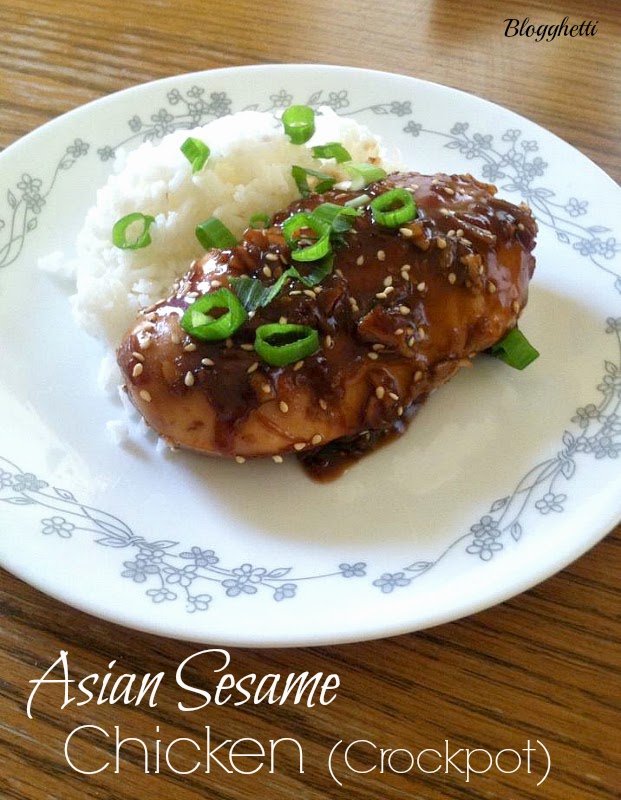 I recently saw this recipe for Asian Sesame Chicken all over Pinterest and decided to give it a try. Since it uses the crockpot it won points with me and
it used ingredients I already had on hand. Seemed like a win-win! Totally a winner with the family, too.
Simple, easy, and delicious!
Ingredients:
4 chicken breasts, boneless and skinless
4 oz Kraft Light Asian Toasted Sesame Dressing
1/3 cup Apricot Preserves
1 envelope Dry Lipton Onion Soup Mix
Sesame Seeds
Chopped Green Onions
Instructions:
Cook the chicken in a crockpot (lid on) on high for 3 hours. No need to add any liquid.
After 3 hours, drain the juices from the crockpot.
Whisk together the Asian Toasted Sesame Dressing, Apricot Preserves, and Dry Onion Soup Mix.
Pour mixture over chicken, cover with the lid, and cook on high for another 30 minutes, or until heated through.
Remove chicken to a plate, spoon some sauce on top and sprinkle with Sesame Seeds and Chopped Green Onions. Serve over rice.