This post may contain Amazon or other affiliate links. As an Amazon Associate I earn from qualifying purchases. Click
here
to read our privacy policy.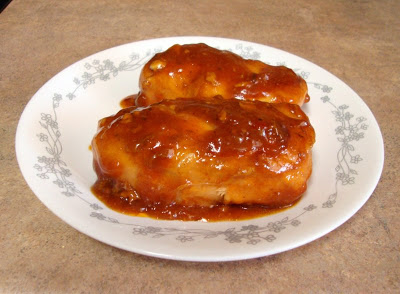 I saw this recipe on about 3 food blogs and each one was just a bit different but all sounded great to eat. After reading the reviews on the recipes I came up with my version. This is a very easy recipe and the chicken can be served two ways, whole or shredded. We had enough for both ways and two meals. The key here is not to overcook it in the crockpot as the chicken will dry out. Also, if you find the sauce a bit runny, just add a bit of cornstarch with some of the liquid to thicken it up some. Using a BBQ sauce that is thicker will also help. Anyway you serve it, it will become a new addition to your menus.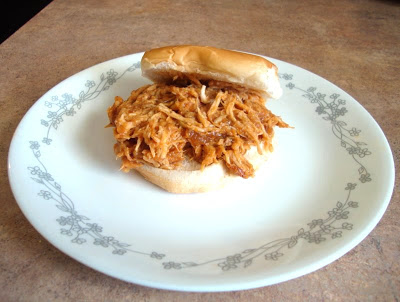 Ingredients:
4-6 pieces chicken (I use boneless breasts)
1 bottle BBQ sauce (thicker the sauce the better)
1 capful of white vinegar
1/2 cup brown sugar
1 tsp. garlic powder
1/2 tsp. red pepper flakes
1 tbsp dried mince onion
Directions:
Mix BBQ sauce with all ingredients listed under it. place chicken in crockpot. pour sauce over it and cook on LOW for 4-6 hours.
*If the sauce is not thick enough for you, just add 1 tbsp of cornstarch to 1 cup of sauce and whisk till smooth. Add the sauce back in to the crockpot and stir to combine. Let cook 10 more minutes and then serve.
** If you are serving the chicken shredded the second day, you may need to add a bit of BBQ and a touch of water to thin it out. It does not affect the taste just adds some moisture back in.