This post may contain Amazon or other affiliate links. As an Amazon Associate I earn from qualifying purchases. Click
here
to read our privacy policy.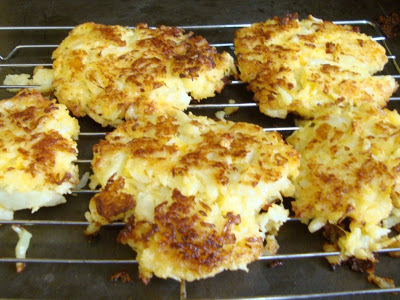 I instantly knew what I was going to do with the head of cauliflower that was in my refrigerator nearing its expiration date. I had been craving potato pancakes but amazingly enough, I didn't have any potatoes. Using cauliflower definitely is a change from the old steamed or roasted versions we are used to. My husband was a bit skeptical but once he tasted them, he found them quite tasty as well. They went great with the grilled burgers we made.
Ingredients:
1 head cauliflower
1/2 small onion, grated
2 large eggs
1 cup cheddar cheese, grated
1/2 – 3/4 cup panko bread crumbs
1/2 t cayenne pepper (more of less to taste)
salt to taste
olive oil for frying
applesauce, sour cream (optional)
Directions:
Cut cauliflower into florets & cook in boiling water until tender about 10 minutes. Drain.
Mash the cauliflower while still warm.
Mix eggs, grated onion and seasonings in small bowl.
Stir cheese and panko in with the mashed cauliflower.
Add the eggs and seasonings and combine. It will be wet mixture. I found as I was frying them, that the longer the mixture sat, the better they stuck to together when you make the patties. Just a few minutes to set, like 5 – 10 minutes.
Coat the bottom of a skillet with olive oil over medium-high heat. Form the cauliflower mixture into patties about 3 inches across.
Cook until golden brown & set, about 3 -4 minutes per side. Keep each batch warm in a 300 degree oven while you cook the rest. Placed a wire cooling rack inside a baking sheet and as the pancakes are cooked, place them on the cooling rack in the oven. This will aid in keeping the pancakes crispy.Serve with sour cream, applesauce or as my husband did with honey (we didn't have applesauce.)