This post may contain Amazon or other affiliate links. As an Amazon Associate I earn from qualifying purchases. Click
here
to read our privacy policy.
Are you a coffee lover? If so, this is a cookie you need to have in your life. Even if you aren't a coffee lover, this cookie is definitely one to make and eat! This recipe I found on Pinterest and the blogger described this cookie as "insanely delicious" and she was not joking at all. It uses instant
cappuccino mix, white chocolate and the rest list of ingredients are all items you probably have in your pantry and refrigerator. I can see myself making these again and again. Because I was making them for a Halloween cookie care package for my college daughter, I cut them out in cat and pumpkin shapes along with the round ones. She is going to love them as she is a huge coffee drink and a cookie lover! I dusted a few with cinnamon but you could also use unsweetened cocoa powder too.
Ingredients:
6 Tablespoons instant cappuccino (I used Hills Brothers French Vanilla flavored)
1 Tablespoon hot water
1 cup butter, softened
3/4 cup sugar
1 egg yolk, lightly beaten
2½ cups all-purpose flour
pinch of salt
8 ounces white chocolate
unsweetened cocoa powder or cinnamon, for dusting
For the directions please head over to Tidy Mom's site,
here.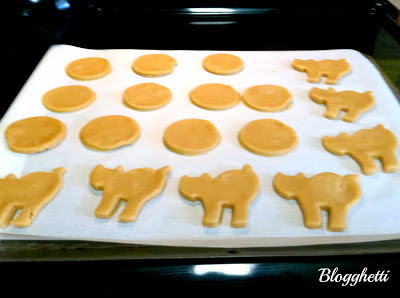 These are rolled and cut-out cookies.
Chilling the dough for an hour before rolling and cutting the cookies out is suggested.
Being October and Halloween, I choose to use themed cookie cutters.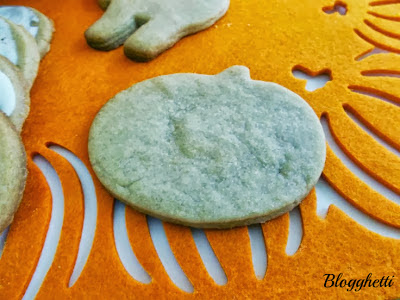 Enjoy!