This post may contain Amazon or other affiliate links. As an Amazon Associate I earn from qualifying purchases. Click
here
to read our privacy policy.
It's been rather cool here in the Middle Georgia area and by cool I mean – perfect day times (highs in the 70's) and chilly nights (lows in the 40's) and I love it. Yes, there were two days I had to turn the heat on in the morning to take the chill off of the house but then later it was off and the windows open. Love it! The weatherman says it will be back in the normal temps here this week, so that might mean the AC will be back on, I sure hope not!
With the cool weather does comes all those winter recipes and they all sound so good right now. I was craving a pot roast but none
of the recipes I have or even on Pinterest were hitting the mark so I left it to my pantry. I grabbed a can of fire-roasted tomatoes, which is a MUST for my pantry now. I will never use regular canned tomatoes again. The fire-roasted ones have a great smoky, Southwestern flavor and you can even get them with garlic in them. I love either and use them often in recipes. I also grabbed the Montreal Steak seasoning, and a can of tomato soup from the pantry. Next, from the refrigerator was the vegetables, garlic and pearl onions (these were frozen) and of course the roast. All ingredients that are great for you and full of flavor. Oh, red wine for the cook…I mean to use with the roast. Or both…
I could hardly wait for this meal to be done and with using the crockpot I would be waiting a few hours, too! Gave me time to study how plants grow and reproduce for Biology class, get laundry done and many other fun chores. Since my roast was on the smaller side, it was actually done before the anticipated 8 hours. Let me tell you, it was so moist that it fell apart getting it out of the crockpot and it just melted in your mouth. The flavors of the tomatoes and soup were all through the meat and the vegetables, too. Love when a recipe idea becomes one that will be made over and over again – and this one will be for sure!
Ingredients:
1 3 – 4 pound beef roast – trim visible fat (any cut you would like, I tend to use whatever is on sale)
Montreal Steak seasoning
1 tbsp oil
3 cups of potatoes, cut in quarters or large cubes (I love using small red potatoes, but use what you got. Peeled if you like)
3/4 small bag of baby carrots
1 cup of frozen pearl onions
1 can (10 3/4 ounces) condensed tomato soup
1 can (14.5 ounces) fire-roasted tomatoes
1/2 cup red wine (optional – substitute 1/2 cup water, if you prefer)
2 tsp minced garlic
Instructions:
In a Dutch oven pan, heat oil on high. Season roast with Montreal Steak seasoning on all sides. Place roast (trimmed of visible fat) in pan and brown on all sides. Don't skip this step as the browning process adds tons of flavor to the meat. Remove the browned roast and set in crockpot.
In the Dutch oven pan, add the can of tomato soup, the tomatoes, garlic and red wine. Scraping the bottom of the pan as you mix the liquids to get all the wonderful pan drippings incorporated into the mixture. The browned bits at the bottom of the pan are essential to adding more flavor. Heat a few minutes, not more than 5 minutes. Remove from heat and set aside.
Add the cut up potatoes, carrots, and onions to the crockpot and pour the tomato mixture over everything.
Set crockpot on low and cook for 6-8 hours, till the vegetables are tender and the mean is done and falling apart. High for about 3-5 hours.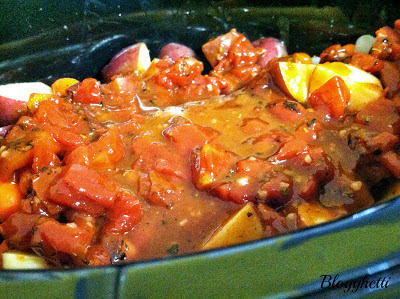 If you prefer to have a thicker "gravy" when the roast is done, remove the meat and vegetables to a serving platter and keep warm. Remove about a cup of the liquid to a heat-proof measuring cup and add a tablespoon of flour. Whisk till smooth and pour back into the crockpot, mix to incorporate. Place crockpot on high and cook ten minutes till it's thickened. Pour over meat and vegetables, if desired or simply let everyone use as much (or little) as they like to on their meal.
Enjoy!