This post may contain Amazon or other affiliate links. As an Amazon Associate I earn from qualifying purchases. Click
here
to read our privacy policy.
Classic Italian Pizzelles are delicate, thin, crisp, and wafer-like cookies. They are lightly sweet with plenty of the traditional anise flavor but vanilla pizzelles are just as delicious, if you're not a fan of anise.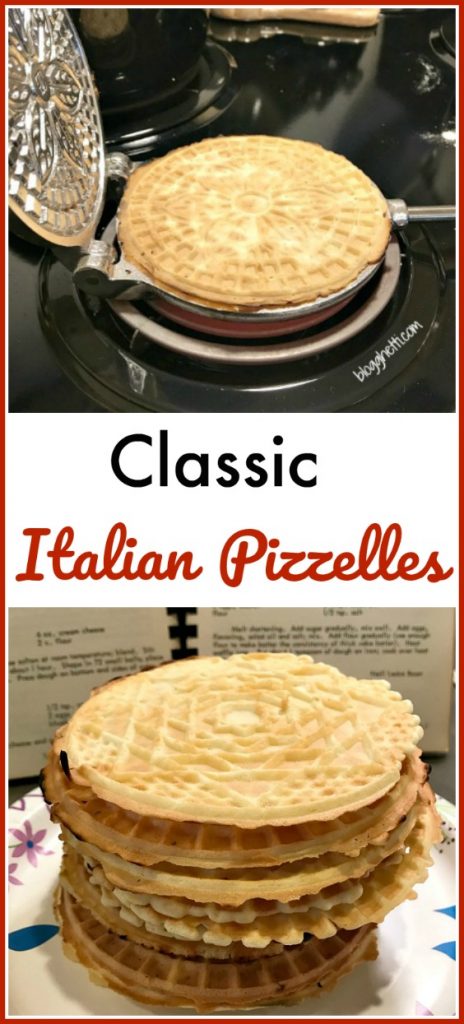 I took the week of Thanksgiving off from blogging while spending the week in my small hometown in Pennsylvania with my family. We enjoyed all the things we love about being home – family, shopping, re-visiting old stomping grounds, eating the best pizza around, and making new memories.
Growing up my dad was the main cook in the house and I learned so much from him as he learned from his mother. I watched nearly everything he would make and once I was on my own cooking, I would call him for tips and recipes. Somehow, my versions of the same dishes never turned out like his – even if I followed everything to a "T." I swear he leaves out ingredients just to get that chuckle.
We made pizzelle cookies from time to time in my childhood with a pizzelle-maker that could make more than one cookie at a time. I am a total fan of the anise-flavor but it is an acquired taste so at times if we were making them for others we would use vanilla extract instead – just as delicious!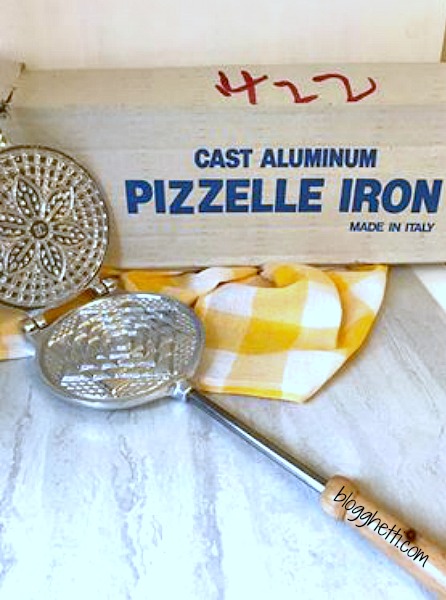 I recently came into possession of this old-fashioned pizzelle iron and was so giddy at the thought of using it that making the ONE-AT-A-TIME didn't even bother me. What was even better was that when I told my dad about it, I suggested we make them when I was home; he agreed and was looking forward to doing so. He recalled when my mom and him made them one-at-a-time back in the day. I found the recipe he used in one of the old Ukrainian cookbooks he gave to me and was super excited. Yes, the recipe does originate in Italy but the pizzelles are that GOOD that it is in Ukrainian cookbook (and many other places.)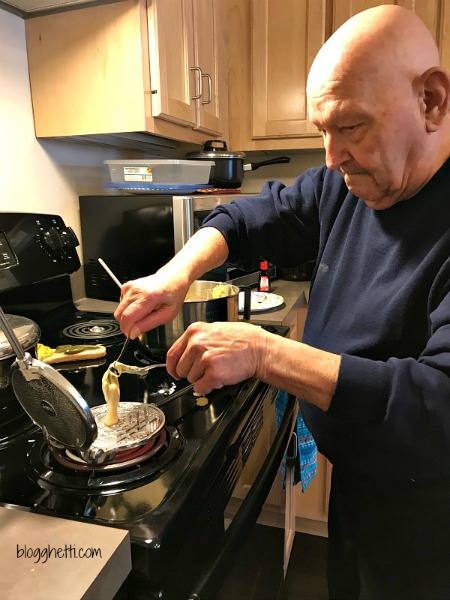 The recipe is a simple one with directions like "add enough flour to the batter until it resembles thick cake batter." I did just that and meant to count the amount but failed. I'm pretty sure it was about 1 1/2 – 2 cups of flour though, but you can't go wrong with following the original instructions of the recipe. The batter is thicker than a waffle batter, too. If you enjoy the flavor of anise, add a bit more but be aware that it is a strong extract so err on the side of caution. Taste the batter is my best advice.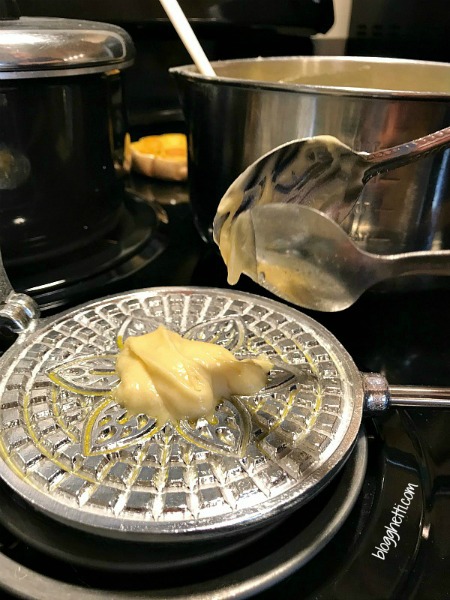 The cookies cook up quickly, and can brown too fast if you're not watching. Ours were various shades of golden brown as we got used to the timing and heat of the iron. You want a light golden brown. Using the pizzelle iron that we did, once you flipped it over, the bottom (now the top) still cooked so I finally got the hang of turning it over after about 30-45 seconds while the other side did its thing. All in all, each one took about 60-90 seconds. If you are using the pizzelle-maker, there will be directions as to how long each bakes.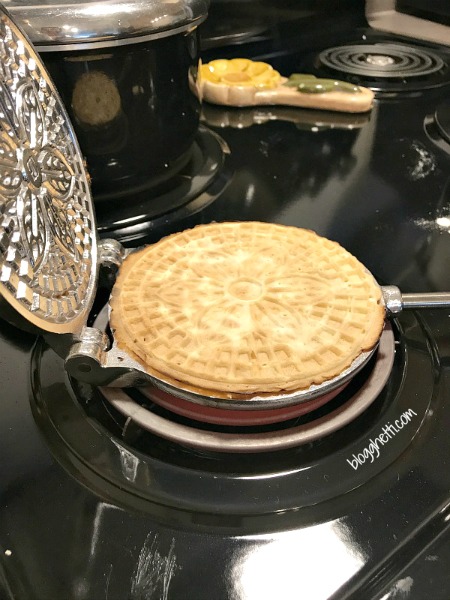 I loved making the pizzelles with my dad and was tickled that I could share in his memories and make new ones at the same time. The cookies turned out great and I didn't even mind that it took nearly two hours to make all of them! I did forget to dust them with powdered sugar not just for taste and appearance but for the pictures. Really, this post was about the memory and the family time so any pictures are just bonus. I'm glad to be able to share this with you. I plan on making them again and I may or may not update the pictures. Depends on how fast they get eaten while they are baking as we did this time. Haha!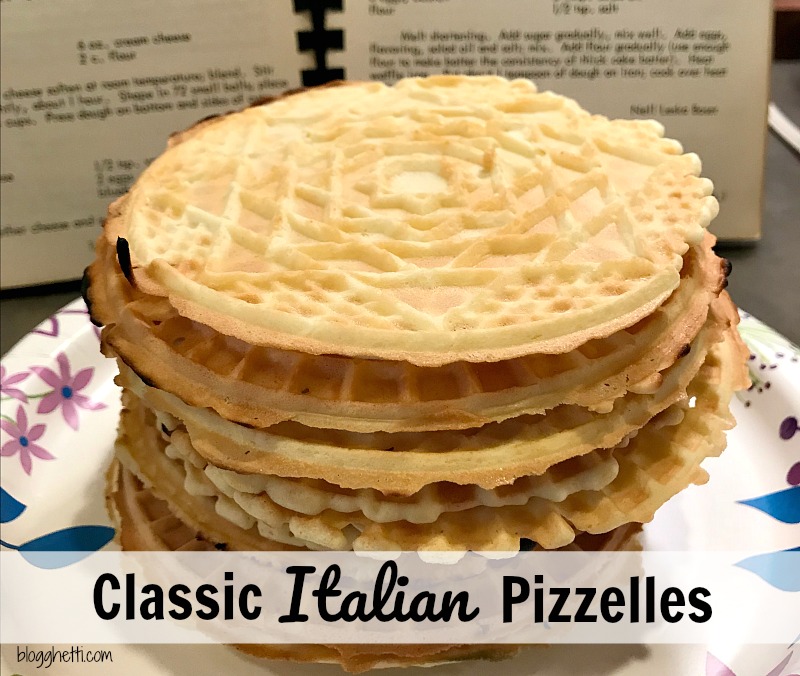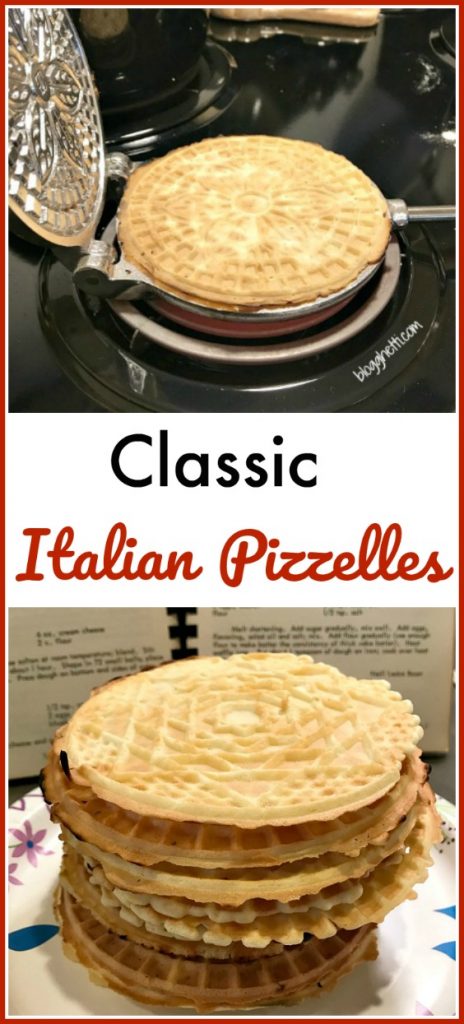 Classic Italian Pizzelles
Classic Italian Pizelles are delicate, thin, crisp, and wafer-like cookies. They are lightly sweet with plenty of the traditional anise flavor but vanilla pizzelles are just as delicious, if you're not a fan of anise.
Print
Pin
Rate
Ingredients
1/2

cup

unsalted butter

melted

1

cup

sugar

6

eggs

beaten

1 1/2 - 2

cups

flour

2

tsp

anise extract

or vanilla extract

1/2

tsp

salt
Instructions
In a large mixing bowl, add the melted butter and sugar - mix well, using a whisk or electric mixer.

Add the beaten eggs, anise extract, and salt - mix well.

Add flour gradually, using enough flour to make the batter the consistency of thick cake batter.

Heat the pizzelle maker (iron). You may need to spray non-stick spray on the iron.

Using about 1 heaping teaspoon of batter per cookie, drop batter onto iron. Close iron and cook over heat on both sides until light golden brown.

If you are using a pizzelle maker, follow the instructions that came with it for how long to cook the cookies.

Using the old fashioned iron that I did, the heat was on about med-high and it took about 30 seconds per side.

Once the cookies are done, gently remove from the iron and cool on wire rack.
Notes
Recipe adapted from A Book of Favorite Recipes compiled by The Sisterhood of St. John's Ukrainian Orthodox Church (recipe submitted by Marie Pufky) copyright 1968.
Original recipe called for 1/2 cup shortening which I replaced with butter.
Enjoy!