These Chocolate Mint Pizzelles are light and crisp cookies and the flavor is perfect for Christmas. The thin wafer-like cookie is a traditional Italian cookie made during the holidays and so easy to make.
Growing up in an Italian and Ukrainian family I was lucky enough to eat many different dishes and sweets. My Dad and I would make classic anise pizzelle cookies every Christmas. On one of the last holidays I spent with him before he passed, we made them the very very old-fashioned way – one at a time using a stove-top pizzelle iron. It was a wonderful memory!
Of course, growing up Dad had a pizzelle iron that made 4 cookies at a time, unlike the one I have which makes two. Years later as an adult, Dad inadvertently got rid of the pizzelle maker and I was heartbroken! I would have loved to have it!
Table of Contents
Christmas Cookies Week
We only made the traditional anise-flavored pizzelles back then, but I wanted to make a chocolate mint for the holidays this year. What perfect timing to try them out as it is #ChristmasCookies week on the blog! That time of year when we soften the butter, fire up the oven, and bake so many cookies that we have to share them with anyone and everyone! This year more than 20 top-notch bloggers are sharing their favorite creations for a week's worth of Christmas cookie deliciousness.
Here's what I am sharing this week
Chocolate Mint Pizzelles
When I was experimenting with this recipe, I first made them without the peppermint extract (okay, I just forgot to add it) and the chocolate flavor was amazing but lacking something. Yeah, the mint. Take two, I added only one teaspoon of mint extract. So not enough! Couldn't even tell it was in there. Batch number three was a winner! One tablespoon of peppermint extract was perfect! Yes, I did say one tablespoon. Trust me. While you can also use a mint extract, the peppermint felt more holidayish.
You should also use good quality unsweetened Dutch-processed cocoa in this recipe. I love this one and use it for all my recipes that call for cocoa powder.
The batter can be made up to 3 days in advance and stored in the refrigerator. This is convenient when you are making tons of cookies. I usually make a double or triple batch ahead of time.
I used this pizzelle iron, which as I mentioned makes two cookies. Since the pizzelles only take about a minute each to make, making two at a time didn't take long at all.
What is a Pizzelle Cookie?
Pizzelle cookies are traditional Italian waffle cookies. The batter consists of melted butter, sugar, eggs, flour, and baking powder. The flavoring you add to pizzelles is usually anise, vanilla, or chocolate. Of course, adding other flavorings is fun to try.
Pizzelles are thin, wafer-like cookies and to make them you do need a pizzelle iron.
What is the Secret to Keeping Pizzelles Crispy?
Once you take the pizzelles off the pizzelle iron, lay them flat on a cooling rack. Do not stack them. Stacking the cookies will cause them to be soft and not crisp. They need to cool and air dry for a bit before you can stack them and store them. I let them sit out for about an hour before storing them.
Also, allowing them to cool that long before tasting them is best as the pizzelles will be more flavorful. Tasting the cookie straight from the pizzelle iron, will be good but let them cool completely and then give them a try again. The flavors will be enhanced.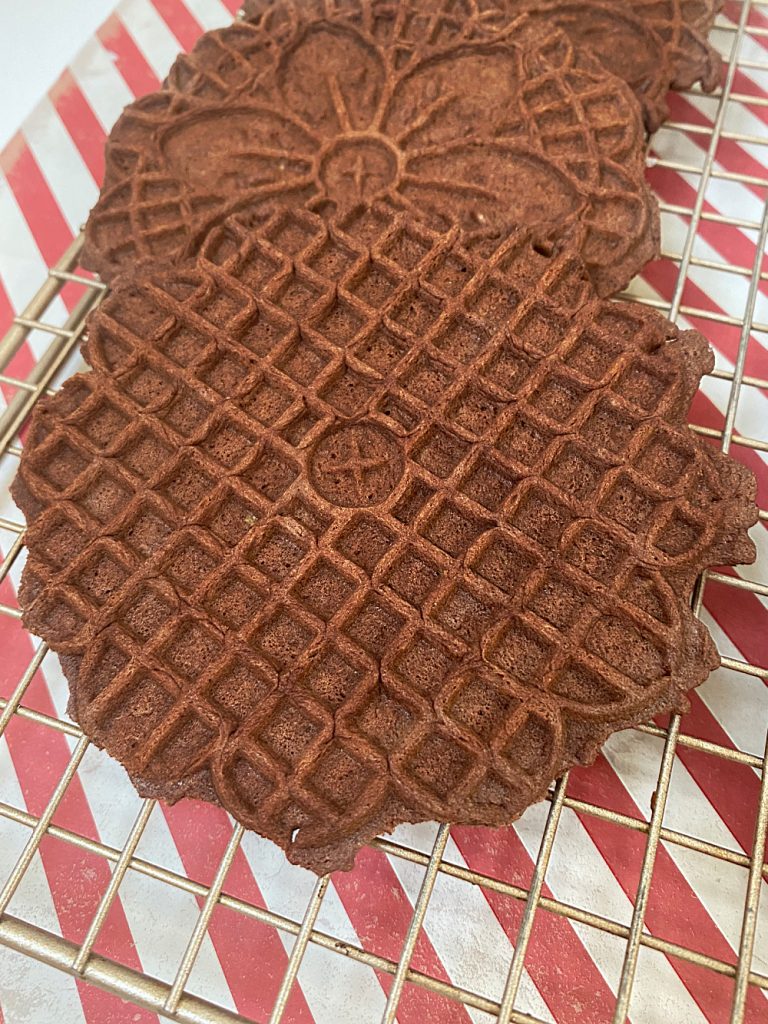 How do you Store Pizzelles?
I'm going to tell you how my grandma and my dad stored pizzelles. Wrap them in aluminum foil in stacks of 6 or 8. Why foil, you ask? Because if you store them in plastic containers or bags, the pizzelles will soften. They're just as delicious if you do store them in plastic containers, though. Wrapping them in foil maintains their crispness. You can also use a metal cookie tin to store them, as well. Trust me!
Can you Freeze Pizzelles?
Yes, you can freeze pizzelles. I've never done it as they are usually gone before I even think about doing so. However, before freezing the pizzelles cookies, be sure they are completely cool and crisp. Wrap them in small stacks in aluminum foil and then store in an airtight container in the freezer for up to 3 months.
Ingredients
1 1/4 cups all-purpose flour
1/4 cup unsweetened cocoa powder
1 1/2 teaspoons baking powder
1 teaspoon ground cinnamon
1/2 teaspoon finely grated orange zest
1/4 teaspoon fine salt
3 large eggs, at room temperature
1 cup granulated sugar
1/2 cup (1 stick) unsalted butter, melted, cooled to room temperature
1 tablespoon peppermint extract
Vegetable oil spray or non-stick spray
How to Make Chocolate Mint Pizzelles
Step 1
Whisk the flour, cocoa, baking powder, cinnamon, orange zest, and salt together in a large bowl. Set aside.
Step 2
In a medium bowl, whisk the eggs, sugar, peppermint extract, and melted butter together until smooth and combined.
Step 3
Gradually add the sugar egg mixture into the dry ingredients until combined. The batter will be thick.
Step 4
Preheat a pizzelle iron, for about 5 minutes. Lightly spray the hot surface with nonstick cooking spray or brush with vegetable oil. The pizzelle iron I use has a light indicator for when it's preheated and ready to use. Always check manufacturing directions of the pizzelle press you have before using.
Step 5
Spoon about a tablespoon of the batter into the center of each cookie imprint. I use two spoons to help get the batter off of the spoon and onto the griddle. The batter is very thick. Also, if you place a dollop of batter slightly off the center of the design (slightly off-center towards the back), you'll have a more even cookie. When you close the lid on the iron, it presses the batter a bit forward.
Step 6
Close the iron and cook for about 45 – 50 seconds. Open and remove cookies from the iron, lay them flat, and cool on a rack. Repeat with the remaining batter.
Step 7
Allow pizzelles to lay flat and cool completely, for about an hour to maintain their crispness before storing as directed in the recipe card.
Tips, Tricks, and FAQs
The batter can be made up to 3 days in advance and stored in the refrigerator.
Use good quality unsweetened Dutch-processed cocoa.
Instead of peppermint extract, you can use mint.
Try replacing the peppermint extract with orange extract.
Place a dollop of batter slightly off the center of the design (slightly off-center towards the back), you'll have a more even cookie. When you close the lid on the iron, it presses the batter a bit forward.
Store pizzelles wrapped in aluminum foil or in metal cookie tins to maintain crispness. Storing in plastic containers softens them but they are just as yummy.
For some variations: dipped a portion of the pizzelle in melted white chocolate and decorated with sprinkles or chopped hazelnuts.
For a dessert idea: when the pizzelles are hot off the iron, wrap them around a thick wooden spoon handle or something similar and let them cool that way. Once cool, fill them with your favorite cannoli-filling.
Make an ice cream sandwich using two pizzelles.
Dust them with powdered sugar.
Roll them into a waffle cone shape, cool, and fill them with ice cream.
Want more Christmas Cookie Recipes: Click here for 30 holiday cookies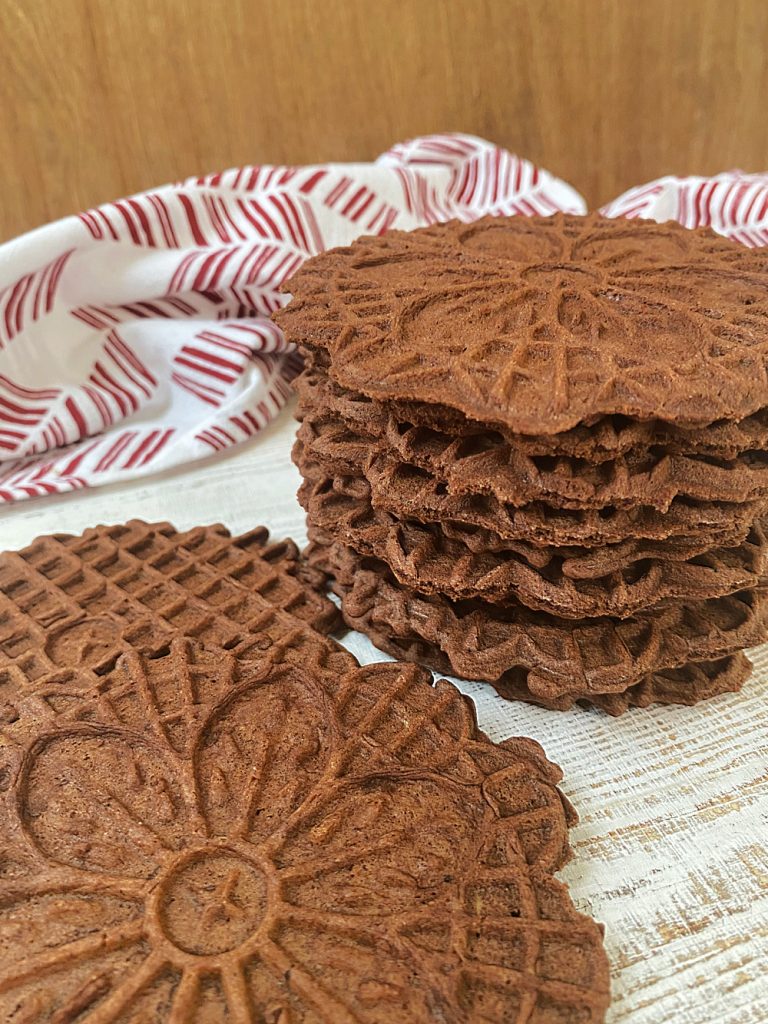 Here are more #ChristmasCookies from my Blogger Friends
Stay connected for the latest recipes
Connect with
Blogghetti

! Be sure to follow me on my social media, so you never miss a post!

Facebook | Twitter | Pinterest | Instagram

If you try a recipe, please use the hashtag #Blogghetti on INSTAGRAM for a chance to be featured!

Enjoy!