This post may contain Amazon or other affiliate links. As an Amazon Associate I earn from qualifying purchases. Click
here
to read our privacy policy.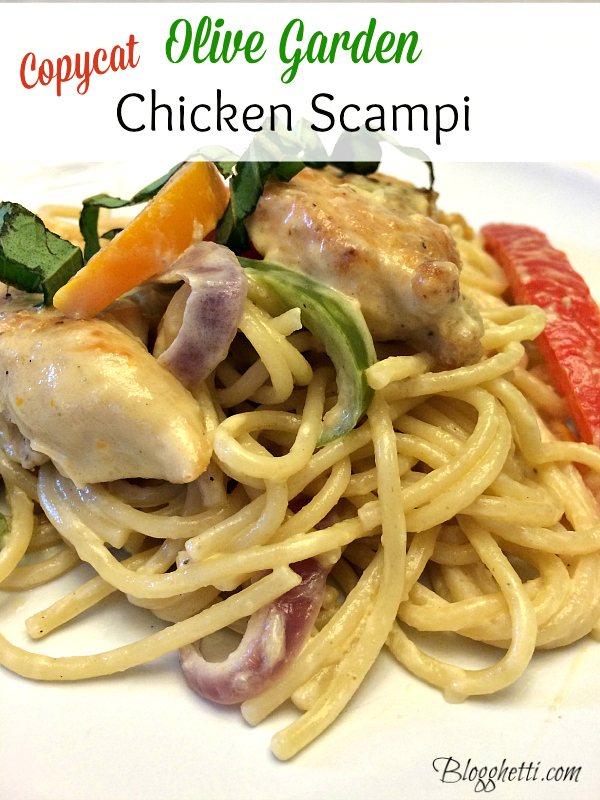 It's been either close to 100 degrees or over that here this week and no end in sight the weatherman tells us. Of course with the heat index, it is so much hotter and miserable. Going outside is like work because you stand and you sweat. I've take to running all errands in the morning which is only slightly cooler. Cooking? In this heat? Ha! If it can be made straight from the refrigerator, grilled or the crockpot then you'll get a meal. Take out delivered is even acceptable. Otherwise, no way! How many days till Fall??
A couple of weeks ago I went to lunch with oldest daughter and her favorite place to go for lunch is Olive Garden. So who was I to say no?!?! I typically get the soup and salad deal or the chicken flatbread pizza but that day I wanted their Chicken Scampi. I hadn't had it since they made it horribly greasy and just plain gross. The manager had explained they had a new cook. I'm sorry but he needed to step us his game. Anyway, back to this particular lunch – it was time to try it again. I love this dish – the sauce isn't as heavy as with Alfredo and the chicken has a delicate coating plus the vegetables are tender-crisp. I was not disappointed – the meal was excellent and because their portions are huge, enough left over for lunch the next day.
Last week, I had a craving for Chicken Scampi again but wanted to try to make it at home. I set out doing just that and after looking through many recipes in my cookbooks and a few online I found one that I tweaked to suit me. Everyone ate it and loved it. This is entirely made on the stovetop so making it in this kind of weather that we're experiencing now is doable and worth it. Personally, I think the best part of this meal is that I had everything on hand to make and didn't have to step foot out in the heat! I don't normally have the cream in my refrigerator but I had make something with it and had just enough left for this dish.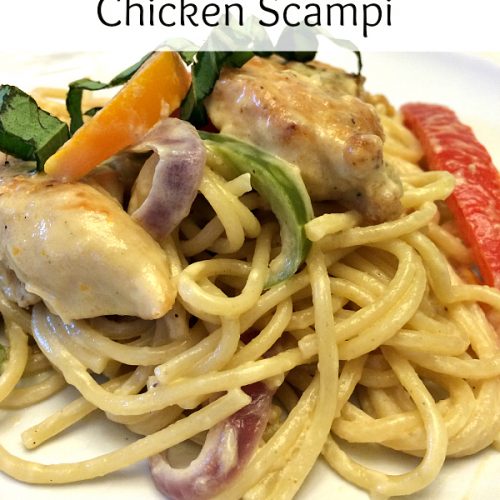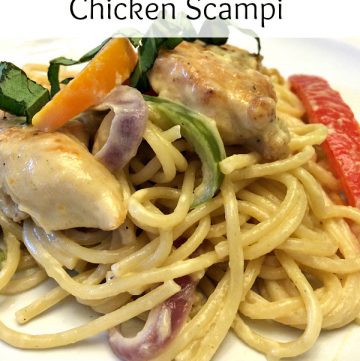 Ingredients
1 1/2 - 2

lbs

of chicken tenders

3/4

cup

flour

2

tsp

Italian Seasoning

3

tsp

creole seasoning

divided

1/4

tsp

pepper

3

tbsp

olive oil

divided

3 - 4

cloves

garlic

minced

1

green bell pepper

sliced

1

yellow bell pepper

sliced

1

red bell pepper

sliced

1

medium red onion

sliced

salt and pepper

3/4

cup

heavy cream

3/4

cup

milk

1/2

cup

shredded Parmesan cheese

12

oz.

thin spaghetti

4

fresh basil leaves

cut into ribbons (Chiffonade)
Instructions
Cook pasta according to directions on package for al dente, set aside but keep warm.

In reseaable plastic bag, or a on a paper plate, combine the flour and 1 1/2 teaspoon of the creole seasoning and the 1/4 teaspoon pepper.

Place chicken tenders in the plastic bag and coat with flour mixture. If using a paper plate, dredge the chicken in the flour mixture. With either method, gently shake off excess flour and place on a plate until ready to cook.

Heat 1 tablesppon of the olive oil in large skillet over medium-high heat.

In batches (do not crowd the chicken in the skillet) place chicken in skillet and cook over medium high heat for about 4 minutes. Turn chicken over and cook for 3-4 more minutes. Remove to a plate. Cover with a foil tent to keep warm. You may need to add an additional 1 tablspoon of olive oil between batches of cooking the chicken.

After the chicken is cooked and removed from the skillet, add peppers and onions. Season them with the remaining 1 1/2 teaspoons of creole seasoning and with salt and pepper (to taste). Saute the vegetables for about 5 minutes.

Add garlic and saute for a about 2 more minutes. Don't let the garlic burn. The vegetables will still be crisp, this is what you want.

Add cream, milk, and parmesan and bring to a simmer. Once the sauce has thickened, add back the chicken and let simmer for 5 minutes. Check after a couple to make sure the vegetables are still firm and crisp.

Add the pasta to the chicken and sauce, tossing to coat well.

Top with fresh basil ribbons and serve.
Enjoy!