This post may contain Amazon or other affiliate links. As an Amazon Associate I earn from qualifying purchases. Click
here
to read our privacy policy.
This delicious Honey Pumpkin Smoothie with Cinnamon is loaded with all the spices of the Fall season. It's like a slice of pumpkin pie in a glass with none of the guilt!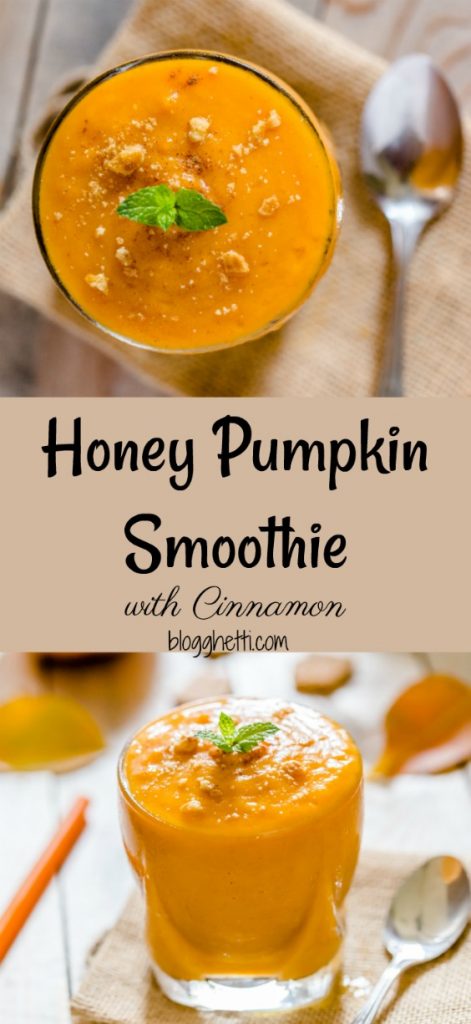 Guest post by Victoria Giang
It's that time of year again when everyone starts heading off to their favorite coffee shop for pumpkin-spice lattes and dreaming of delicious pumpkin pies. With that in mind, I'd like to present you with a fabulous pumpkin smoothie recipe that is sure to become your new favorite way to satisfy your fall pumpkin fix.
If you've never tried a pumpkin smoothie, you might have your doubts. However, you're sure to be hooked as soon as you've had one sip of this smooth, creamy treat. Perfectly spiced with hints of cinnamon, nutmeg and vanilla, this pumpkin smoothie provides all of the satisfaction of a delicious piece of pumpkin pie with none of the guilt.
The addition of Greek yogurt also means that this smoothie is packed full of protein, in addition to all the fiber from the pumpkin. As a result, it makes a fantastic choice for a quick breakfast drink or a delicious snack for any time of the day. So, without further ado, here's all you need to know to make this mouthwatering smoothie.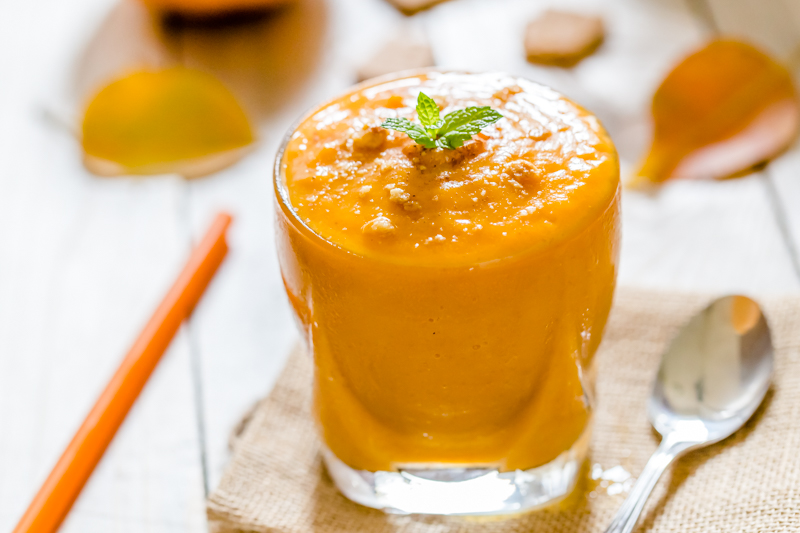 Preparing the pumpkin puree
Prior to making the smoothie, it is best to freeze the pumpkin puree as this helps to make the smoothie smoother and creamier. Although I typically use canned pumpkin puree, sometimes called canned pure pumpkin, you can also make your own pumpkin puree if you so desire.
To make your own pumpkin puree, simply cut a small pumpkin into quarters and remove the seeds. Then, roast the pumpkin in a 350-degree oven for approximately 45 minutes until fork tender. Finally, remove the skin from the roasted pumpkin and puree the flesh in a heavy-duty blender or a food processor until smooth.
There is really no difference between the canned pumpkin and homemade, which is why I typically use the canned to save time. That being said, it is essential that you use pumpkin puree and not pumpkin pie filling, as the pie filling already has sugar and spices added to it.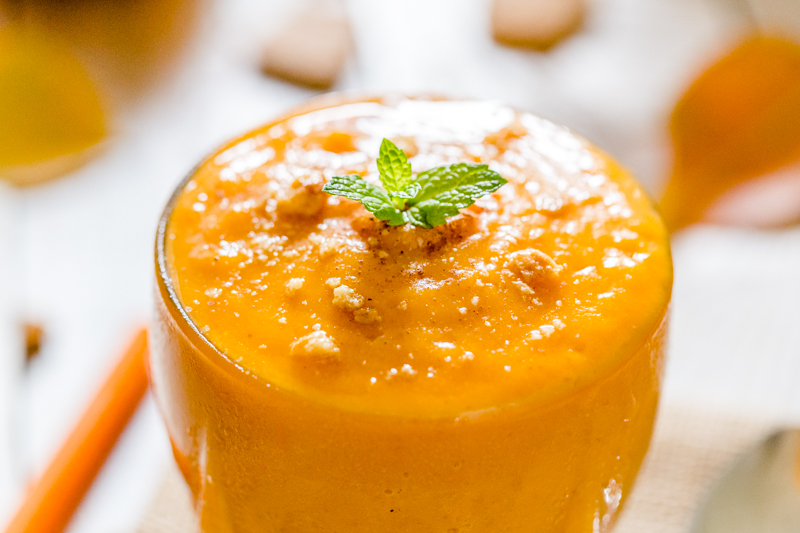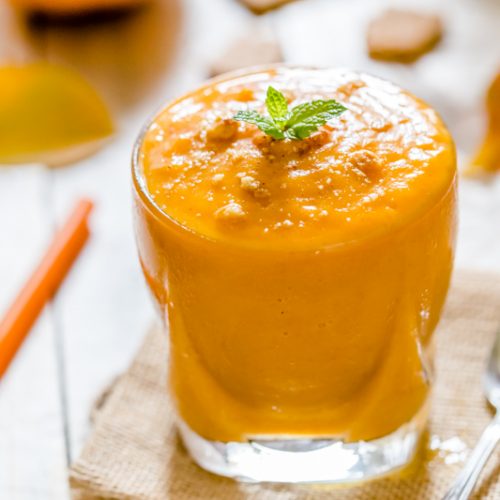 Delicious Honey Pumpkin Smoothie with Cinnamon
This delicious Honey Pumpkin Smoothie with Cinnamon is loaded with all the spices of the Fall season. It's like a slice of pumpkin pie in a glass with none of the guilt!
Print
Pin
Rate
Ingredients
1/4

cup

canned pumpkin puree

frozen (not pumpkin pie filling!)

1/2

cup

milk

any type you wish- 1%, 2%, whole, soy, almond, etc.

1/2

cup

Greek yogurt

1

tablespoon

honey

to taste

1/4

teaspoon

ground cinnamon

1/8

teaspoon

vanilla extract

Pinch

of nutmeg

Pinch

of ground ginger

Crushed graham crackers; optional
Instructions
To make the smoothie, first add the milk, Greek yogurt and frozen pumpkin puree to a blender. Pulse for a few seconds, and then add the remainder of the ingredients with the exception of the honey. Blend until the mixture becomes smooth, creamy and begins to foam.

Once everything is fully blended, add in half of the honey and then blend again. Taste the mixture, and then add in as much additional honey as needed to achieve your desired level of sweetness.

Your pumpkin pie smoothie is now ready to be enjoyed as is. However, if you are planning on serving the smoothies to guests and want to add an extra special touch, you can try topping each glass of smoothie with a small handful of crushed graham crackers. The graham crackers work to add a bit of crunch to the drink, while also helping to further replicate the taste and sensation of eating a delicious piece of pumpkin pie.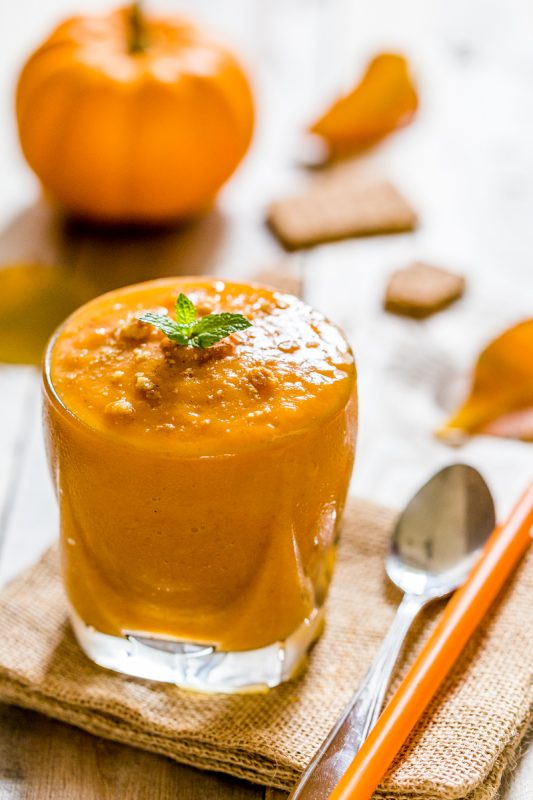 Don't forget to enter the Easy Homemade Cookie Cookbook giveaway! It ends October 27, 2017.
You can enter here.
Enjoy!
Author bio: Victoria is the author and founder of HowDaily.com, a food and DIY blog. She loves to to share her recipes and culinary tips from her diversified experience of multi-cuture. She most interested in cooking and creating authentic and original taste from traditional recipes.