This post may contain Amazon or other affiliate links. As an Amazon Associate I earn from qualifying purchases. Click
here
to read our privacy policy.
Eating healthy doesn't mean you have to give up the fast food sides like french fries, onion rings and cheese sticks. Here are a few ways to lighten up fast food sides by cooking them at home and as a bonus, it'll be cheaper too!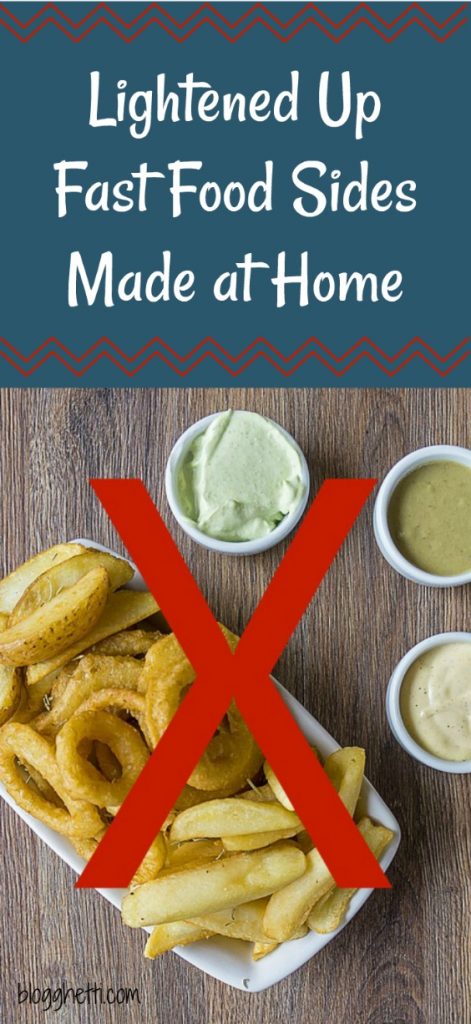 As fans of this oven-fried chicken recipe will know, home-cooked alternatives to fast food are healthier — and can taste much better — than the fast-food option. We've all played around with those healthy alternatives, such as tortilla pizza and homemade burgers, but there is one thing that still isn't so easy to replicate at home: the side orders.
If you're used to adding cheese sticks, dips, or fries to your order, you can easily end up craving them even when you're enjoying healthy alternatives to the main meal itself. The sides are hard to replace– or are they? The good news is that you can create sides at home; in fact, you can even make them a dash healthier, if you follow the simple recipes below.
Light Red Onion Rings
Who doesn't love a good onion ring? I absolutely love the onion rings from a local fast food restaurant but totally can't have them too often. With this recipe you can feel a bit better about having onion rings since they are baked and not fried. They can be made with white or yellow onions, but the sweetness of antioxidant-rich red onions make them the perfect choice. Again, Panko breadcrumbs and a mandoline will come in very handy for this recipe.
Grab your onions and
Chop the rings to a thickness of around half an inch
Soak the chopped onion in buttermilk. The longer they soak, the better; the crumbs will stick better as a result, and it helps the texture. Prepping this the night before cooking is therefore advised.
Roll the soaked onion rings in flour and then in Panko crumbs. Look for a good coating of crumbs; it will make them crispier when served.
Bake in the oven for 15 minutes at 400F
Alternatively, if your oven is already occupied with the main, you can use a frying pan. Spray a skillet with olive oil and then heat to a high temperature, then add the rings. Lower the heat to medium after about thirty seconds.
Serve with your favorite dipping sauce.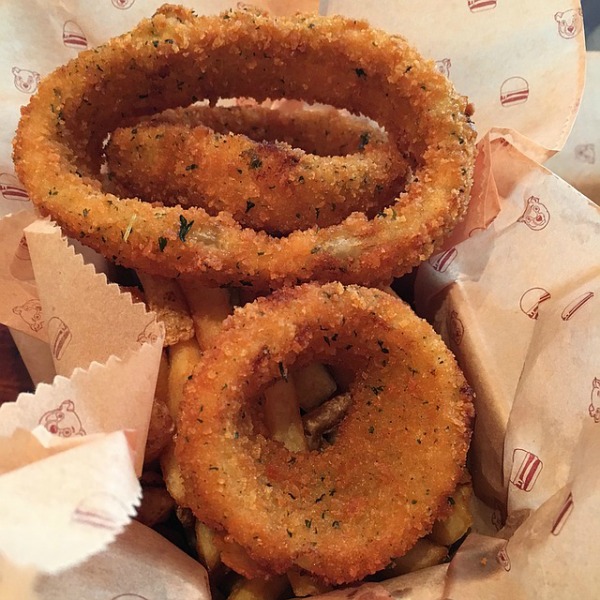 Delicious Sweet Potato Fries
Full disclosure: no one enjoys chopping potatoes with a knife, only to end up with misshapen and unevenly cooked fries as a result. The solution is to invest in a cheap little gadget that saves time and gives even cuts on every occasion; the mandoline. Check out a few mandoline slicer reviews, make your choice, and then you're in business. Use your new gadget to perfect this sweet potato fries recipe; it's easier than you might think.
Heat a lightly oiled baking sheet in the oven at 425 degrees F and then…
Take one and a half sweet potatoes per person
You can peel the potatoes if you prefer, or leave the skins on for a rustic twist
Use the mandoline to cut the potatoes to your size preference
Spritz the potatoes with a low-fat olive oil until moist
Add spices to taste; paprika and turmeric both work well
Line the fries on the preheated sheet
Bake for around 30 minutes, until golden brown.
Healthier Coleslaw
You may not be used to thinking of slaw as a non-healthy option, but the fast food option does tend to be heavy with preservatives and sweeteners. Doing a home version means you control what goes into it, meaning it's healthier and you can experiment with your recipe.
The essentials are: cabbage (combination of purple and green is great); carrot or apple; a creamy or light dressing; and finally, something to shred the veg. A mandoline or a grater will work well here. You can then add other ingredients as you see fit, remembering to keep them healthy. It's all about adding the ingredients you like and choosing a lighter, healthier version of the dressing. Don't be afraid to experiment with flavor combinations or adding foods that aren't typical of the traditional recipe.
Shred the cabbage into a large mixing bowl, followed by the apple or carrot.
Shred anything else that needs shredding (chili, red onion, etc.) into the mix, then stir to combine.
In a separate bowl, mix any liquid ingredients such as a lemon dressing, light mayo, vinegar or Dijon mustard until they are well combined. Add seasoning to your preference.
Pour the liquid mix over the other ingredients and give everything a thorough stir until evenly coated.
Refrigerate for a couple of hours in a covered container to allow the salad ingredients to marry with the dressing.
One of my favorite lightened up coleslaw recipes has this delicious light lemon dressing.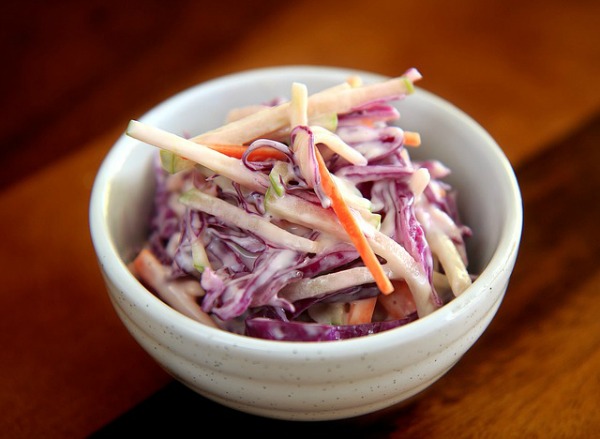 Healthy Panko Mozzarella Sticks
If you've done the chicken recipe mentioned in the opening paragraph, then you should still have some Panko breadcrumbs around. These are beautifully versatile and are also healthy, working as a great alternative to the nice-but-fattening takeout mozzarella sticks.
Heat a baking sheet again; 400 degrees F will suffice this time, and then…
Grab a package of Mozzarella cheese sticks and cut each one in half If you want a healthier cheese, try using Gouda – just slice the Gouda into one-inch thick sticks.
Dip each cheese stick into some milk or a beaten egg white.
Then roll the cheese sticks in a handful of seasoned Panko crumbs, pressing hard to ensure as good a coating as possible.
Place the sticks on the lightly greased baking sheet, around half an inch apart
Spritz the tops of the cheese sticks with non-stick spray so they will crisp up while baking. Bake for 15 minutes. Serve hot with a side of marinara sauce or try mash some avocado with lemon juice and pepper for a delicious, zesty dip to accompany the sticks.
When the craving for fast food hits, rest easy knowing you can make your favorites at home, healthier and for less money.
Don't forget to enter the Easy Homemade Cookie Cookbook giveaway! It ends October 27, 2017.
You can enter here.
Enjoy!