This post may contain Amazon or other affiliate links. As an Amazon Associate I earn from qualifying purchases. Click
here
to read our privacy policy.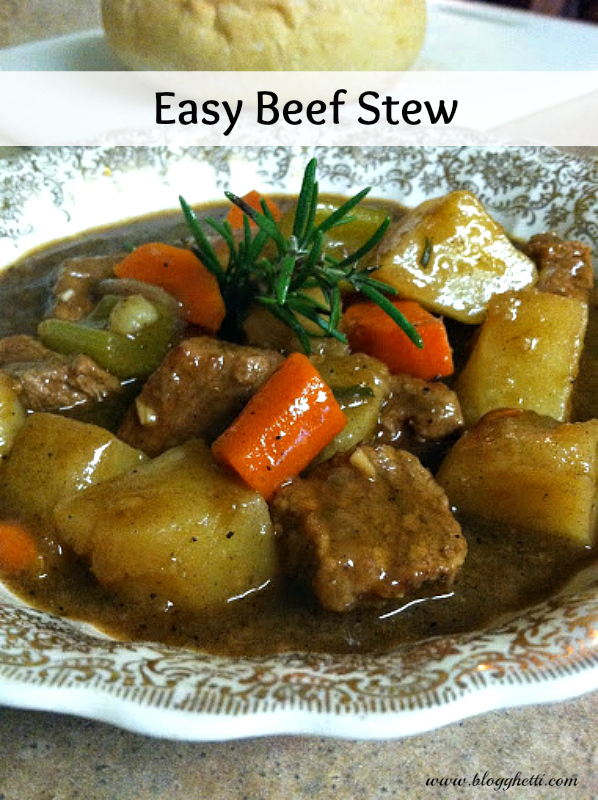 Beef stew is one of my favorite cold weather comfort foods and having it slow cooked all day makes it so easy to have this ready for busy families. Now, I have to admit a few things about this recipe: it's not from scratch. Believe me when I tell you it's not from lack of trying! I have tried numerous recipes and my family simply tells me it's not right. Something is missing. While with a few of the tries, I will agree; there were a few that I was like: this is GOOD. They did not agree. What's a girl to do? Stick with what they like (and keep trying) – they tell me the best beef stew I make is using the seasoning packet from McCormick. It is good, I will admit that. I don't use the seasoning packet that is for the slow cooker beef stew, just the original one that the directions indicate to make on the stovetop.
I can hear you now, but you have stated you are cutting back on those "packets" in your cooking. Yes, I am but all things in moderation. If you are looking for a gluten-free seasoning mix, this one is not. I don't add additional salt so I think I'm good there. I do add garlic, rosemary, and additional pepper. It's flavorful, thick, and filled with vegetables and lean beef.
Now, if you have a no-fail, from scratch, family-lovin' beef stew recipe, by all means send it my way. I'm not giving up yet!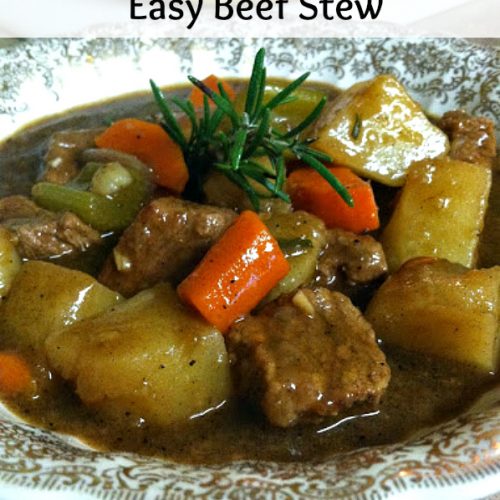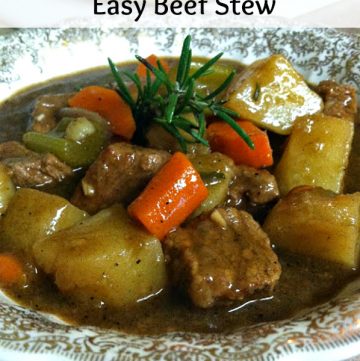 Ingredients
2

lbs.

beef stew cubes

cut larger pieces into 1 ­inch cubes (trim all visible fat)

3

tbsp

flour

2

tbsp

canola or vegetable oil

1

package McCormick® Beef Stew Seasoning Mix

the original mix – not the slow cooker one

3

cups

water

½

bag of baby carrots

larger ones cut in half

1

medium onion

chopped (or use 1 cup of frozen pearl onions)

4

medium potatoes

cut into 1 ½ inch cubes

2

stalks of celery

sliced into 1 inch pieces

2

cloves

of garlic

minced

1

tbsp

fresh rosemary

finely chopped
Instructions
Place flour in a large re-sealable plastic bag. Add beef cubes, close bag and shake to coat with flour.

Heat 1 tablespoon of the oil in large nonstick skillet or Dutch oven on medium­high heat.

Add half of the beef and brown on all sides. Remove beef and place into crockpot. Repeat with remaining beef, adding remaining 1 tablespoon oil. When the last batch of beef is just about browned, add the minced garlic and let cook for a minute, careful not to burn it.

After all beef has been browned and is in the crockpot, add the vegetables.

In a bowl or large measuring cup, add the water and Seasoning Mix. Stir to combine. Pour over vegetables. Give it all a stir and cover. Cook on low for about 6-8 hours or until beef tender and cooked through; and the vegetables are fork tender but not mushy.

*Note: If the sauce isn't thick enough to your liking, then the last 20 minutes of cooking time, turn the crockpot to high. Make a mixture of 1/4 cup of water and 2 tablespoons of cornstarch, then slowly pour while whisking or stirring into the beef stew.
Enjoy!
Inspired and adapted from McCormick