This post may contain Amazon or other affiliate links. As an Amazon Associate I earn from qualifying purchases. Click
here
to read our privacy policy.
A green twist on the the classic red velvet, these Green Velvet Cupcakes with a homemade cream cheese frosting are perfect for your St. Patrick's Day celebrations. The cupcakes are made from scratch with a no-fail cake recipe.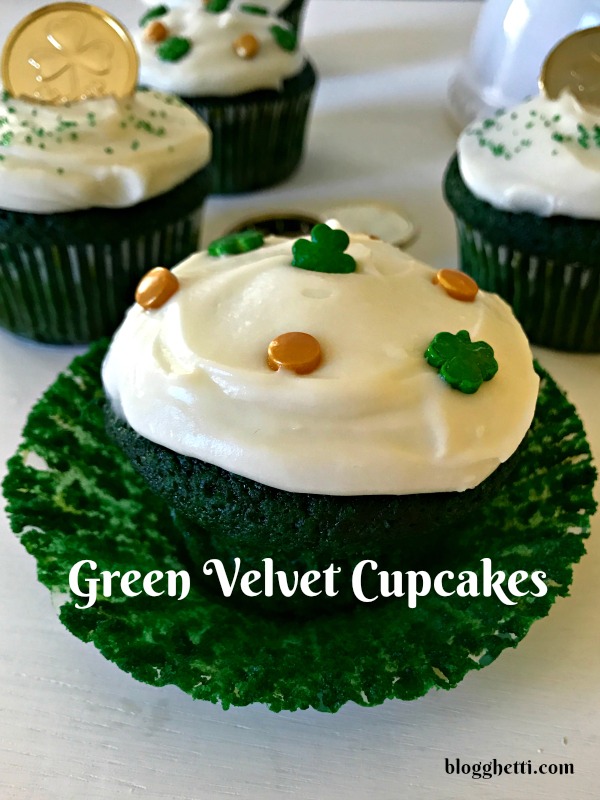 I had been promising my family that I would make these Green Velvet Cupcakes for a couple of days before I actually did. They would come home and ask "Where are they?" I hemmed and hawed citing excuses as to why they were not made. In reality, I just wanted to torture them a bit. Yes, a bit mean but call it payback for not soaking a dish in the sink or picking up this or that around the house.
I made these Red Velvet Cupcakes a few years ago for my daughter's birthday and they were simply so moist and delicious so I knew I wanted to make them again but this time I thought why not make them "green" in honor of St. Patrick's Day. The recipe for the red velvet cups is similar to this one but over those couple of years, I picked up a few tips to make them even better, if that is possible. Both recipes are family favorites, it's all really boils down to the "cake recipe lottery". Whichever recipe I start to make is the one that gets the red or green tinted color to.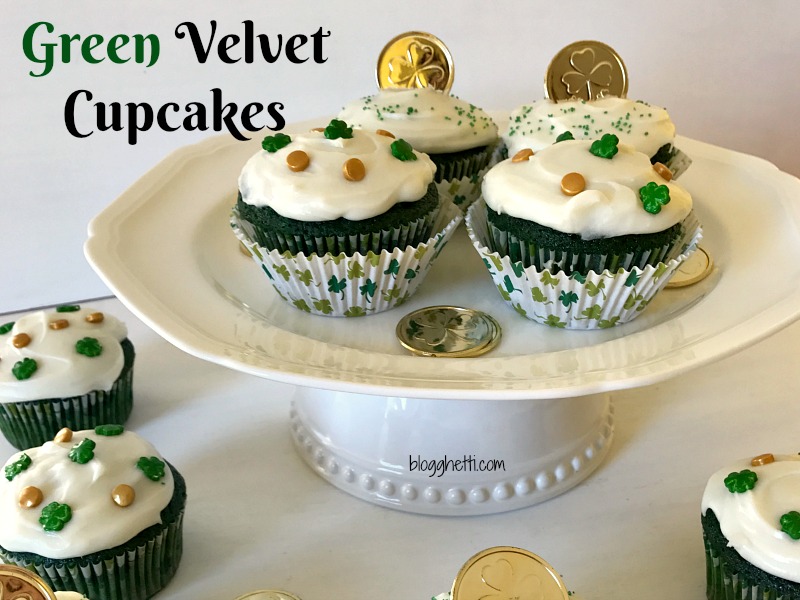 A few tips for you when you are mixing the batter for this recipe:
It's easier to incorporate the dry ingredients if you first add them to a mixing bowl and whisk together to completely combine and ensure there are no lumps. If you have a sifter, use it. I used to own one and I rarely used it as I prefer using a whisk.
Be sure to have your mixer on LOW speed when adding the green food coloring or you'll have an ugly green mess for days or longer. Oh – and yes, you'll be using that whole little bottle of food coloring. All of it.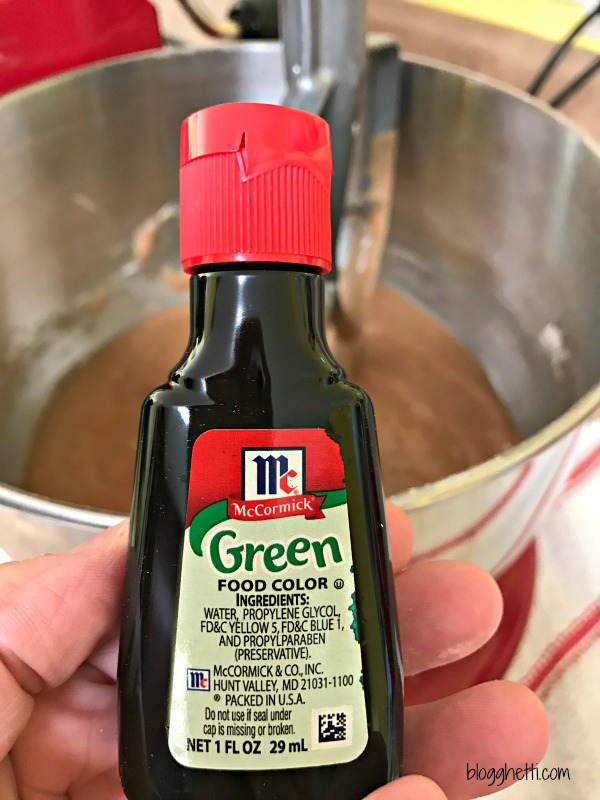 Don't be alarmed at the dark green color, the cupcakes will bake to a wonderful green color that won't have you thinking you did something wrong.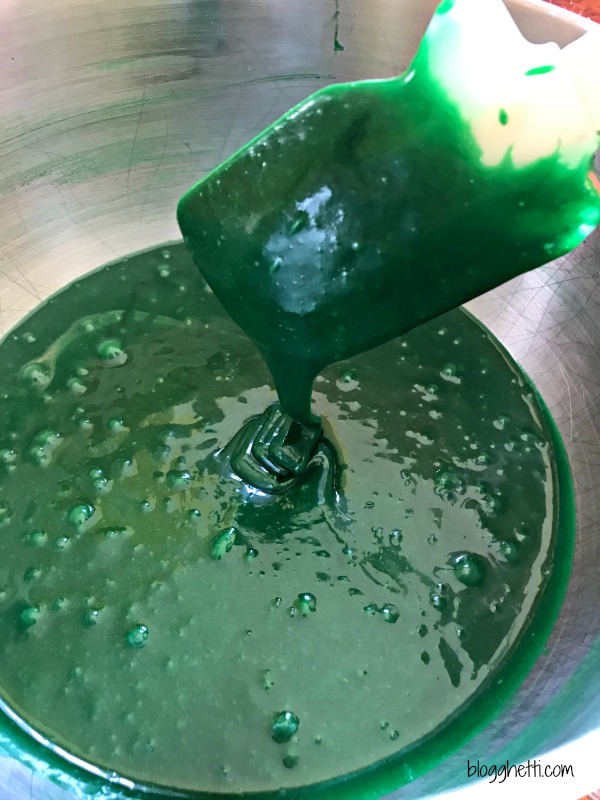 The bubbles in the batter are from the vinegar added in the recipe. If your kids are helping with the baking, this is a great time to teach them a bit of science with what happens to vinegar and baking soda when combined. Make baking (and cooking)fun!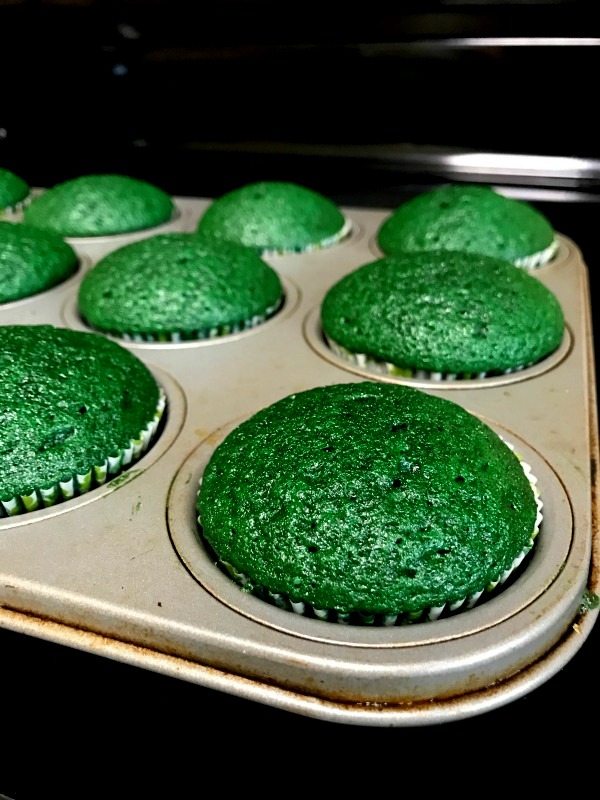 Once the cupcakes are cooled, you can frost them with a homemade cream cheese frosting which my family has dubbed, "The Best Cream Cheese Frosting" or use a store-bought tub of frosting. I will use the store-bought variety when I am in a pinch for time. Decorate with sprinkles, if you want or eat as is…which is what I did once I frosted the first one. I couldn't wait! They're that good.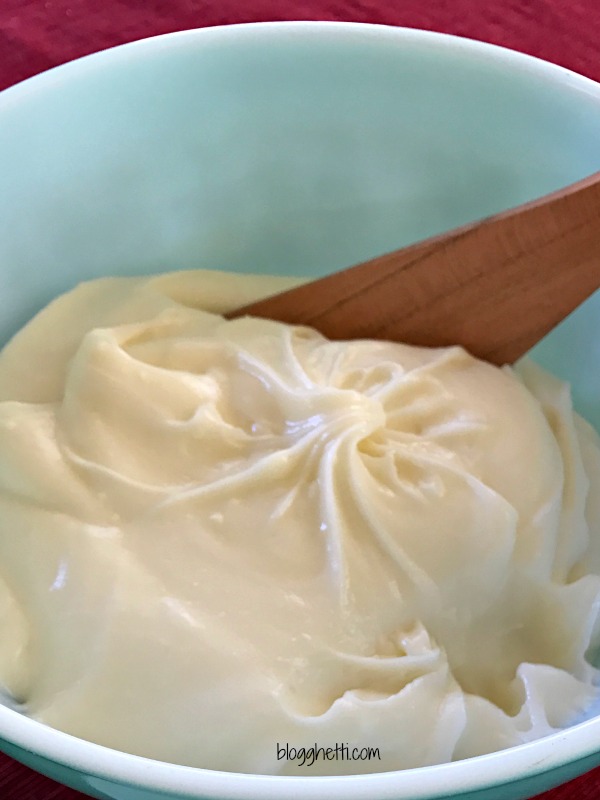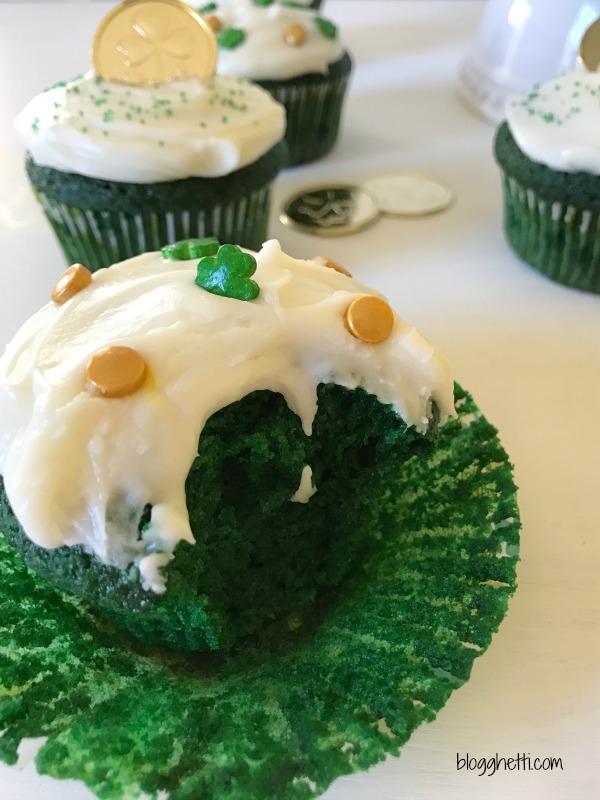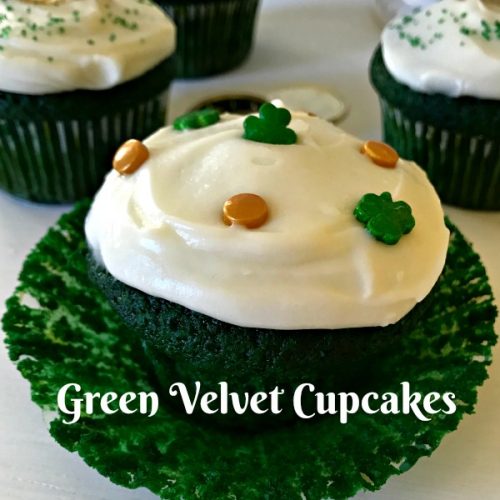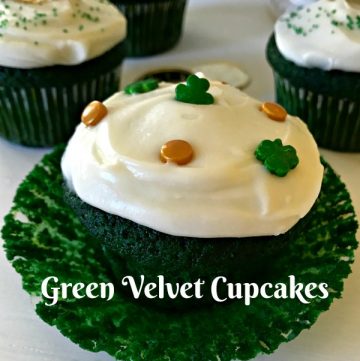 Ingredients
2 1/2

cups

of flour

2

cups

sugar

1

tbsp

cocoa powder

1

tsp

salt

1

tsp

baking soda

2

eggs

1

cup

canola or vegetable oil

1

cup

buttermilk

1

tbsp

vinegar

1

tsp

vanilla

1

bottle

1 oz green food coloring

1

batch of The Best Cream Cheese Frosting

a tub of store-bought frosting

candy sprinkles to decorate
Instructions
Preheat oven to 350 degrees. Line your cupcake pan with cupcake liners or spray pan with non-stick spray.

In a medium bowl, combine the flour, sugar, cocoa, salt, and baking soda. Whisk until completely combined. Set aside.

In the bowl of your stand mixer (or a large bowl if using an electric hand mixer), lightly beat the 2 eggs then add in oil, buttermilk, vinegar, and vanilla.

Add your dry ingredients into your wet ingredients, a little at a time, mixing well after each additions.

Once all of the dry ingredients are incorporated into the wet, now is the time to add the 1 ounce bottle of green food coloring (yes, all of it). Be sure your mixer is on LOW speed and blend in the green food coloring until it's completely combined, about 2 minutes. Scrap the sides of your bowl as needed.

Fill cupcake liners with batter, about 2/3 - 3/4 full. Bake 16 - 19 minutes or until a toothpick comes out clean when tested.

Let the cupcakes cool in the pan for 5 - 10 minutes and then remove to a cooling rack to cool completely before frosting.

Frost with Cream Cheese Frosting and decorate with candy sprinkles.
Enjoy!