This post may contain Amazon or other affiliate links. As an Amazon Associate I earn from qualifying purchases. Click
here
to read our privacy policy.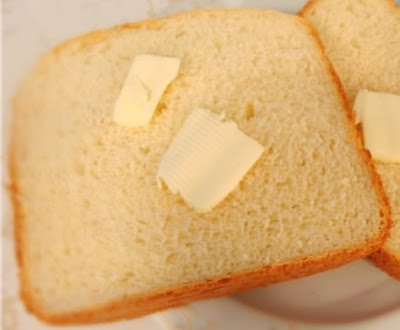 Is there any better smell than bread baking? Well, maybe but admit it – this smell is wonderful. As it is baking, you can almost taste the melted butter on a hot slice of homemade goodness. I've had a bread machine for a number of years and while it's underused every time it is, it makes me want to use it every day. This is one of my favorite bread recipes to use it the machine, it's a simple white bread. When making this bread yesterday for our Thanksgiving meal, I totally forgot to take a picture of it as I was still getting everything else ready. I thought, no big deal, I will just take a picture of a few slices later. Ha! I sent a few slices back to college with one daughter (along with other leftovers) and the rest of the bread was enjoyed as a snack that night. Big fail on picture taking. Just know, it was good!! Below the recipe is a few tips to get the most out of your homemade bread and your machine too.
There are "must do" rules when using a bread machine and trust me, you'll know if you didn't follow them.
Four Golden rules to successful Bread making
1. Measure the ingredients accurately with correct measuring cups and spoons.
2. Add ingredients to the bread pan in the order listed: liquid ingredients first, followed by the butter, then the dry ingredients, and lastly, the yeast in the center of the dry ingredients.
3. Liquid ingredients should be lukewarm (approximately 80-90° F) ; liquid that is too cool, such as refrigerated milk, or too hot may produce unacceptable results.
4. Use the recommended bread setting for best results.
Ingredients for a 1 ½ Pound Loaf:
Water, 80-90° F 10 fl oz (1 ¼ c)
Bread Flour 3 ⅓ c
Butter or Margarine 2 tbsp
Dry Milk 2 tbsp
Sugar 1 ½ tbsp
Salt 1 ¼ tsp
Active Dry Yeast 2 tsp
-or-
Bread Machine Yeast 1 ½ tspDirections:
In bread machine baking container, add the ingredients in the order listed above.
Water first
Butter – cut up the 2 tbsp into four pieces and place one in each corner
Evenly add the flour – tap the container lightly to settle the flour
Sprinkle the next 3 ingredients over the flour
Make a little well in the middle of the flour and then add your yeast. just in this well.
Tips:
Slicing Bread
Always allow bread to cool at least 15 minutes before slicing. If you attempt to slice the bread immediately after baking, it will be very difficult to slice and will be sticky. You will get compressed slices.
I highly recommend to use an electric knife when slicing the bread and even this bread slicing gadget. I love mine!
Storing Bread
Since homemade bread contains no preservatives, it does not stay as fresh for as long as commercially made bread. Store your bread in a
Plastic bag or sealed storage container to keep it from drying out. Keep the bread at room temperature or in the refrigerator for up to one
Week. For longer storage, place the bread in the freezer. Slice before freezing so you can remove only the number of slices you need at a time.
In our house, the bread doesn't make it long enough to store beyond one day (and that is stretching it!)