This post may contain Amazon or other affiliate links. As an Amazon Associate I earn from qualifying purchases. Click
here
to read our privacy policy.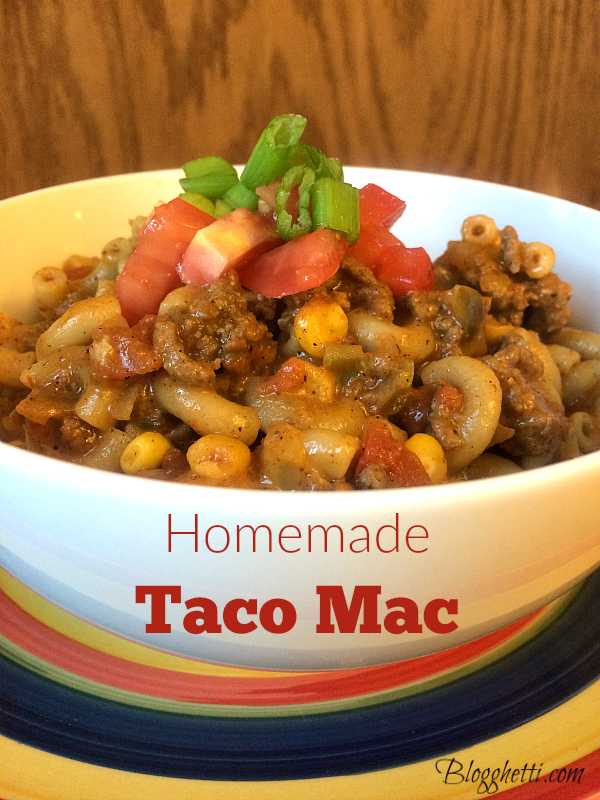 This post is long overdue but it's definitely a great one. My youngest daughter graduated college a few months ago but while she was still in class she wrote a guest post for a class assignment (she is a Mass Communications major) and I loved it. I asked if I could use it on the blog and she agreed. It took both of us a bit of time to get it to this point. Okay, we procrastinated just a bit. Nevertheless, it is a wonderfully written post and fits in perfectly with my mission of late – one pan meals and remakes of the "boxed" dinners. This one features all the flavors of tacos but in skillet form.
Here is her post:
"Hey mom, what's for dinner?"
Many readers of this blog know me as Lisa's youngest daughter and the frequent recipient of cookie care packages. But what you don't know about me is that the idea of cooking intimidates me. I grew up with all of the incredible homemade meals featured on this blog, and I'm not sure I'll ever be able to cook something that compares to the things my mom made for me. I mean, sure, I can brown some ground beef and throw in some taco seasoning, but that's where my culinary skills end.
When I was little, I loved helping my mom in the kitchen. Of course, helping back then basically meant grating the cheese for taco night or unwrapping Hershey's Kisses to put in peanut butter cookies. Still, I was excited to do it. As I got older, my time in the kitchen was mostly just spent talking about my day while my mom went back and forth between the stove and the cutting board. By the time I got to high school, this was happening much less frequently. I sat in my bedroom until my mom would call us down saying that dinner was ready.
It never really struck me until I was on my own how appreciative I was of this and how awesome my mother was for it. I'm sure she was just as tired from her day as the rest of the family was theirs, but never once did she fail at providing us a meal. I'm honestly surprised she never got so mad that she didn't make dinner for us at all. Without fail, there was always a hot meal ready for us every night.
Even now, as I'm on the way home from class, I call her and find out what's for dinner – as if I'm somehow going to be there for it. Instead, I've become proficient in takeout, experimented a bit with frozen meals, ventured into the world of the campus cafeteria and half-heartedly settled for a sandwich and a salad. Although real cooking seemed too daunting a task, I've gotten a bit better at it in the past two years. Still, nothing compares to going home to my mom's cooking.
So here's a recipe for the last thing my mom and I cooked together (yes, I did something other than just grating cheese).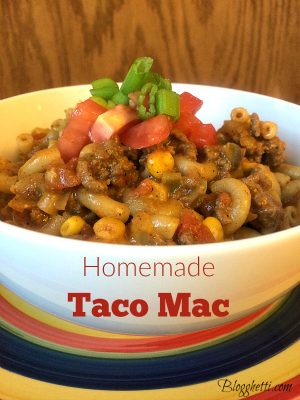 Ingredients
1

pound

lean ground beef

1

cup

onion

finely diced

1

jalapeno pepper

seeded, and diced (optional)

3

tbsp

Homemade Taco Seasoning

1

cup

frozen corn kernels

2

cups

water

1

cup

salsa

1

can Ro-tel tomatoes

undrained

2

cups

elbow macaroni

uncooked

1 1/2

cups

cheddar cheese

shredded
Instructions
In a large skillet over medium high heat, brown ground beef. When ground beef is nearly done, add diced onion and jalapeno peppers. Cook until onions are soft.

Add taco seasoning stirring to coat.

Add corn kernels, water, salsa, tomatoes and pasta. Stir until well combined.

Bring to a boil. Cover and reduce heat. Cook for 8-10 minutes, until the pasta is fully cooked.

Stir in cheese until melted.

Remove from heat and let stand for 2-3 minutes before serving.

Top with your favorite taco topping such as diced tomatoes and sliced green onions.
Enjoy!
Valerie