This post may contain Amazon or other affiliate links. As an Amazon Associate I earn from qualifying purchases. Click
here
to read our privacy policy.
A brand new year! Happy New Year everyone! I trust your holiday celebrations were fabulous and that your New Year is starting with a bang! I took a much needed break from blogging and social media (for the most part) and have really just gotten back into the swing of the daily routine with my "to do" lists. Our Christmas was wonderful and our table was filled with those close to us that were able to be here with loving thoughts of those that were not.
With the new year comes my last semester of classes for my degree and that means – graduation! I can hardly believe it is here, finally! It seems forever since I started back to complete my bachelor's degree. Of course, changing majors did put a bit more time on the goal, but it is nearly complete. Two classes this semester and God-willing, I'll graduate with honors and then have to look for my "big girl" job. There will be no one more excited that I will be done than my family, probably because I'll be at the cooking helm again for dinner. Though, with only two classes I'll be able to make dinner more than in the past.
The new year also brings some planning for the blog and I hope to have exciting ventures to share with you regarding that plus many new recipes featuring one pan meals and healthy remakes of old favorites. By now you know my love for these one pan meals and my goal is to have the recipes for them all in one place. As I look back at my crazy year blogging, I am so thankful for YOU all sticking around and letting me know you enjoy the blog and what I offer. Thank you!!
Today's recipe is one of our favorites and it is a healthy one pan meal (of course) that is super simple to prep and get on the table. I love that you can change up the vegetables in this meal with what you have on hand or what the grocery store has that is on sale.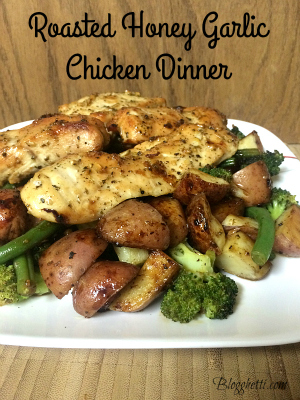 Ingredients
3

tbsp

olive oil

divided

2

tbsp

unsalted butter

melted

2

tbsp

honey

2

tbsp

brown sugar

1

tbsp

Dijon mustard

3

cloves

garlic

minced

1/2

tsp

dried oregano

1/2

tsp

dried basil

2

cups

baby red potatoes

halved

4 - 5

boneless

skinless chicken breasts

3

cups

fresh broccoli florets

2

cups

fresh green beans

trimmed

salt and pepper

to taste
Instructions
Preheat oven to 400 degrees and spray a baking sheet with nonstick spray.

In a small bowl, whisk together 2 tablespoons olive oil, butter, honey, brown sugar, Dijon, garlic, oregano and basil; season with salt and pepper, to taste. Set aside.

Place potatoes in a single layer on the baking sheet. Drizzle with remaining 1 tablespoon olive oil and season with salt and pepper, to taste.

Place chicken on top of potatoes and brush each chicken breast with honey mixture.

Place into oven and roast until the chicken is completely cooked through and the potatoes are nearly done about 25-30 minutes.

Stir in broccoli and green beans during the last 10 minutes of cooking time. Cook until tender-crisp and cooked through.
Enjoy!