This post may contain Amazon or other affiliate links. As an Amazon Associate I earn from qualifying purchases. Click
here
to read our privacy policy.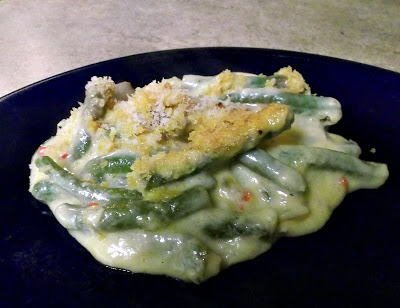 You know the green bean casserole that I am talking about. Traditionally made with Cream of Mushroom soup and those french fried onions on top. I am guilty of making that not only for holidays but for potlucks or just a quick side dish during the week. I think when it was popular we all over made it and now it's just something we "used" to make. Or maybe you still make it. Either way, this recipe is updated and since I am on a quest to leave out as much processed foods as possible, I knew this would be good to make. I wasn't wrong. This casserole starts out with a traditional white sauce with cheese in it and gets a kick from a bit of cayenne pepper and a bit more color from red bell peppers. There is even bacon, yes I said bacon, in this dish. If you feel the need to keep things a bit traditional, by all means, add the french fried onions on top. I don't think I will go back to the past with this dish!
This recipe will make 8 servings and can be cut in half, if needed.
Ingredients:
2 lbs fresh green beans, ends trimmed (cut beans in half or leave whole)
4 slices bacon, cut into 1/4 inch pieces
3 cloves garlic, minced
1/2 whole large onion, chopped
4 Tbsp butter
4 Tbsp flour
2-1/2 cups milk
1/2 cup half-and-half
1-1/2 tsp salt, or to taste (I actually don't use any salt)
Fresh ground pepper, to taste
1/8 teaspoon cayenne pepper
1 cup grated sharp cheddar cheese (any kind will do)
1/2 red bell pepper, diced into small pieces
1 cup Panko bread crumbs
Directions:
Blanch the green beans: drop them into boiling water and allow green beans to cook for about 3 to 4 minutes. Remove them from the boiling water, drain and immediately plunge them into a bowl of ice cold water to stop the cooking process. Drain beans once they're cool. Place in a mixing bowl.
Add bacon pieces to a skillet over medium heat. Cook bacon for a couple of minutes, then add diced onion, red bell pepper, and garlic and continue cooking for about 3 to 5 minutes, or until bacon is done. You don't want the bacon too crisp but you do want the onions a bit browned. Remove from heat and set aside.
In a saucepan, melt butter over medium heat. Add flour into the pan and whisk to evenly mix it into the butter and to prevent the sauce from being lumpy.
Cook the flour/butter mixture for a minute or two, then pour in milk and half and half. Continue cooking, whisking constantly, while sauce thickens, about 2 – 3 minutes. Add salt, pepper, and cayenne then add the grated cheddar. Stir while cheese melts. Turn off heat.
Add the bacon/onion/garlic/bell pepper mixture to the sauce. Stir to combine. Pour over green beans and stir gently to combine.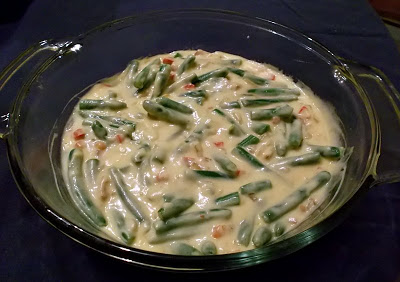 Pour into a baking dish and top with Panko bread crumbs.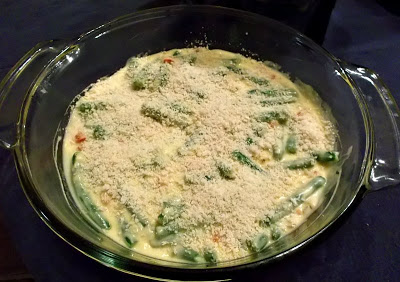 Bake at 350 degrees for 30 minutes or until sauce is bubbly and Panko bread crumbs are golden brown.