This post may contain Amazon or other affiliate links. As an Amazon Associate I earn from qualifying purchases. Click
here
to read our privacy policy.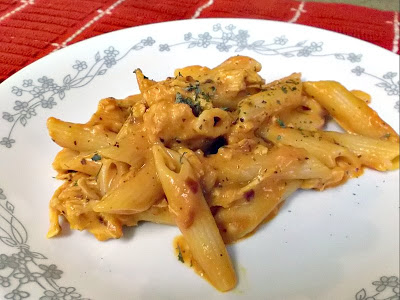 This is a quick meal for any week night and I am warning you upfront, it's spicy! The red pepper flakes in this can be decreased to your heat level, but try it the way the recipe calls for it at least once. If you ask my daughters, one would say it's TOO spicy and the other would say it's NOT spicy enough. I try to make somewhere in the middle, for my mouth's sake. My daughter (the one that doesn't like too much spice) found this on Pinterest, the mecca of anything and everything and we adapted it to our liking and placed it in the "let's make this again" file. This is a dish that I even make ahead of time (except for the pasta) and freeze in individual servings for my college age daughter to take back to her freezer. She just needs to thaw it out, reheat it and add some cooked pasta and she's got a great meal, fast. Yes, I add more red pepper to her batch! Love the simplicity of this meal and the flavor punch.
Ingredients:
2 tbsp olive oil
1/2 tbsp – 3/4 tbsp crushed red pepper
salt and pepper to taste
1 1/2 tbsp minced garlic
2 – 3 cooked, shredded or thinly sliced chicken breasts*
1 jar of your favorite marina sauce
1 jar of your favorite Alfredo sauce
2 tsp butter
1 lb penne pasta, cooked according to package directions (or any of the bigger pastas)
Directions:
Cook pasta according to package directions. Drain and keep warm by putting the pasta back into pot it was cooked in and covering.
While pasta is cooking, in a sauté pan, heat oil over medium heat. Add crushed red pepper, salt, black pepper and garlic and sauté just long enough for garlic to caramelize and red pepper to release flavor into the oil. Add sliced chicken and sauté briefly to coat in spices and garlic.
Add Marinara Sauce first, combine. Then Alfredo Sauce, combine and bring to a simmer. Cook until sauce thickens slightly and everything is heated through. About 20 minutes. Turn off flame, add butter and incorporate into sauce.
Add the sauce mixture to the pasta and combine well. Serve.
Notes:
* You can sliced raw chicken breasts thinly and sauté them with the garlic and red pepper.If you do, be sure that you cook the chicken till it's done and reaches an internal temperature of 165 degrees.