This post may contain Amazon or other affiliate links. As an Amazon Associate I earn from qualifying purchases. Click
here
to read our privacy policy.
One Skillet Chicken Fajita Pasta has all of the flavors of fajitas but with pasta! Everything is cooked in one skillet, and that makes for easy clean up.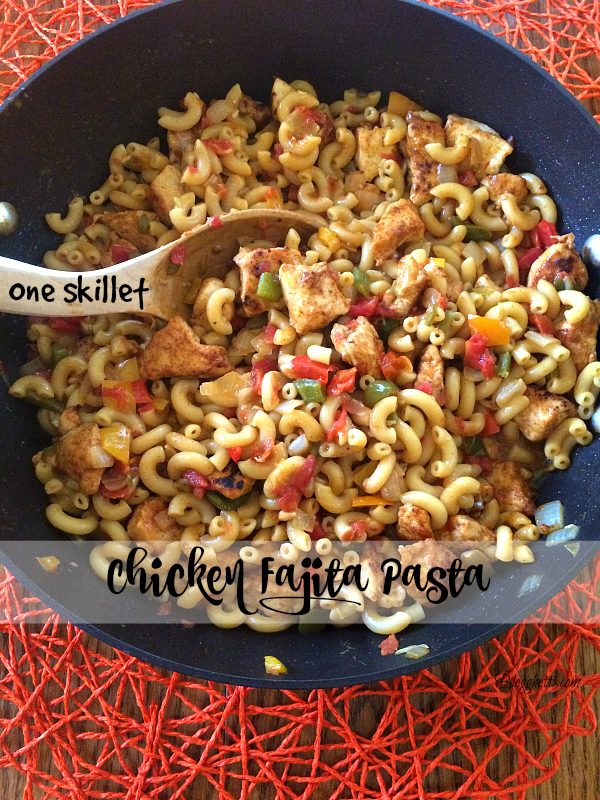 I can hardly believe that I will be graduating in THREE weeks! It has been a long road and now that it is approaching, all kinds of emotions are surfacing. More on graduation in future posts later! For now, I am going to share another of my one pan meals which includes a failed attempt at the making this the first time. This time, though, it was a huge hit and perfect!
The first time I made this Chicken Fajita Pasta skillet meal, I used what I thought was a container of my homemade taco seasoning. The seasoning was in an unmarked container which I thought was just leftover from when I made a huge batch of it and didn't fit in the jar I use. Wrong! Oh, so wrong! I guess it was another flavor combination that I mixed together for a recipe – though I have no idea what recipe!! It looked the same as the homemade mix I use. The result looked very dark in color, actually it was not pleasing to the eye at all. Eh, I thought it has to be the cumin in the taco seasoning giving it that color.
I failed to taste test the pasta dish before serving it because I was distracted by something in the house or I would have caught what was about to happen next. I served the meal. I asked for opinions on it…I got "it's okay". In other words, it was not something they preferred. I tasted mine and was like – what the heck is in this?!?!? It was indeed spicy but it was not taco seasoning. It wasn't bad but it wasn't as I was expecting it to be!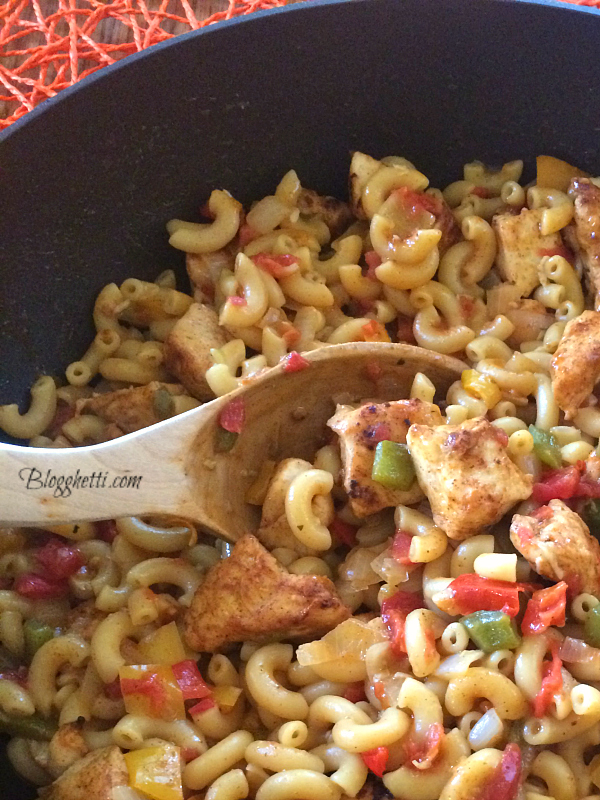 Fast forward a few months and I tried the recipe again and this time with a clearly marked jar of taco seasoning! I have to tell you, this recipe is so good – so good that I want to make it again like tonight and we had it two days ago. I have most of the ingredients called for on hand pretty much all of the time except for the heavy cream.
I rarely use the stuff as delicious as it is in pasta recipes or sauces. I made a quick substitute for the heavy cream which is so simple and I bet you have those ingredients on hand, too. Melted butter, milk, and a little bit of flour and you have a great substitute for heavy cream. I don't recommend it to be used in baking recipes or recipes that call for the cream to be whipped. It is perfect for adding creaminess and a bit of thickness in sauces, such as this chicken fajita pasta recipe. I've used it in a pinch to make homemade Alfredo sauce as well.
Another staple food in my kitchen are diced/sliced bell peppers. When they are in season, I will buy a ton of them, all colors and spend a couple of hours dicing and slicing them to freeze. I layer a cookie sheet with parchment or wax paper and in a single layer place the chopped peppers on it and freeze them for a couple of hours like this. Then toss them all in a resealable freezer bag and place them in the freezer. They are used all winter long in tons of dishes. The prep is done so it's easy to add them to omelets, scrambled eggs, or when making fajitas. I tried to do onions this way as well, but every time I opened the freezer or refrigerator I could smell them. So…that doesn't happen now.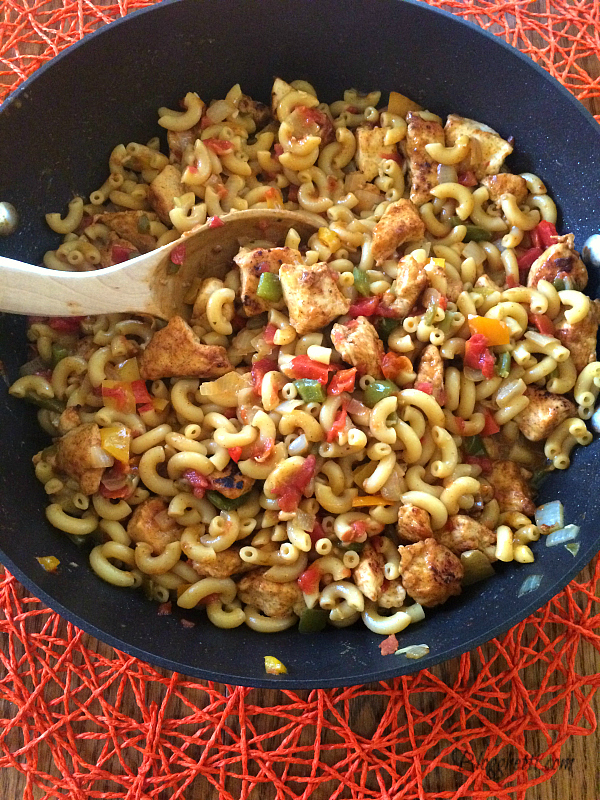 You must try this Chicken Fajita Pasta! It has all the flavors of fajitas but with pasta! Add your favorite fajitas toppings, too. Oh, and the one pan to wash, you're welcome!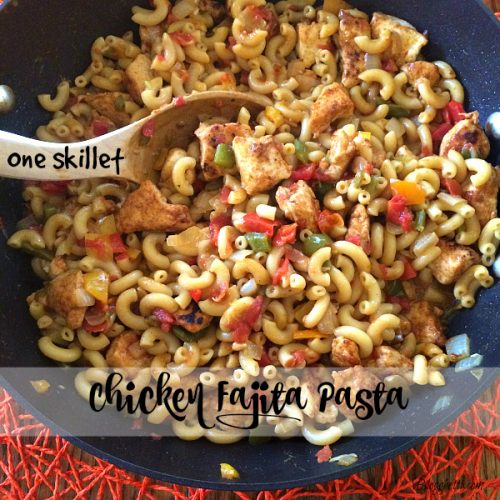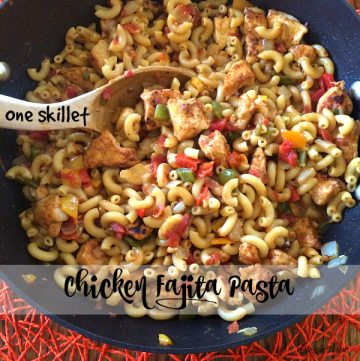 One Skillet Chicken Fajita Pasta
The flavors of chicken fajitas with pasta! An easy one skillet dinner for any night of the week!
Print
Pin
Rate
Ingredients
2

– 3 tbsp olive oil

1 1/2

lbs

boneless

skinless chicken breasts ( I use one package of Perdue Perfect Portions

3

tbsp

Homemade Taco Seasoning or 1 pkg taco seasoning

1

medium onion

diced

2

cups

diced bell peppers

combination of red, green, yellow, orange

3

cloves

garlic

grated (or minced)

2

cups

unsalted chicken stock

1/2

cup

heavy cream

1

10-oz can Ro-Tel Diced Tomatoes and Green Chiles

2 1/2 - 3

cups

elbow macaroni

uncooked

Salt to taste
Instructions
Cut the chicken into bite-sized pieces. Season with 1 ½ tablespoons of the taco seasoning.

Heat heat 1 tablespoon of olive oil over high heat in a large skillet. Add the chicken (in a single layer) and brown each side, cook 1-2 minutes on each side. Depending on the size of your skillet, you may have to do this in two batches and you may need to use an additional tablespoon of oil. Remove the chicken to a plate and set aside.

With the heat still on high, add 1 tablespoon of olive oil to the skillet and add the onions, bell peppers. Sprinkle the remaining 1 1/2 tablespoon of taco seasoning over the vegetables. Cook the vegetables, stirring a couple of times until they are slightly blackened.

Turn heat to medium-high , add the garlic and stir until fragrant, about 30 seconds. Remove the vegetables to the same plate with the chicken.

In the same skillet, add the chicken stock, cream*, diced tomatoes, and uncooked pasta. Stir to combine and turn the heat up to bring to a boil, then cover, reducing the heat to medium-low, and simmer for 15 minutes until pasta is tender and liquid is mostly absorbed.

Add the chicken and vegetables back into the skillet and stir to combine until heated through, about 5 minutes. Serve!
Notes
If you do not have the heavy cream you can make your own easily: Melt 1/3 cup unsalted butter and add to 3/4 cup WHOLE milk. If you prefer to use low-fat milk (which is what I use), add 1 tablespoon of flour to thicken your mixture and stir well. Use immediately. This mixture is not recommended in recipes that require the cream to be whipped but it is great in pasta dishes (or other recipes) that call for a heavy cream.
This is my "go to" pan for many meals:
Enjoy!