This post may contain Amazon or other affiliate links. As an Amazon Associate I earn from qualifying purchases. Click
here
to read our privacy policy.
These were cute and easy to make but be warned, they are very sweet. The peppermint jazzes the Rice Krispies Treats and the candy cane "hook" adds a festive touch. Ours did not turn out picture perfect as I thought they would but they were good just the same.
Yield: About 24 Balls
Ingredients:
1/4 Cup Butter
1 10 Oz. Package Marshmallows
1/3 Cup Crushed Candy Canes
6 Cups Rice Krispies Cereal
2 14 Oz. Bags White Candy Melts
2 Tbsp Vegetable Oil
Directions:
Melt the butter in a large saucepan over medium low heat.
Add in the marshmallows and allow them to melt completely.
Add in the crushed candy canes.
Remove the pan from the heat and stir in the Rice Krispies.
If making balls, pull out heaping tablespoons from the pan and roll into balls. Add a candy cane into the center of each ball. (if your candy canes aren't staying in, let the ball cool a few minutes and try again)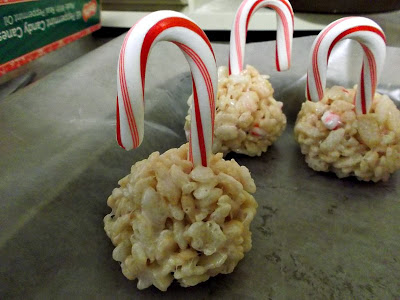 If making cut out shapes, press the rice krispie mixture into a pan prepared with cooking spray. Allow to cool for about five to ten minutes and then cut out your favorite shapes. Add a candy cane into the top end of the treat.
Place your finished treats into the fridge for about 15 minutes to cool down.
Melt the candy melts according to package directions and add in the vegetable oil to thin the mixture.
Dip your cooled treats into the chocolate, sprinkle or decorate, and set aside to cool and harden completely.
Note: For a quicker version, simply substitute one 12 oz. bag of white chocolate chips for the melts and oil. Add the chips in with the marshmallows and heat until completely melted. Proceed with adding the candy canes and Rice Krispies. You can then roll your balls and add sprinkles to the still warm treat.