This post may contain Amazon or other affiliate links. As an Amazon Associate I earn from qualifying purchases. Click
here
to read our privacy policy.
When my girls were young, birthday parties usually included cake and ice cream among all the other traditional festivities. These sweet little cupcakes would have been a blessing to have back then. Ice cream and cake all rolled into one. The decorated cakes were great but sometimes a simpler way to go would have been nice
and less expensive too!
I was trying to come up with a quick and sweet treat for our 4th of July cookout this year when I stumbled upon Annie's Eats and this frozen cupcake treat and knew this would be it. However, I did change it up and used frozen vanilla yogurt instead. I also used paper liners for the cupcakes instead of the foil ones called for in the recipe on the original site and they turned out just great.
A couple of things to keep in mind when preparing this treat: since you are only using about two tablespoons of the batter per cupcake, this batter will make many cupcakes. I chose to make only 24 cupcakes but I am betting it would make maybe 15 or so more. You can use paper or foil liners for the cupcakes as you will be removing them before serving the frozen cake. Decorating with the fruit is only one way to go, if you are using for a birthday party, sprinkles would be great too.
Ingredients:
1 batch white cake batter
Red and blue food coloring
Half gallon of vanilla frozen yogurt, slightly softened (or vanilla ice cream)
Fresh strawberry slices and fresh blueberries
Instructions:
Preheat oven to 350 degrees.
Prepare white cake batter as directed on package.
Line two cupcake pans with paper or foil liners.
Divide the cake batter into two separate bowls. Color one half with red and one half with blue food coloring.
Place about two tablespoons of batter into each cupcake liner so that you have 12 red and 12 blue cupcakes.
Bake until the cupcake is baked through and a toothpick inserted in the center comes out clean, about 10 minutes.
Allow to cool in the pans to room temperature. Then freeze the cupcakes for 30 minutes.
Once the cupcakes have frozen, fill each cupcake liner to the top with the frozen yogurt. Freeze until firm or until ready to serve.
Before serving, top the blue cupcakes with fresh strawberries and the red cupcakes with fresh blueberries.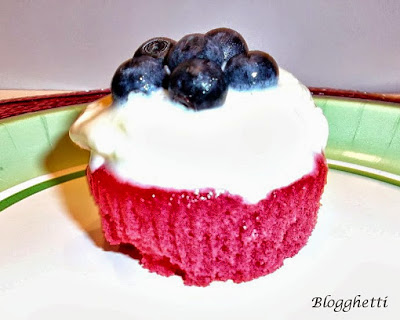 Enjoy!