This post may contain Amazon or other affiliate links. As an Amazon Associate I earn from qualifying purchases. Click
here
to read our privacy policy.
I love when you can take a recipe you already make, one that is already great and make small additions to make it even better. This pork roast is just that kind of recipe. As you have been reading, I've been busy with studying for finals so time is very valuable. Not much time for thinking of creative ways to make anything unless it's how to get International Economics engraved into my brain for another couple of weeks. So, I took my Rosemary and Garlic Stuffed Pork Roast and kicked the flavors up a notch. Served this one with Roasted Brussel Sprouts with Bacon and Parmesan Cheese and roasted red potatoes. The potatoes were not homemade, unless you count cutting open the bag and spreading them out on a baking sheet homemade. Kroger has a great frozen roasted red potatoes with sea salt and cracked pepper bag that is a staple in this house. They bake up quick in the oven and such a time saver!


Ingredients:

4 – 5 tbsp finely chopped fresh rosemary
6 – 7 tsp. minced garlic (I use the jarred mince garlic)
1 (2-pound) pork roast, trimmed
Salt and pepper
Olive oil
1 large onion, thickly sliced
A good brand of Dijon mustard (I used Grey Poupon)
Brown sugar

Instructions:

Preheat oven to 425°.

Combine the rosemary and garlic in a small bowl. Make several 1/2-inch-deep slits all over the pork; place about ¾ of the rosemary mixture in slits.
Rub pork with remaining rosemary mixture; sprinkle with salt and pepper.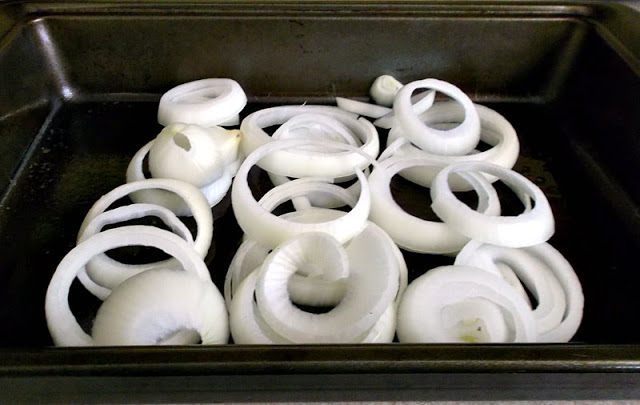 Layer the onion slices on the bottom of roasting pan.
Place pork on top of onion slices.
Drizzle olive oil over the top and down the sides of the roast and the onions.
Place pan in oven for 30 minutes at 425°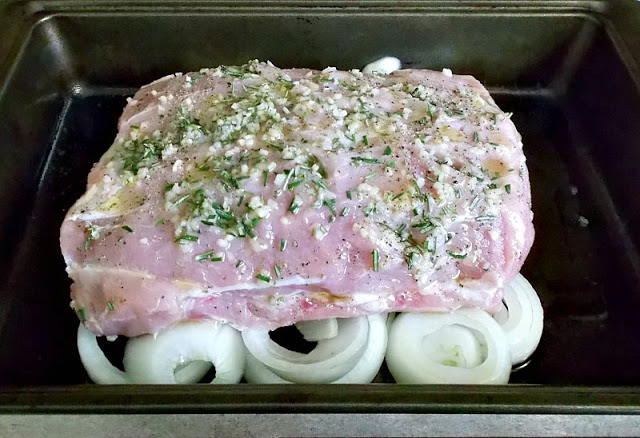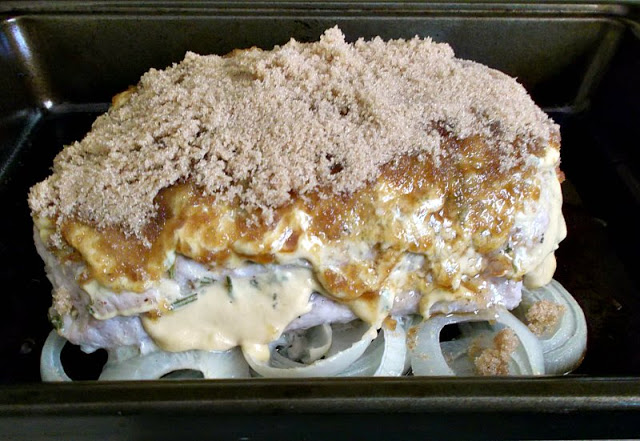 After the 30 minutes, reduce oven temperature to 375° and pull out the roast and spread the Dijon all over the top of the roast. Don't be shy with it. Pat brown sugar on top of the mustard, again don't be shy. As it bakes it will form a nice glazed crust over the roast.
Place roast back in the oven to roast until a meat thermometer registers 160°, usually about 1 – 1 ½ hours. Let stand 5 minutes, and slice.