This post may contain Amazon or other affiliate links. As an Amazon Associate I earn from qualifying purchases. Click
here
to read our privacy policy.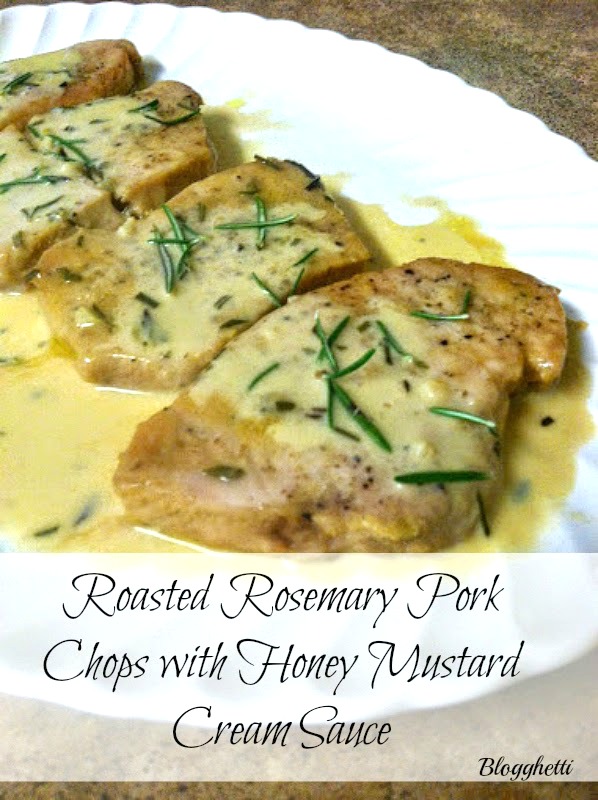 Rosemary is my favorite herb to use in almost meat or vegetable dish. I just wish I could grow it all year round but with my non-green thumb there's not a chance so I enjoy it greatly while it lives in my home and then after a moment of silence when it's gone I head out to the grocery store to purchase more.
Honey mustard is my favorite dipping sauce and by that I do not mean with chicken nuggets but with french fries. Yea, I am not a ketchup person. I also love to use it as a base for cream sauces and coatings when I bake chicken in the oven.
So when I pulled a package of pork chops from the freezer I had a brilliant idea to combine the two favorites to make these chops fall in love with them too. Pork can be dry if not cooked the right way and to the right temperature, something it took me a very long time to figure out. I still have moments where I will overcook it and it's dry and tough. Using a small amount of beer in sauce while the pork cooks aids in tenderizing the meat.
The rosemary and honey mustard cream sauce over the moist and tender pork chops sets them over-the-top-yummy and it's heavenly spooned over mashed potatoes .
Yes, there is a bit of cream and beer in the recipe so if you aren't a fan of using either of those ingredients in your cooking, this may not be the pork recipe for you. You'll be missing out if you don't at least give it a try. Seriously.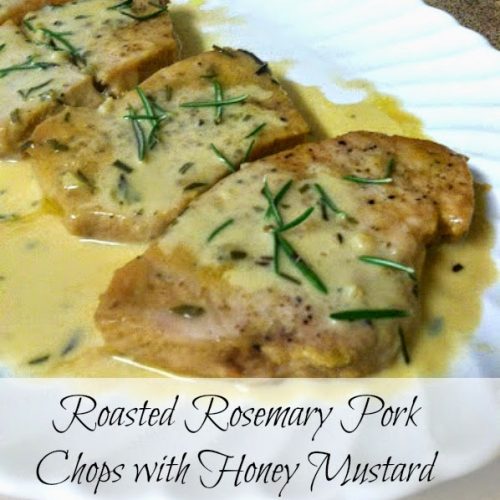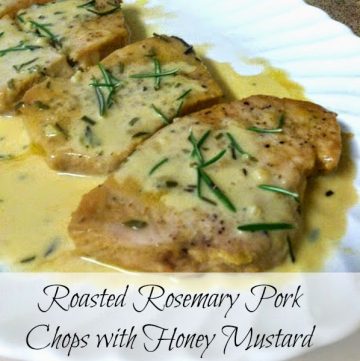 Ingredients
4 -6

boneless pork chops

3

tbsp

honey

1/4

cup

Dijon mustard

3/4

cup

beer

2

tbsp

butter

melted

1

– 2 tbsp fresh rosemary

chopped

2

– 3 cloves garlic

minced

Salt and pepper

to taste

1/2

cup

heavy cream
Instructions
Preheat oven to 375 degrees. Spray a 13 x 9 inch baking dish with non-stick spray.

Season pork chops with salt and pepper and place in baking dish.

In a medium bowl combine the honey, mustard, beer, melted butter, rosemary, and garlic. Whisk the mixture and pour over pork chops. !Do Not Add the cream yet.

Bake pork chops in oven for 20-30 minutes or until cooked through.

When the pork chops are done, remove from baking dish to a platter. Lightly cover with aluminum foil to keep warm.

In a medium sized saucepan, carefully add the sauce from baking dish and the cream. Bring to a boil and cook until reduced for 5 minutes, stirring constantly. It will thicken as it reduces.

Serve pork chops with cream sauce.