This post may contain Amazon or other affiliate links. As an Amazon Associate I earn from qualifying purchases. Click
here
to read our privacy policy.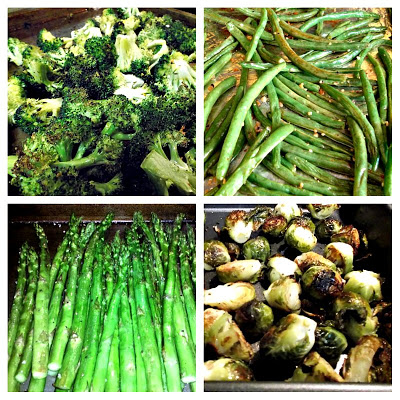 Growing up I was used to mostly veggies frozen or canned. When the vegetables were in peak season in the summer we would have fresh corn on the cob, green beans, and others but I mainly recall the canned or frozen. Canned was in back then. Today, we hear all kinds of things about the canned vegetables, from not fresh, and overcooked to not being good for you in the cans. Whatever your opinion is, vegetables are good for you and taste yummy when prepared with flavorful spices and herbs. I do use canned from time to time but not often. I would rather use fresh or frozen. When your favorite vegetable are in season, buy extras, blanch them and freeze them. Then in the Fall or Winter you can have a taste of Summer.
Probably the easiest way to cook vegetables is to roast them. They stay crisp and green and hold flavors and spices/herbs wonderfully. So simple to do and so fast to cook. If you don't have fresh, simply thaw and drain frozen vegetables and proceed with the recipes. Cooking times may be less, so watch them carefully.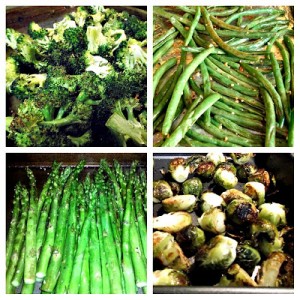 Ingredients
One of or a combination of Asparagus

green beans, broccoli, cauliflower, brussel sprouts, or your choice of veggie

1 - 2

tbsp

Olive Oil

depending on how many vegetables you are roasting

1 - 2

tsp

Minced garlic

1/2

tsp

Kosher salt

Fresh ground pepper

to taste
Instructions
Preheat oven to 425 degrees. Place the vegetables on a baking sheet (line with foil for easy clean up.)

Drizzle 1-2 tablespoons of olive oil over the vegetables.

Sprinkle with garlic, salt, and pepper. Toss to coat.

Bake for 10 - 15 minutes, or until tender.

Sometimes I will also preheat the broiler and cook them that way.  Same amount of time.

Note: I used several different spices and herbs when roasting vegetables. Not always do I use garlic.  Mrs. Dash line of spices and herbs are great for this also.  Just about whatever you have in your spice cabinet will work.