This post may contain Amazon or other affiliate links. As an Amazon Associate I earn from qualifying purchases. Click
here
to read our privacy policy.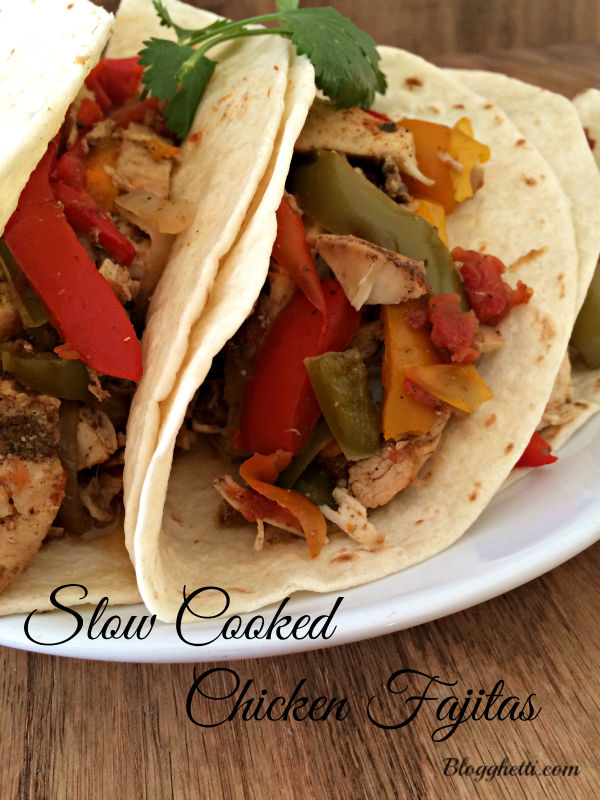 Can you believe it's May? I am thrilled that it is because that means I have ONE WEEK left to this semester of craziness. Next week is finals and then I will have a break for a month before starting summer classes. I want to be done already! April was one busy month for us – my classes, oldest daughter moving to her new apartment, and youngest daughter graduating (with honors, I might add) from college. Whew! Through it all my crockpot has been a lifesaver – or meal saver. However you look at it, having that wonderful appliance has saved me from wondering 30 minutes before dinnertime what to make.
For this slow cooked chicken fajitas, I just adapted my Baked Chicken Fajitas recipe for the crockpot. Put in the ingredients, turn the crockpot on, and I was back to my writing papers for Abnormal Psychology and studying for exams. They turned out super yummy.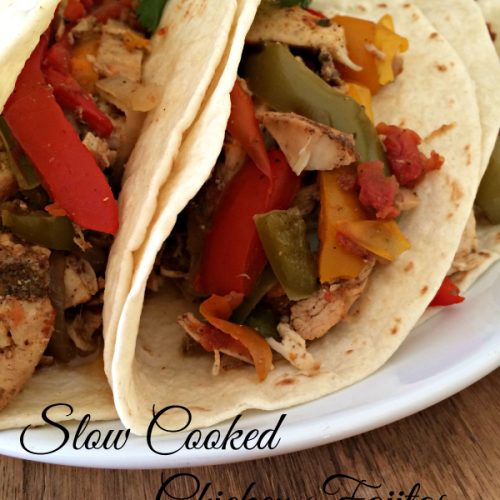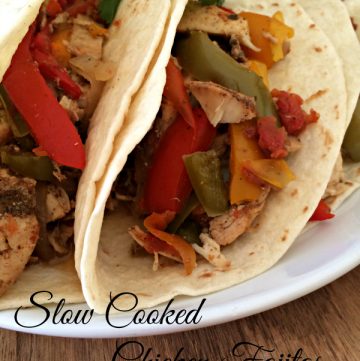 Ingredients
2

lbs

boneless

skinless chicken breasts,

1

14.5 oz can diced tomatoes with green chilies

1

medium onion

sliced

3

bell peppers

seeded and sliced thickly

3 - 4

cloves

of garlic

minced

2

tsp

chili powder

2

tsp

cumin

1/2

tsp

dried oregano

3/4

tsp

ground coriander

1/4

tsp

salt

12

flour tortillas

2

tbsp

fresh lime juice

1

tbsp

honey

Toppings such as cheese

sour cream, and guacamole – if desired
Instructions
Tips: Be sure to slice your vegetables onthe thick side so they hold up to the long cooking times and not end up mushy. Also, if you wnat to be able to slice the chicken into strips, lean towards the lesser cooking times. If you want to shred the chicken then give it that extra hour or so of time to cook.

Spray crockpot lightly with non-stick spray.

Pour half of the canned tomatoes into the bottom of a crockpot, spreading out into an even layer.

Add chicken breasts on top of tomatoes. Then layer half of the peppers and onions and all of the garlic on top of the chicken.

In a small bowl mix together chili powder, cumin, oregano, coriander, salt and pepper. Evenly sprinkle half of the seasoning over chicken breasts. Flip chicken over and and sprinkle the rest of the seasoning on chicken.

Evenly pour over the rest of the tomatoes, and lastly, top with rest of peppers and onions.

Cover and cook on high for 3 - 4 hours or low 6 - 8 hours, until chicken has cooked through and veggies are tender.

Remove chicken at desired cooking time, and cut into strips, or shred.

Ladle out 1 cup of the liquid in the crockport and discard.

In a small bowl whisk together lime juice and honey and add to slow cooker along with chicken and mix together.

Serve warm in warmed tortillas with toppings of your choice.
Enjoy!