This post may contain Amazon or other affiliate links. As an Amazon Associate I earn from qualifying purchases. Click
here
to read our privacy policy.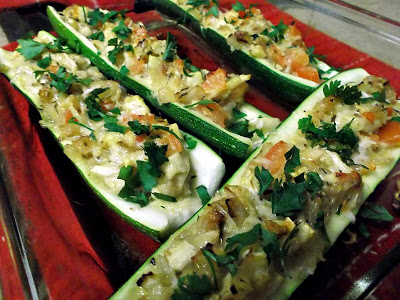 Zucchini is great in just about any form – grilled, sauteed, simmered in soups, baked and now stuffed. This vegetable has taken over my as top favorite for me. This recipe is simple to make and you can change up the ingredients to suit your tastes. Most of us probably don't have curry powder in the spice cabinet but trust me, go get it for this! Amazing taste with the zucchini!
Ingredients:
2 zucchinis
1 onion
1/2 tomato
1 tbsp olive oil
1 tbsp sour cream
salt and pepper (to taste)
1/4 tsp curry powder
1 tsp thyme
cheese
Directions:
Preheat your oven to 400 degrees. Spray a 13 x 9 baking dish with non-stick spray.
Be sure to wash the zucchinis to remove any dirt or residue.
Trim the ends and slice them in half length-ways.
Spoon out the zucchini pulp, leaving about 1/2 inch of the pulp in. The vegetable should resemble a boat-like shape.
Place the zucchini boats in the prepared baking dish.
Chop the zucchini pulp in small pieces. Dice a small onion and 1/2 a tomato. If you use the whole tomato, it will produce too much liquid for this dish.
Heat a small skillet with one tbsp olive oil and saute the onions till soft and just about browned.
When the onions are almost done, add 1/4 tsp curry powder and cook everything for an additional 30 seconds and transfer to a large bowl. No longer or the curry powder will turn bitter.
Add the dried thyme, salt and pepper (to taste), sour cream, the zucchini pulp, and the tomato. Mix to combine.