This post may contain Amazon or other affiliate links. As an Amazon Associate I earn from qualifying purchases. Click
here
to read our privacy policy.
Super easy skillet Rosemary Dinner Rolls are the perfect accompaniment to any meal. A great way to dress-up frozen rolls.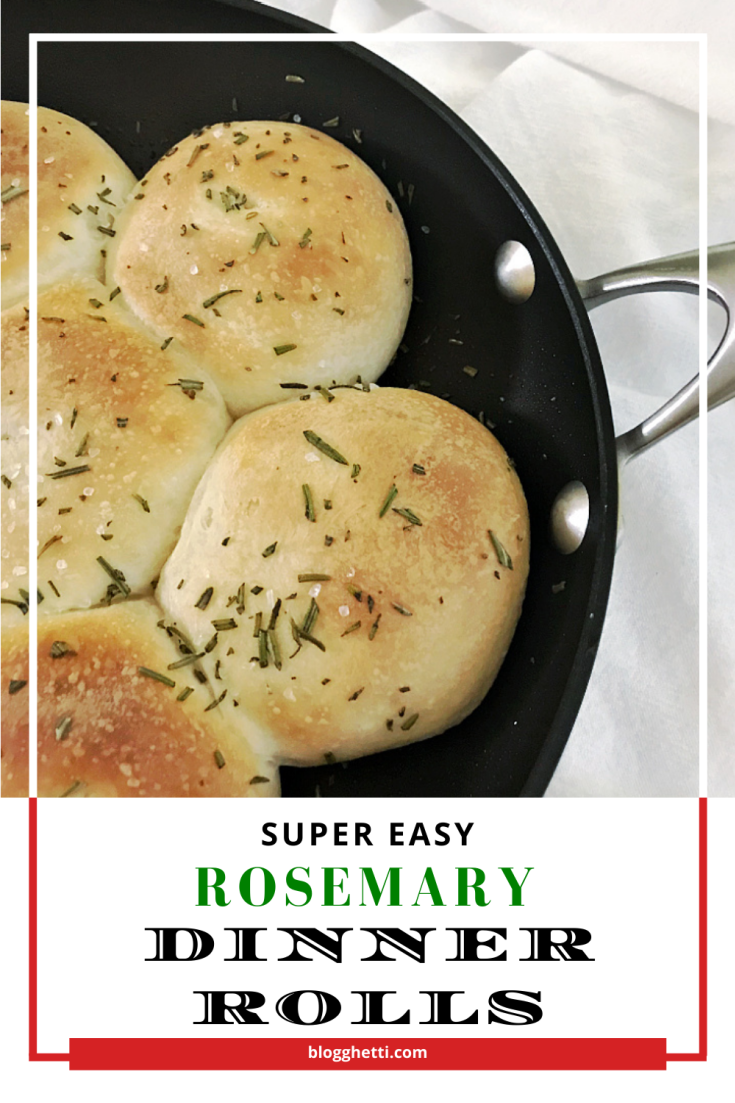 I love frozen roll and bread dough. It makes it so easy to have homemade rolls and bread anytime. I also love making homemade bread from scratch but let's face it, it's a process, a time-consuming process that busy schedules just don't have time for unless it's the weekends.
Another reason I love the frozen dough is that you can add to it (just as you can from scratch dough). These delicious easy rosemary dinner rolls are a snap to make. The smell of the bread dough as it is baking combined with the smell of the rosemary is just wonderful. The little extra oomph for this recipe is the kosher salt that you sprinkle on top with the rosemary. While I chose to let the dough rise and bake in an ovenproof skillet, you can use a regular baking pan.
How to Make Rosemary Dinner Rolls
My skillet is a 10 inch one and it will fit 7 frozen dough balls. If you want more rolls, use two skillets or a larger one. Spray skillet with non-stick spray and place frozen dough balls evenly spaced apart in it. They will need room to rise. Cover with plastic wrap that has been spray with non-stick spray. Allow to thaw and rise in a warm area, about 2 – 3 hours, depending on how warm the area is in your home.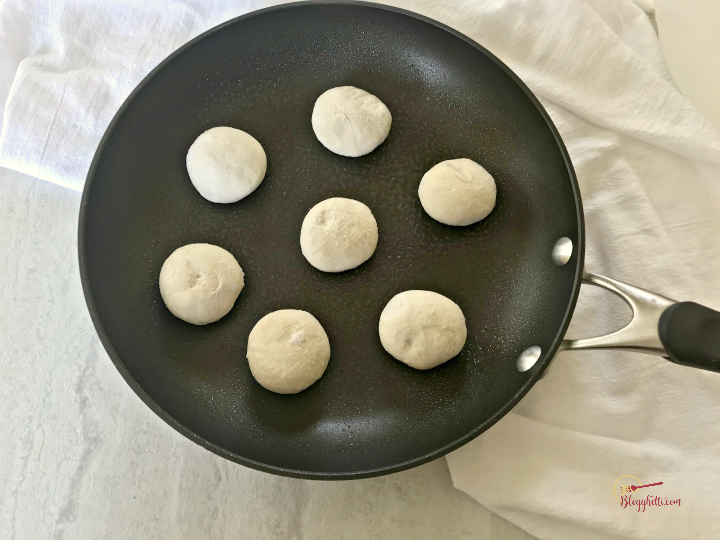 When the rolls are just about double their size, preheat your oven to 400 degrees. Once the rolls have risen to double their size, carefully brush them with melted butter (you don't want to deflate the rolls). Sprinkle chopped rosemary and Kosher salt on to rolls.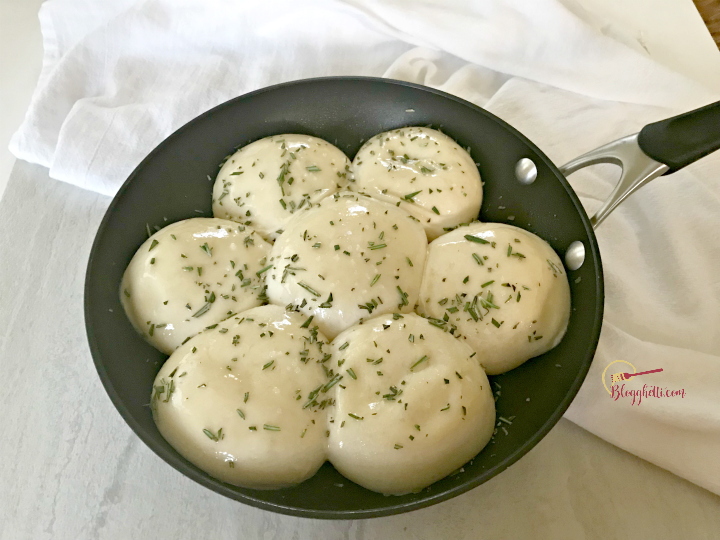 Bake for 15 – 20 minutes, or until golden brown and the rolls are done.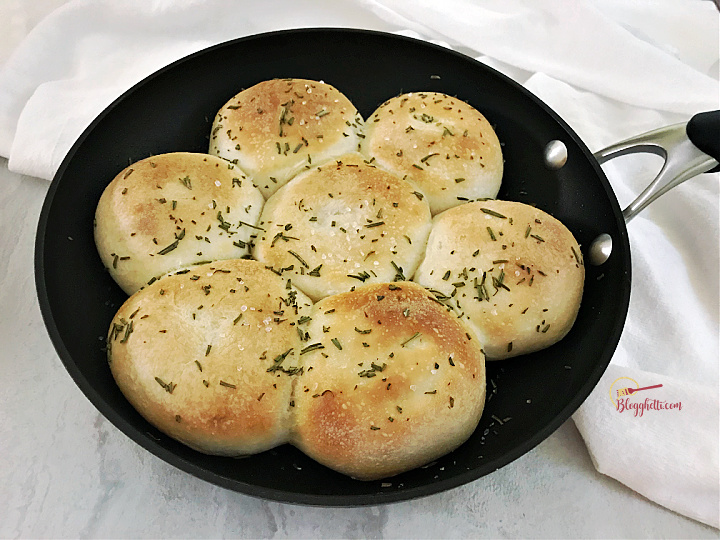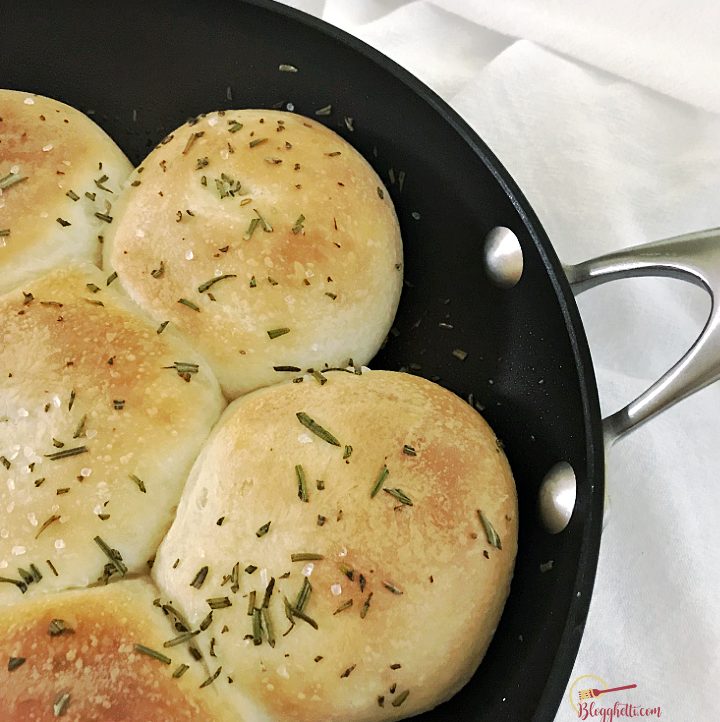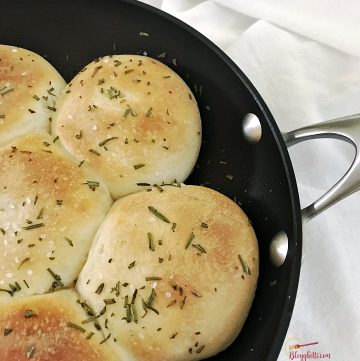 Ingredients
Frozen dinner rolls

unbaked (I like Rhodes but you can use what you what find at your store)

Rosemary

chopped

Melted butter

Kosher salt

 

Notice

I didn't put any quantities. That's because you can make as many rolls as you need to feed your family or crowd.
Instructions
Spray an oven-proof skillet with cooking spray or coat with olive oil.

Place frozen rolls in the skillet, leaving plenty of room for rising. I can get 7 in my skillet.  You want a couple of inches between each roll.  Cover and allow to rise for about 2-3 hours.

After rising, brush rolls with melted butter. Be gentle with this, you don't want to deflate the rolls.

Sprinkle on chopped rosemary. Sprinkle with the kosher salt.

Bake according to your roll package directions, typically it is about 15 to 20 minutes at 400 degrees, The rolls should be a golden brown and done through.
*Pictures updated January 28, 2021 (original post was Sept 2014)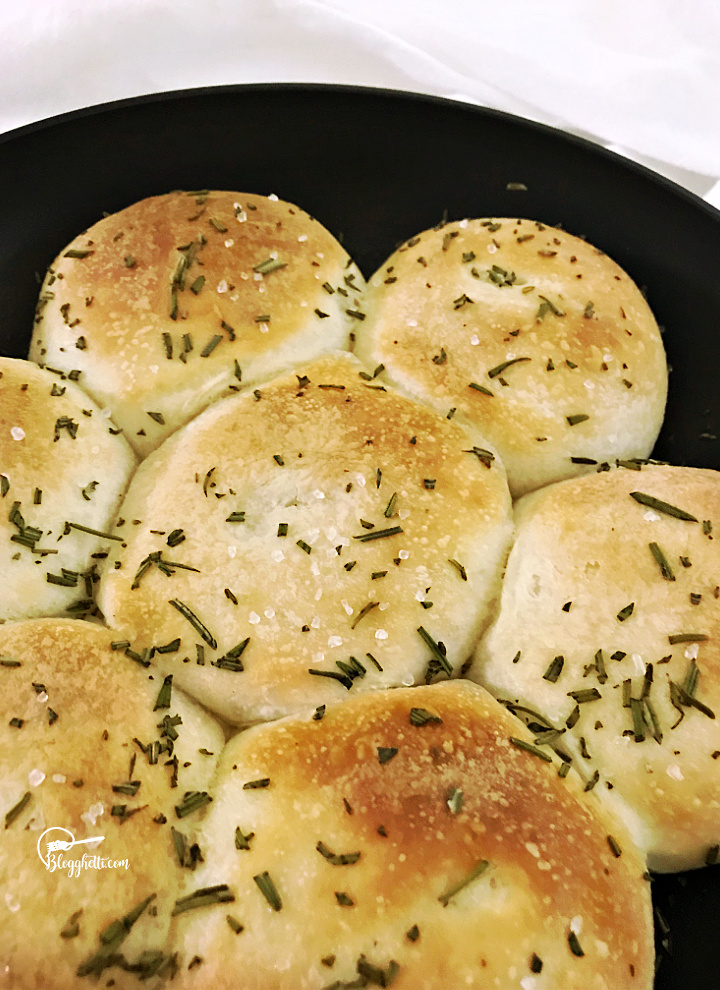 Other Bread Recipes You May Enjoy:
Homemade Rosemary Focaccia Bread
Making Homemade Bread: A Lost Art
Easy Homemade Rosemary Bread
Ukrainian Babka Bread (Easter Bread)
Mini Garlic Monkey Bread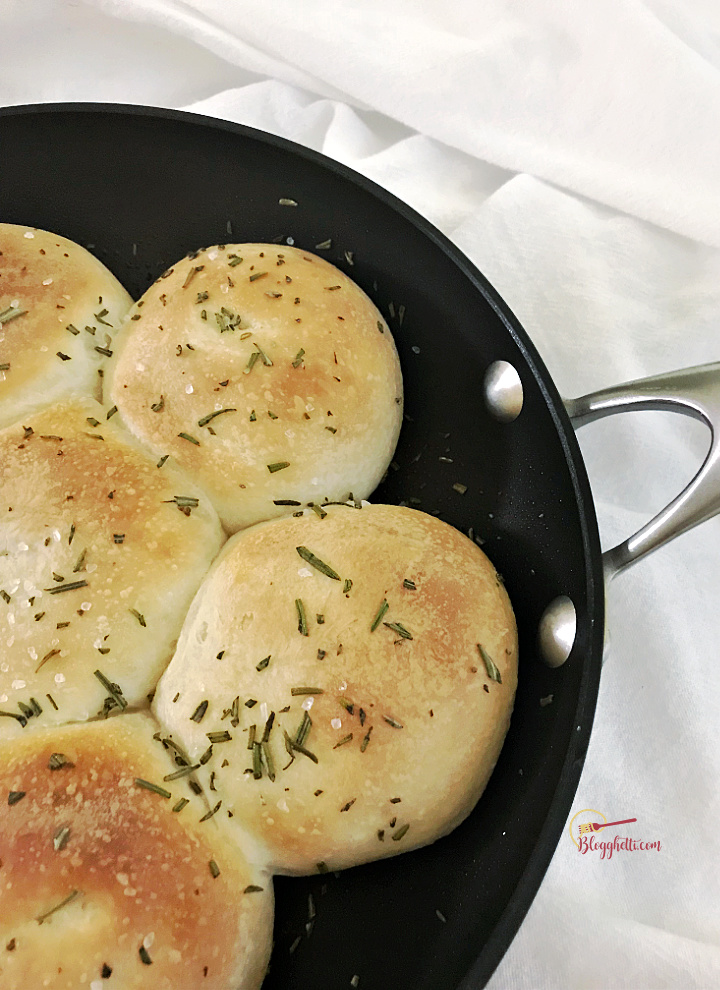 Connect with
Blogghetti

! Be sure to follow me on my social media, so you never miss a post!

Facebook | Twitter | Pinterest | Instagram

REMEMBER TO SUBSCRIBE TO BLOGGHETTI NEWSLETTER FOR FREE AND RECEIVE FRESH RECIPE NOTIFICATIONS DELIVERED INTO YOUR INBOX EVERY WEEK!

Enjoy!