This post may contain Amazon or other affiliate links. As an Amazon Associate I earn from qualifying purchases. Click
here
to read our privacy policy.
This homemade Rosemary Bread is a simple yeast bread infused with fresh rosemary and is free-formed, so no bread pans are needed. The bread has a golden crust and is soft on the inside, making it the perfect bread.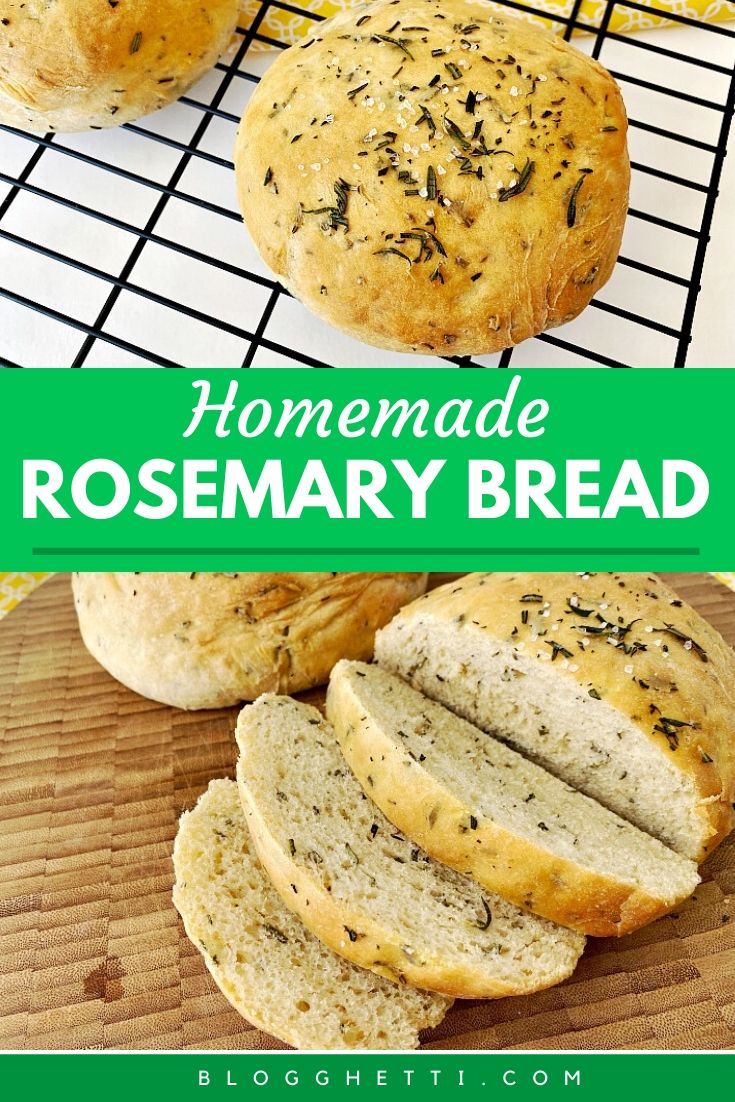 Fresh bread baking in the oven – perhaps one of the best smells coming from ovens, in my opinion. Growing up I used to think making bread from scratch was a huge ordeal. I don't know why because it's so simple. Breadmaking really is a simple process that works alone. For the rising of the dough, you do nothing but give it a nice warm place to do its magic. Of course, if your yeast isn't fresh or if you knead it too long, the bread may not rise like it's supposed to but even then when baked you have a nice enjoyable "flatbread" to slather with warm butter or dip into soup. It's a win-win so I am at a loss as to why I do not do this more often.
Rosemary Bread copycat recipe from the Macaroni Grill
I have been to the Macaroni Grill one time that I can recall and I probably should have just ordered salad and bread because by the time my meal came, I was so full from their homemade rosemary bread that I could barely eat my meal.
After that visit, I began to make my version of the delicious yeast bread with rosemary. This recipe for homemade rosemary bread makes two loaves but if I am going to be honest, I need to make four at once. We devour the two loaves when I make it.
Homemade bread dough is good for more than bread
This bread dough as with other yeast bread recipes can be turned into more than just loaves of bread. You can shape the dough into equal portions for breadsticks, rolls, or mini loaves of bread. Get creative! The only real thing to remember is not to over knead the dough and once in the desired shape, to let it rise the second time before baking. Of course, baking times will vary depending on the size and shape of your dough.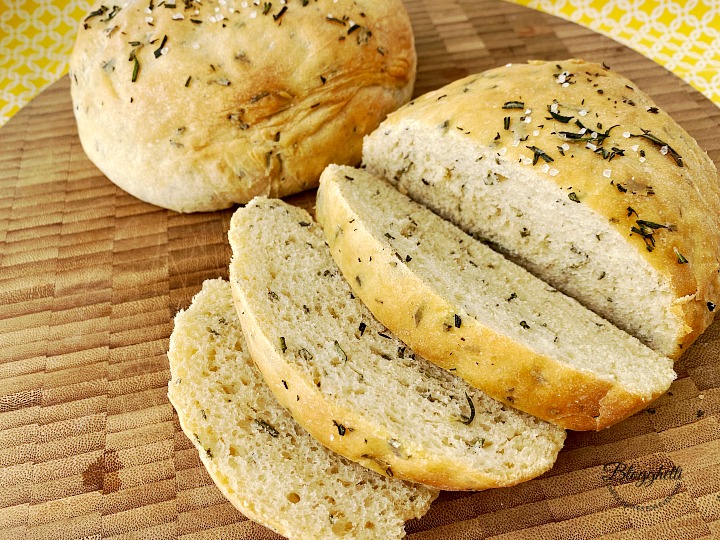 How to Make Homemade Rosemary Bread
This recipe for homemade rosemary bread is easier to make using a stand mixer with a paddle attachment and the dough hook for this recipe. It's easier to mix the dough with the paddle attachment, and then change to the dough hook to let the machine knead the dough.
The first thing you want to do is make sure your yeast has not expired! Expired yeast will not activate or allow your dough to rise. Then, you add the yeast with warm water and a bit of sugar until it's dissolved. Letting that rest for a few minutes while the yeast does its thing, you can measure out the rest of the ingredients.
If you don't have fresh rosemary, dried works too. Italian seasoning also works in place of the rosemary. I love rosemary so I always have plenty of fresh and dried on hand.
Once the yeast has rested, add the remaining ingredients except for one cup of the flour. Using the paddle attachment, combine the ingredients. Then switch to the dough hook, add the rest of the flour, and let the dough knead until it's no longer sticking to the bowl. It's ready when the dough is smooth and elastic.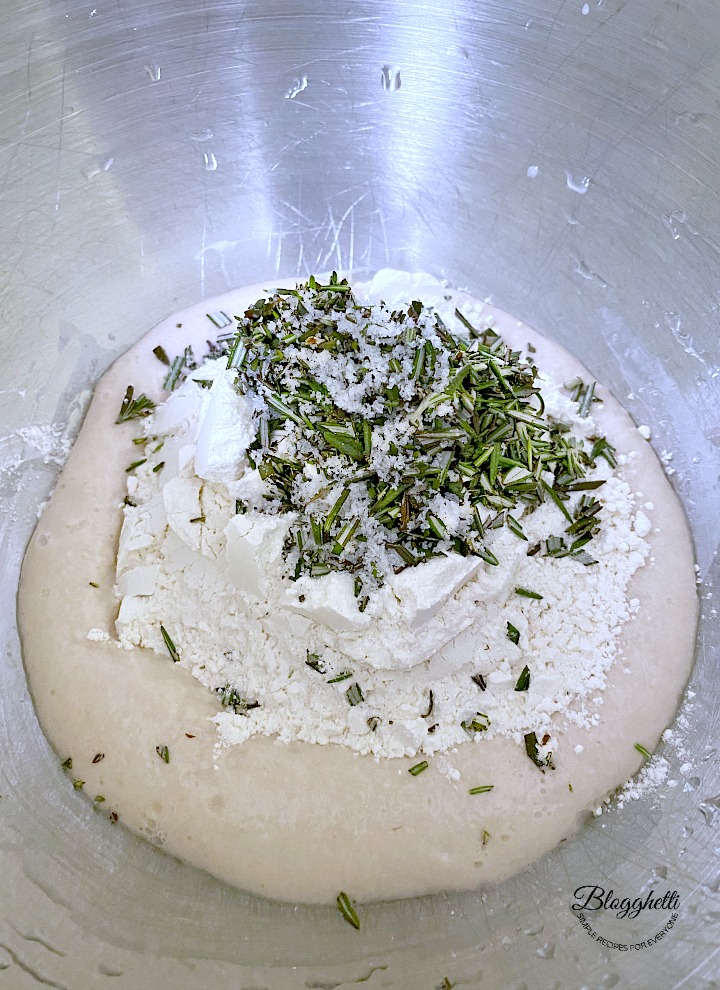 At this point, cover the dough and let it rise (until it's double in size) in a warm place.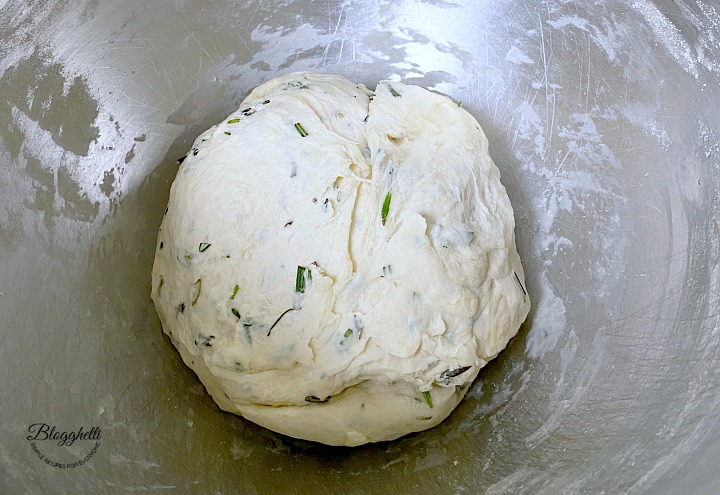 Once doubled, place the dough on a lightly floured surface and divide in half.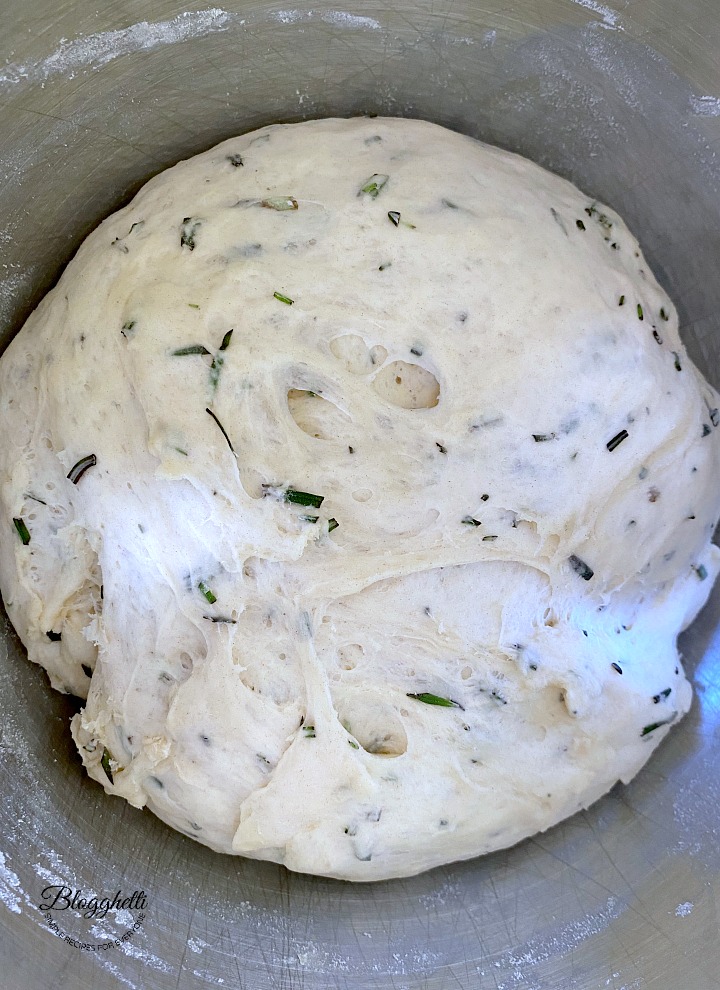 Shape into two rounds or ovals. Place on your prepared baking sheet and allow to rise and double in size again (do not cover the dough this time).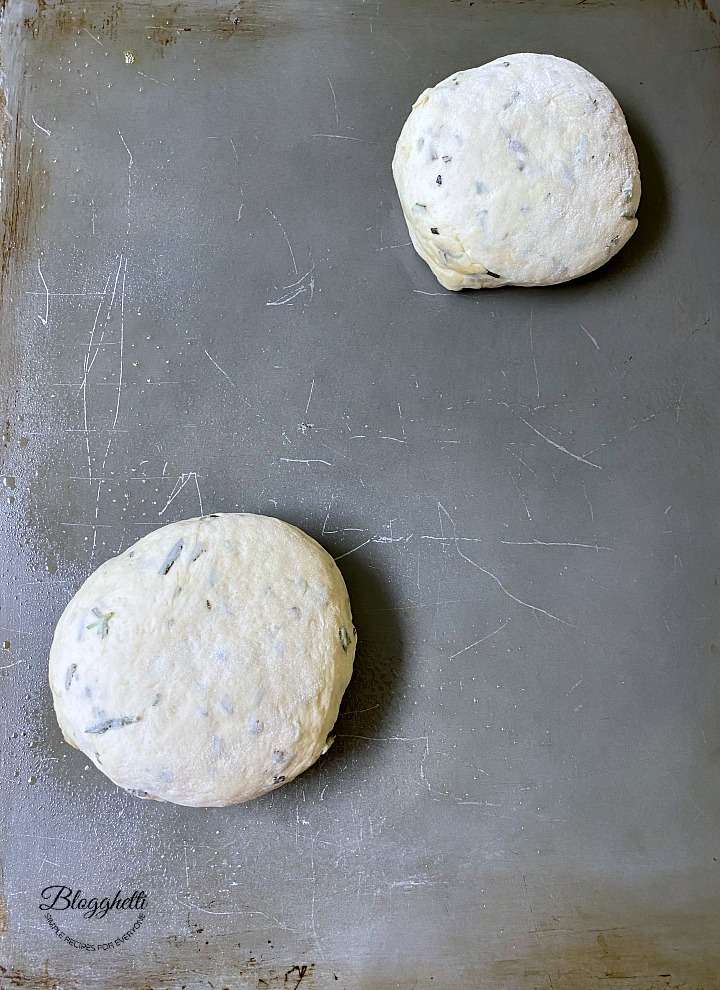 When doubled, bake and allow to cool before serving.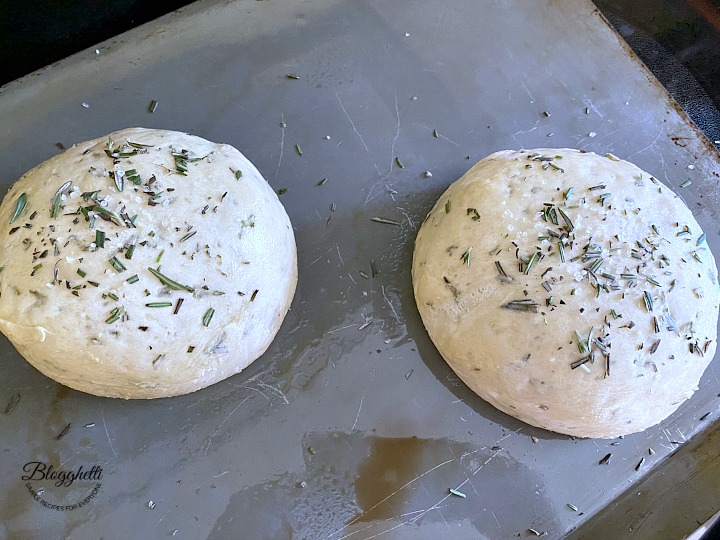 We like to serve the bread with this Italian herb dipping oil. Dipping rosemary bread in any of these delicious soups or this Minnesota wild rice soup is also highly recommended.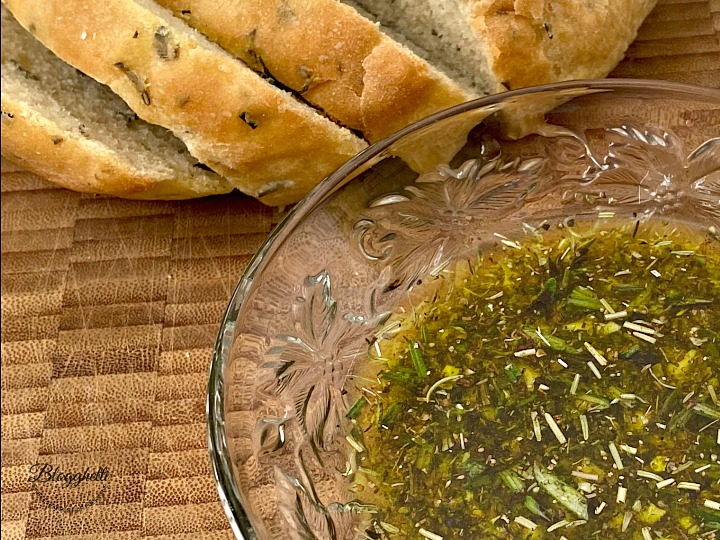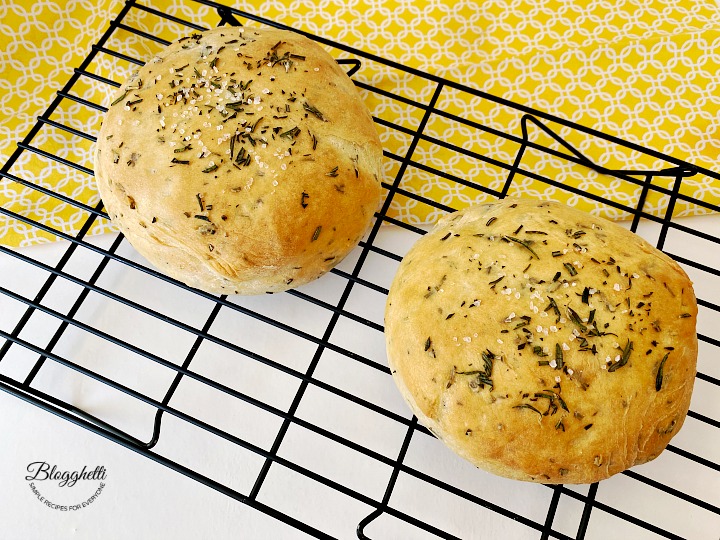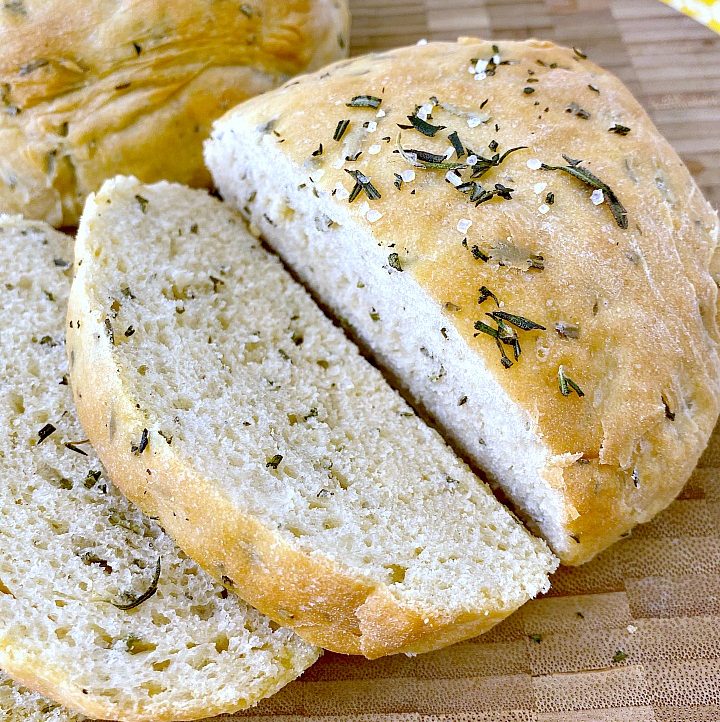 Rosemary Bread (Copycat recipe - Macaroni Grill)
This homemade Rosemary Bread is a simple yeast bread infused with fresh rosemary and is free-formed, so no bread pans are needed. The bread has a golden crust and is soft on the inside, making it the perfect bread.
Print
Pin
Rate
Ingredients
1

cup

warm water

110-115 degrees

1

packet of active dry yeast

1/4 oz packet

2

tsp

sugar

2

tbsp

extra virgin olive oil

divided

2 1/2

cups

all-purpose flour

plus more for dusting

3 1/2

tbsp

chopped fresh rosemary

divided

1

tsp

fine salt

1/4

tsp

kosher salt

optional

optional - Italian Herb Bread Dipping Oil

recipe below
Instructions
In a large bowl of a stand mixer, whisk together 1/4 cup water, yeast and sugar until yeast has dissolved. Let rest for 5 minutes.

Add 1 tablespoon olive oil, the remaining 3/4 cup warm water, 1 1/2 cups flour, 3 tablespoons rosemary and fine salt - using the paddle attachment of your stand mixer, blend mixture until combined. I found that using the paddle attachment instead of the dough hook for this step was easier to combine the ingredients. Alternatively, you can mix it with a wooden spoon.

Switch the paddle attachment on stand mixer to a hook attachment and add in 1 cup flour and knead mixture on medium speed until smooth and elastic. Add additional flour as needed if dough is sticking to bowl.

Cover bowl and allow to rest in a warm place until more than doubled in size, about 1 1/2 - 2 hours.

Scoop dough out of bowl and divide into two equal portions.

Spray two baking sheets with non-stick spray or grease them with olive oil.

Lightly dust a clean work surface with flour and shape each dough section into rounds or ovals while folding tops into the middle and then tucking and pinching seams on the bottom.

Transfer to prepared baking sheet spacing evenly apart and allow to rest, uncovered, until more than doubled about 1 1/2 hours.

Preheat oven to 400 degrees.

Bake in preheated oven for 10 minutes, the remove from oven and brush loaves with remaining 1 tablespoon olive oil and sprinkle tops the remaining 1 tablespoon rosemary and with a bit of kosher salt.

Return to oven and bake 10 - 15 minutes longer until golden brown.

Serve warm with Italian Herb Bread Dipping Oil (recipe below)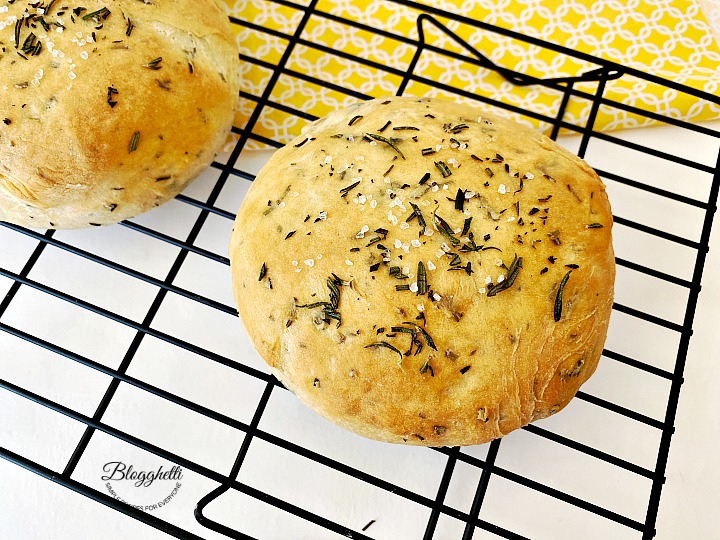 Connect with
Blogghetti

! Be sure to follow me on my social media, so you never miss a post!

Facebook | Twitter | Pinterest | Instagram

Enjoy!