This post may contain Amazon or other affiliate links. As an Amazon Associate I earn from qualifying purchases. Click
here
to read our privacy policy.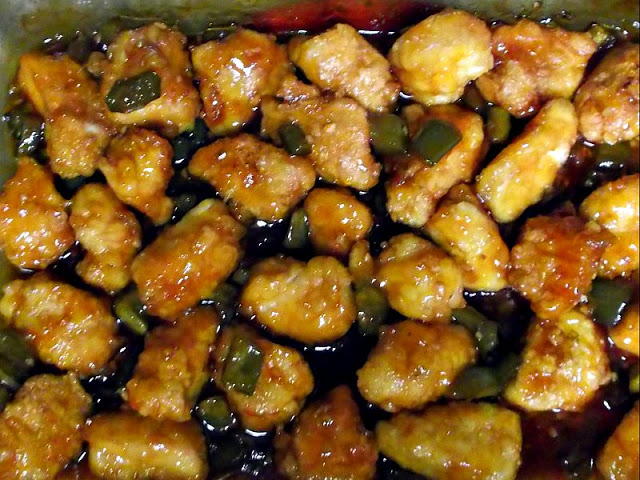 I am by no means, a fan of frying. It makes a mess and the clean up is not fun not to mention, it isn't healthy for you. However, this recipe is my exception as it is super simple and quick. Along the way, I learned some tips to make the frying and clean up easier. I noted those tips in the recipe. The beauty of this recipe is that you can add bell peppers of any color, pineapples, or even some orange juice to it. No, it's not healthy but everything in moderation, right?! We think it's better than the version you get at the Chinese restaurants. Try it and let me know what you think!
For the Chicken Coating:
3-5 chicken breasts, boneless, skin removed, and trimmed of fat
salt and pepper
1 cup cornstarch
2 eggs, beaten
1/3 cup canola oil
Rinse chicken and then cut into 1 inch cubes. Season with salt and pepper.
Pour cornstarch into gallon Ziplock bag
Dip chicken into the eggs and then place all the pieces of chicken in the Ziplock bag and close bag. Shake gently to coat all pieces.
Heat oil in dutch oven. I prefer to fry in the dutch oven as it will cut down on the splattering of the oil
Cook chicken until browned on all sides. Do this in batches. Crowding the pan will not only reduce the temp of the oil but will make for mushy chicken.
Remove and drain on paper towels. Then place in baking dish. 3 chicken breasts can be in a 9×9 but 5 chicken breasts fits better in a 9×13. (I used an 8×11.5 glass baking dish)
For the Sauce:
I made the sauce as is for 3 chicken breasts. If you are using more, consider making the sauce double or 1 1/2 times. Start with the amounts listed and adjust the as you need to the sugar and/or the vinegar.
1/2 cup brown sugar
4 Tablespoons ketchup
little less than 1/2 cup white distilled vinegar
1 Tablespoon soy sauce
1 teaspoon minced garlic
green peppers, diced
Whisk all ingredients until smooth.
Rest of the Instructions:
Then pour evenly over chicken.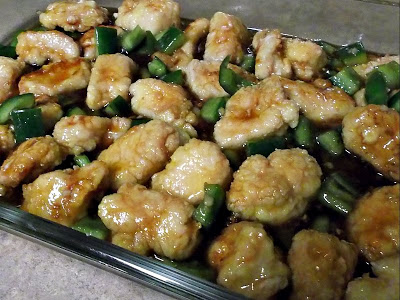 Turn chicken so the sauce gets on both sides and then put in the oven at 350 degrees for 40 minutes. turning chicken after 15 minutes. Then cook for 15 more minutes, turn chicken once more and then cook the remaining 10 minutes.
Serve over rice, if desired.