This post may contain Amazon or other affiliate links. As an Amazon Associate I earn from qualifying purchases. Click
here
to read our privacy policy.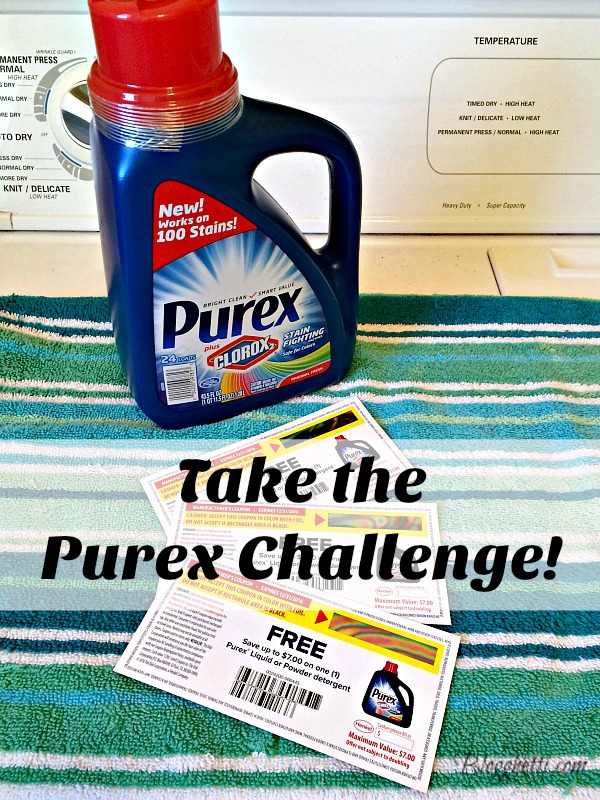 Today I am doing something a bit different on the blog. It actually isn't a recipe-related post but it will help you with all of your food-related stains not just food though – nearly every stain you may encounter in your daily (weekly) laundry chores. Recently I signed up to be a part of Purex Social Insiders and they sent me my first challenge. The Purex Challenge. What is this challenge? Simply put, the wonderful people at Purex sent me a full-sized bottle of their newest product, Purex® plus Clorox2® detergent. All I needed to do was test this on the toughest stain I had and then review the product results. How convenient was it that I was out of laundry detergent when this arrived! Score!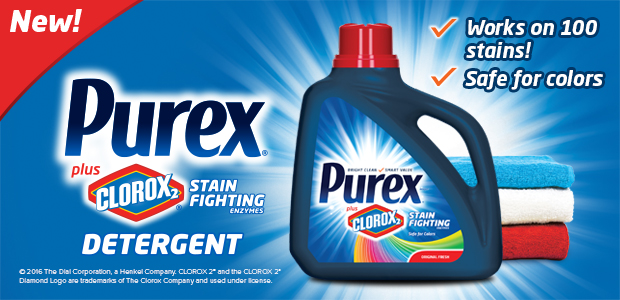 Let me tell you a bit about Purex® plus Clorox2® detergent –
Purex plus Clorox 2 is a newer product for the Purex line that became available in March 2016. It claims that Purex plus Clorox 2 detergent contains 3 stain-fighting enzymes that works on removing 100 stains. Some of these stains include:
Starchy stains like chocolate and tomato sauce
Protein-based stains like grass and blood
Stains that use guar gum like ice cream and BBQ sauce
It brightens whites, it's safe for colors, and a smart value for the price. It also comes in two fragrances: Original Fresh and Sunny Linen.
But – will it work on my toughest stain of the week?
I was about to find out. For once I didn't have any food-stained clothes to wash – I seem to remember to put on the apron after the first spatter hits my shirt. Anyway, my husband is a biker and is part of a gang. Got your attention, didn't I? Think road bike not a Harley. He rides twice a week with his gang and then participates quite often in rides across our state that can have him pedaling up to a 100 miles a ride. All of that riding takes a toll on his bike so he has to work on it, tinker with this or that to make it better than before. It's a messy job and typically he will wear clothes that are already beyond help to get the many stains out so I don't worry about those coming out when I do the wash. This particular day, he decided to just wear a white t-shirt. I know, I rolled my eyes and thought – well there's bleach. He mentioned to me that the shirt was on the washer so that I would remember it needed some attention.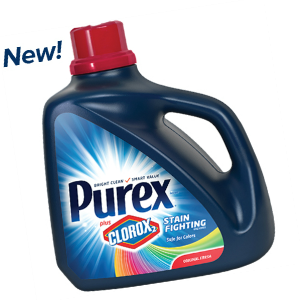 I grabbed the Purex plus Clorox 2 bottle and decided this needed a pre-treatment. I dabbed a bit of the detergent on the shirt and rubbed it in gently where the bike grease stains were. I also saw the armpits had yellow sweat stains.
I need to mention it smelled bad – grease, sweat, and gasoline. I sure hoped this new stain-fighting detergent was up to this task! I allowed the pre-treatment to sit about 5 minutes then I washed it with a small load of whites (mainly towels) with the recommended amount of Purex. My tip for you: Fill your washer with some water first, then add your detergent. Let it mix a moment before adding your clothes so the detergent dispersed evenly in your washer.
Results:
When I took the t-shirt out of the washer to look at it , I was amazed! You couldn't even tell the grease stains were there at first glance. A closer look and you could barely see a few gray specks that didn't totally come out. The yellow sweat stains were gone and the last test to check was the sniff test. I sniffed (cautiously) and no lingering gasoline, body odor, or grease smells were noted. In fact, the shirt not only was brighter and cleaner, it smelled wonderfully. I was impressed and will keep a bottle of Purex on hand at all times, now!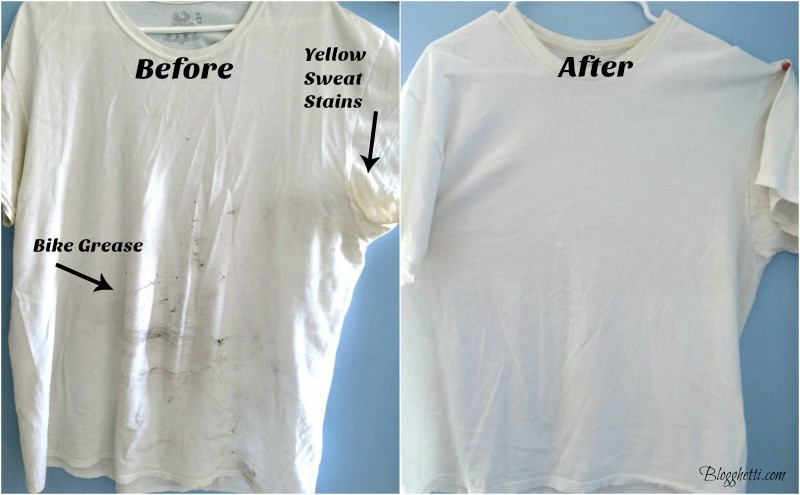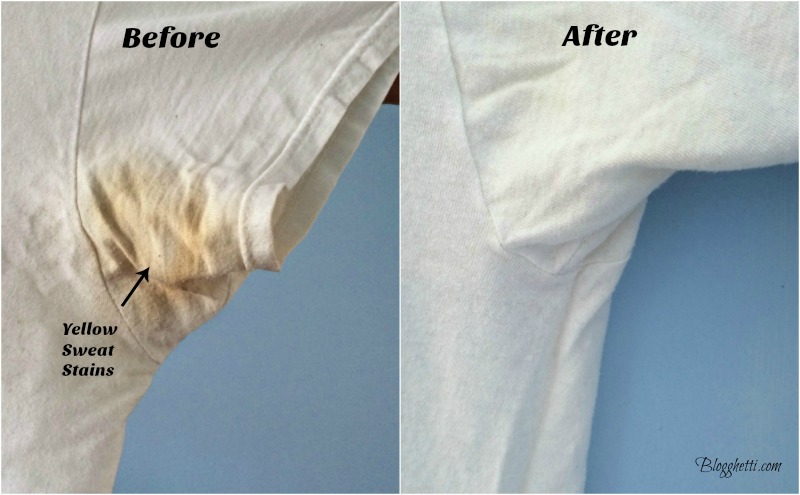 To learn more about Purex and the variety of products they offer, you can find Purex on Facebook, Twitter, Pinterest and Instagram.
Disclosure: I received a sample of Purex plus Clorox 2 complimentary for review, but all opinions are my own. I was not compensated for writing this post. Full disclosure policy here.**
Enjoy,